How I got £68 of shopping for £5 with coupons (and you can too)
My hiatus from scaring supermarket cashiers is over. If you missed it, I'm back – see my leaving hospital after 85 days blog – and thanks to a wodge of coupons I've collected, I've just bagged £68-worth of shopping for just over £5.
Anyone can do this, so I'm going to take you through it. You may not get the exact same result, as it depends what groceries you buy and what coupons you can lay your hands on, but this will hopefully show just how easily you can slash the cost of your weekly grocery shop with coupons. I only purchased items that my family would use (the whole point of couponing), and completed this trip at my local Sainsbury's.
I should probably explain, as I'm currently unable to eat normally due to my Crohn's disease, I was doing this shop on behalf of my mum.
My MoneySaving ammunition consisted of both printed coupons (from MSE's list of 100+ Supermarket Coupons) and coupons I'd earned from emailing brands directly. Then I really maxed the discounts using tips from our Extreme Couponing guide.
Here's how I did it:
Supermarket offers (saving £16.85)
To get the maximum value out of your coupons, you need to look for offers you can stack them with in store. This is how I get a lot of items for free – for example, if a £1 item is reduced to 50p and I have a coupon for 50p off. I use price comparison site MySupermarket to work out which supermarket will be cheapest and has the best offers to stack with my coupons.
On this occasion, Sainsbury's was the best place to go with the coupons I had. The total savings from in-store offers on the items I planned to buy with coupons came to £16.85 – which is already a decent amount off, but I was just getting started…
Easy-to-obtain printable coupons (saving £10.89)
There are tons of online coupons you can print to get money off your shopping – including a few freebies – and as I've been away a while, I had some catching up to do. You should regularly check the MSE coupons page for money off the items you usually buy. Most require you to download a coupon printing software – it's safe, it just makes sure the barcode is able to be scanned.
On my shopping trip, I used printable coupons to get free milk, as well as heavily discounted cleaning products such as Bold and Febreze. Here's what I paid and the coupons I used: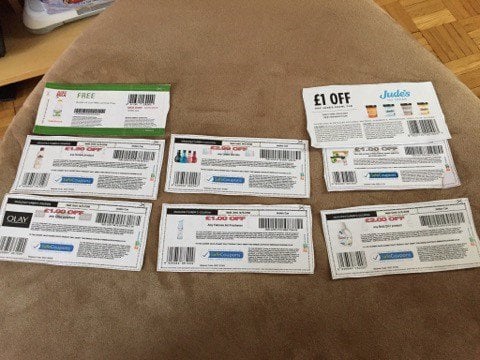 Some of the printable coupons I used, which anyone can claim
Coupons earned from soppy love poems (saving £36.70)
If you saw my previous blog, you'll know I bagged £75+ worth of freebies and coupons from manufacturers while in hospital. I used almost £40-worth on this shopping trip.
I got these by emailing affectionate poems to various brands. It sounds a bit crazy – but it worked. I used the same poem for each brand and just swapped in the name of the company for each one.
Here's a flavour of my poetic prowess in an ode to Innocent drinks:
Innocent, Innocent you are a dream,
No other drink is so supreme,
Oozing with joy and bursting with flavour,
You are my fave, you are my saviour.
The coupons you earn from sweet talking brands are usually high-value, either resulting in a total freebie or a hefty discount, and although the ones below are specific to me, and it took a bit of time and effort to collect them, anyone could do the same (see all my tips in the Extreme Couponing guide).
Here's what I bought using the coupons I sweet talked from brands:
Free McVitie's Milk Chocolate Digestives (262g) – £1 off coupon, and the product was on offer at £1 (norm £1.60)
Free Jordan's Fruisli bars (6x30g) – £1 off coupon, and the product was on offer at £1 (norm £2)
Free Dr Oetker Ristorante Pizza Mozzarella (335g) – Coupon for a free product
2x Free Young's Fisherman's Pie (340g) – £2.50 Young's coupon, and the product was on offer at £1 each (norm £1.50 each)
2x Free Shaken Udder Chocolush Milkshake (330ml) – 2x £1.35 off coupons
2x Free Kabuto Noodles Beef Pho (85g) – 2x £2 off coupons, and the product was on offer at £1.50 each (norm £2 each)
2x Free Innocent Kids Smoothie Drinks (4x180ml) – 2x £2 off coupons, and the product was on offer at £1.65 each (norm £3.30 each)
4x Free Patak's Tikka Masala Curry Paste (2x70g) – 4 x £1 off coupons, and the product was on offer at £1 each (norm £1.50 each)
8x Free Hipp Organic baby food (160g) – 5x £1 off coupons, and the product was on offer at 56-77p each (norm 75-85p each)
9x Free Go Cat Complete (365g) – 2x £5 off coupon, and the product was on offer at £1.10 each (norm £1.50 each)
85p Cawston Press Apple Juice (1L) – £1 off coupon, and the product was on offer at £1.85 (norm £2.30)
The 22 manufacturers' coupons I earned writing love poems to brands

Total savings
The whole shop should've cost me £68.66, but after offers and all those coupons I paid just £5.22 – saving 92% on the cost of the shopping trip. Though if you're eagle-eyed and did the maths on my coupons, you'll know it should've been £1 less. That's because my Cawston Press £1 off coupon would not scan at the till, and unfortunately wasn't accepted. This happens from time to time, but don't worry – I went to customer services and got my £1 back after proving I bought the product.
By no means my cheapest-ever supermarket haul– my personal best is £600-worth for 4p – but not bad for my first shop after a long break from couponing.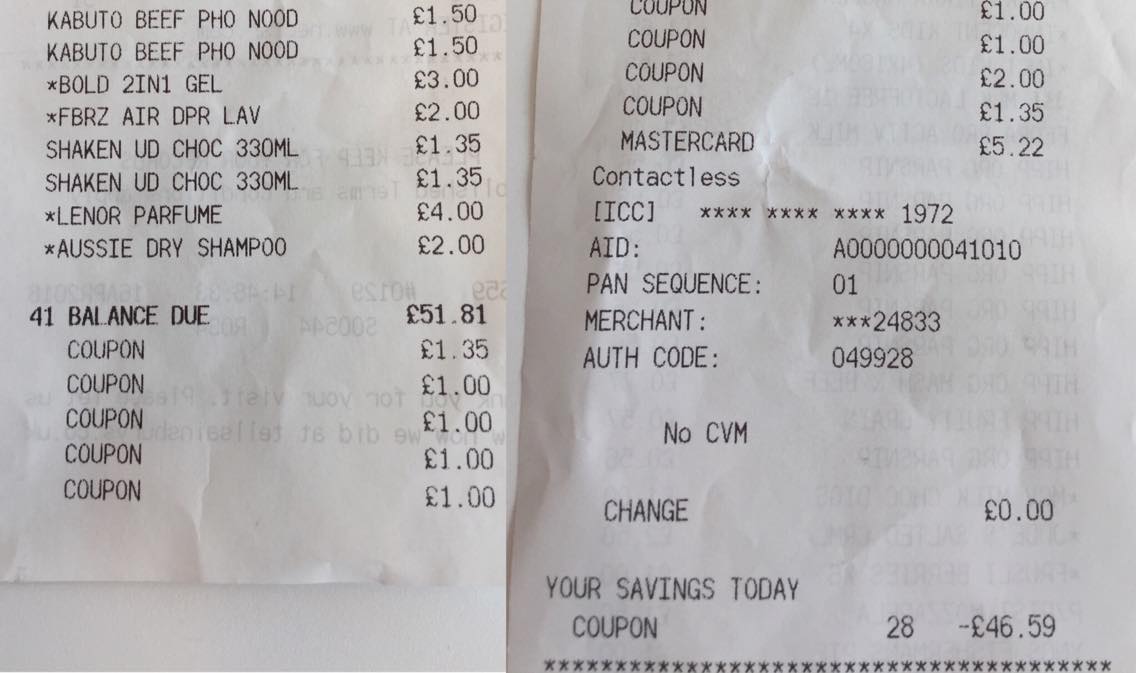 Coupon-tastic! My £68.85 shop dropped to £51.81 after discounts (see pic left). Then after my £46.59-worth of coupons, I only had to hand over £5.22 from my own pocket (see pic right).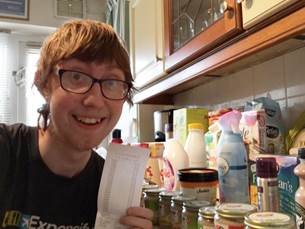 Who wouldn't look this happy with all that shopping for £5?
The printable coupons I mentioned above can be printed by anyone to get the exact same deals, and with a little effort contacting manufacturers, you too could be couponing your way to a shopping trip like this.
And remember, there are plenty of other ways to save money at the supermarket without using coupons. Be sure to read our Baby VS Beauty and World Foods aisle investigations for more sneaky tips.
What's your biggest ever couponing success? I'd love to know in the comments below.