Free food & drink at London pop-up cafe if you 'pay' with (recyclable) plastic - EXPIRED
This pop-up will be in Covent Garden in London from 8am-4pm on Thursday 3rd and Friday 4th May serving up 'free' vegetarian and vegan zero-waste food to anyone bringing in recyclable plastic. It's hosted by Ecover, best known for its environmentally-friendly cleaning products.
You'll need to bring in at least one piece of recyclable plastic (eg, drinks bottle), but two if you want a meal and a drink. You can bring more recyclable plastic if you like, but it's limited to one meal and one drink per person.
What's more, you'll be able to fill up an old washing-up liquid bottle (about 450ml) with Ecover's vegan-friendly washing-up liquid for free. Its 450ml bottles are normally £1.60ish in most supermarkets.
Obviously, Ecover's doing this to promote its new recyclable product range – we're just telling you about it as free vegan food isn't always easy to come by, and the fact it's environmentally-friendly is a bonus.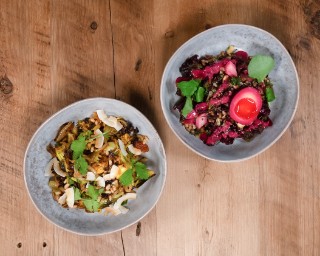 Not in London? A few other ways to save money (and the environment)
Have your say
This is an open discussion but the comments do not represent the views of MSE. We want everyone to enjoy using our site but spam, bullying and offensive comments will not be tolerated. Posts may be deleted and repeat offenders blocked at our discretion. Please contact fbteam@moneysavingexpert.com if you wish to report any comments.
Update: We are aware that some users may currently be having issues seeing the comments and we're working on it.