How to get FREE cat treats and other MeowneySaving pet tips
Cats are notorious for being picky. Chances are, if you buy that new food on offer your kitty won't eat it – but what if you could try it free? I asked my cat MSE Pudding to test some Meow-neySavingExpert tips, including free cat treats, food, and coupons, and we're listing her purr-furred options below.
'Free' cat treats or food minis inside packs
In the last few months, we've spotted these special packs in supermarkets such as Asda and Tesco as well as discounters B&M and Home Bargains, so it really is worth checking a few boxes from the brand your lovable furball prefers. Often, these packs will not only contain a free sample of a treat or food, but also a coupon for money off. We've seen between 30p and £1 off cat food, treats and cat gravy (whatever that is).
So if you want to be left feline fine, the next time you peruse the supermarket shelves, check pet food boxes and bags of cat litter for special stickers on the outside of the packaging. You're typically looking for a small 2cm-ish square or circular sticker saying something like 'Free sample inside' (see examples below).


Coupons for pet food, treats, etc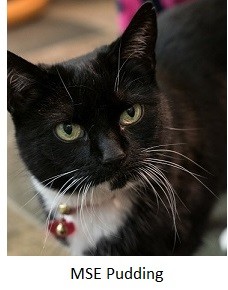 Did you know we have a special pets section in our 100+ Supermarket Coupons page? You'll usually find freebies and coupons off supplies for cats, dogs and other pets like Guinea pigs and rabbits, often from big brands including Harringtons and Purina.

Your pet can also benefit from our Birthday Freebies page. When you sign up to the free Pets at Home 'VIP club' loyalty card, you can get a coupon for a free treat on your pet's birthday. The club may also send you coupons in the post regularly, usually £1 off food or £3 off a £30 spend.
Don't forget, you can usually stack these coupons with other coupons, for example – if you buy £30 of cat food you could use a £3 off £30 coupon as well as £1 off food from Pets at Home and, eg, £1 off Whiskas coupon or similar from another brand, bringing your total saving to £5 off.
The Pets at Home loyalty card also accumulates points which you can choose to donate to help an animal charity, and you can also pick up a free copy of its magazine – which often has more coupons in the back.
You may have been familiar with the sadly now-closed Felix club, where you saved up tokens to exchange for free gifts for your pet, or the Whiskas offer where you bought two packs to claim a free bowl (MSE Pudding still loves hers) so it's worth looking out for similar offers in the future.

Other Meow-neySaving tips
We're not kitten you, there are more ways to save… but they might leave you in the doghouse. While your cat may love a brand-named food, you yourself are probably eating supermarket own-brand and not noticing the difference, so you could try the Downshift Challenge with pet food and buy a cheaper brand or supermarket own-label instead.
We know this might not be popular with every diva dog or cat, so it's probably not worth buying that new 20kg bag of dried food straight away, especially if Mittens is a picky eater, and do follow on-pack recommendations for introducing new food to avoid any upset (or puke between your toes at 5am).
However, if you do find a food your picky pooch or critical cat will eat willingly, buying that 20kg bag could help trim your pet's food bill as buying in bulk is normally cheaper. Just make sure the bag you buy has a resealable opening, or you have a resealable container big enough to keep the food in and strong enough to keep your pet out!
How do YOU save money on pet supplies? What coupons and pet freebies have you found? Let us know in the comments below, on Twitter, or Facebook.
Have your say
This is an open discussion; anyone can post. Comments may be edited, and are only published during the working day. Please report any spam, illegal, offensive, racist, libellous posts (inc username) to fbteam@moneysavingexpert.com.