Meerkat trick: Spend £1 to get 2for1 at cinemas AND thousands of restaurants for a year
Meerkat Movies and Meals gets you 2for1 at cinemas on Tuesdays or Wednesdays and at thousands of restaurants on Sundays to Thursdays (plus other discounts on takeaways etc) FOR A YEAR when you buy a qualifying product via comparison website Compare The Market.
And we've a trick to get it for about £1...
It came about when we asked ourselves, what's the cheapest product you can buy in order to qualify for Meerkat Movies? (And Meerkat Meals, which works the same way).
The T&Cs state you'll be eligible for both for 12 months as long as:

You purchase any of the following insurance – car, van, bike, caravan, taxi, motorhome, home, pet, life, health, over 50's, income protection, landlord, business or travel insurance.
OR you switch any of the following – domestic energy (gas and/or electric), broadband, home telephone or digital TV.
OR you successfully apply for – a credit card or loan or mobile phone contract.
You WON'T be able to get Meerkat Movies or Meals if taking out the following products: business energy, savings and current accounts, mortgages, business life insurance, business broadband, breakdown cover, temporary insurance, Zuto car finance, home care & boiler cover, and homeowner loans & equity release.
Car and home insurance were too pricey – there are better rewards and cashback offers available elsewhere. So we homed in on travel insurance.

Remember, we're not necessarily encouraging you to use these policies as they may not provide the cover you need – see our Cheap Travel Insurance guide for full options.
The point of this is just getting 2for1 cinema tickets and restaurant meals as cheaply as you can. So, one night's UK cover for one person does the job.
Do a quick search on Compare The Market for a single-trip travel insurance policy for the United Kingdom, and select dates that cover just one night. You should see quotes for just a quid or two – and amazingly this is enough to qualify for a year's Meerkat Meals and Movies.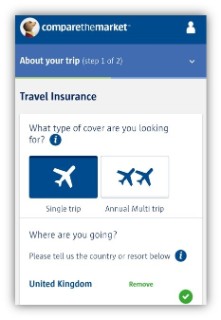 | | |
| --- | --- |
| Quoted price | Provider |
| £1.01 | Ergo 'single element' |
| £2.69 | AA 'single bronze essential' |
| £3.15 | Zurich 'single essentials' |
| £3.44 | Insurefor 'single economy' |
At these prices, the insurance is far cheaper than the price of a second cinema ticket or a second main course, so in most cases you'll save even if you use it once.
Do bear in mind the year's membership begins from the date you made a purchase, and you can only have one active membership. If you make any subsequent purchases during the 12 months, it'll reset the clock – so you never get more than 12 months.

Will it always work?
Since first sharing this trick six years ago, we've been swamped with countless successes from MoneySavers (including Reuben, below, who emailed in July 2021 and Geraint, who tweeted in 2019), yet at the time we didn't think it would last – a year's 2for1 for £1 seemed too good to be true. Six years later, it's still working... touch wood.
My Daughter wanted to go to the cinema... so I purchased travel insurance for one day, in the UK. This cost me £1.01. That entitled me to 12 months 2for1 on cinema tickets! Instead of paying £18 it was just £9, then we went straight to Pizza Hut and saved 50% on the bill!
- MoneySaver Reuben H, July 2021
So while we can't guarantee it'll go on forever, as Compare The Market could technically close the loophole anytime it wants, it seems likely it'll keep going for a while longer yet.
If you want to learn more about how Meerkat Movies and Meals actually works (once you've done the trick), we've included a full step-by-step guide below. See our Cinema MoneySaving tips & tricks and Restaurant Vouchers round-up for related deals.
Once you've done the trick, here's how Meerkat Movies and Meals 2for1 actually works
After making a qualifying purchase at Compare the Market, download the Meerkat app to activate your membership. Your 12 months' 2for1 starts from the date you made the purchase and it's worth bearing in mind that activation can take at least 48 hours. Once activated, here's how to claim the deals:
| | |
| --- | --- |
| Meerkat deal and when it's valid | How to claim it |
| Meerkat Movies 2for1 standard 2D cinema tickets on either a Tue or Wed | Claim your 2for1 code online or via the Meerkat app when you want to see a film (you can do this as regularly as once per week). If you don't use your code, it'll expire at 0.01am on the Thu after it's issued, and you'll then need to generate a new one. To redeem, print the code or show it on your phone at a participating cinema. |
| Meerkat Meals 2for1 starters, mains and/or desserts (not drinks) on Sun-Thu, with some excluded dates | Select a restaurant via the Meerkat app when you want to dine out (you can do this as many times per week as you like). Check to see whether you need to book in advance (this will be indicated clearly when you search for restaurants in the app). You should notify the restaurant that you're a Meerkat member when booking. You'll need to present your digital Meerkat Meals membership number, via the app, to your waiter when you ask for the bill. |
Other deals you can get with Meerkat Meals, including takeaway offers:

While 2for1 starters, mains and/or desserts is Meerkat Meals' big offering, it also gives other discounts at selected restaurants and takeaways, which are separate from the 2for1 deal and can't be used at the same time. These include:
25% off your total bill (including drinks but excluding alcohol in Scotland) at selected restaurants – the days this is valid varies by restaurant. It's for when a minimum of two people are dining, and a maximum of 10.
50% off pizzas when spending £30 on pizza at participating Pizza Hut and Papa John's branches for delivery or collection (excluding all in Northern Ireland). This is available any day of the week.
A minimum of 10% off your total bill at selected restaurants when ordering takeaway for delivery or collection, any day of the week.
See full Meerkat Movies and Meals terms and conditions.
Join the MSE Forum Discussion
Have your say
This is an open discussion but the comments do not represent the views of MSE. We want everyone to enjoy using our site but spam, bullying and offensive comments will not be tolerated. Posts may be deleted and repeat offenders blocked at our discretion. Please contact fbteam@moneysavingexpert.com if you wish to report any comments.
Update: We are aware that some users may currently be having issues seeing the comments and we're working on it.