Get £5 'low calorie' Breyers ice cream for £1.50
This month's free Tesco magazine just keeps on giving. Anyone want to save £3.50 on a tub of posh ice cream? *Raises hand*
You may have already seen that by picking up the October edition of the Tesco magazine, which is already in stores, you can get a free multipack of Walkers Baked crisps from next week. Well, in the meantime, you can also pick up some Breyers Delights ice cream for £1.50 (normally £5).
To get the deal, simply grab a mag and tear out the coupon for £1.50 off Breyers on the first page, just behind the front cover. Pick up the ice cream (available in a few different flavours), and take both to the till to be scanned. While the ice cream normally retails for £5, it's on offer at Tesco at £3 until Mon 29 Oct.
So by stacking your £1.50 off coupon with the £3 offer, the ice cream – which as it happens only contains 350 calories or less for the whole tub – is yours for £1.50. Here's the coupon you're looking for, and the somewhat limited stock in my local Tesco: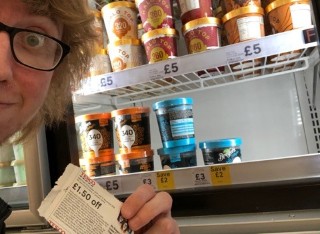 The coupon is valid until Wed 14 Nov, though as the offer on the ice cream ends a fortnight earlier, you'll probably want to use it sooner rather than later. You can only use the coupon in Tesco superstores and the massive 'Extra' stores - it's not valid in Tesco Express stores - or you can redeem it online by entering the code GRNF7L at the checkout.
I hope you enjoy your ice cream for £1.50. All you need is some cheap cookies to make an ice cream sandwich (or grab a spoon and eat it straight from the tub as I do!)
Have you seen any great coupons lately? Be sure to let us know in the comments section below, on Twitter @MSE_Deals or on Facebook.
Have your say
This is an open discussion but the comments do not represent the views of MSE. We want everyone to enjoy using our site but spam, bullying and offensive comments will not be tolerated. Posts may be deleted and repeat offenders blocked at our discretion. Please contact fbteam@moneysavingexpert.com if you wish to report any comments.
Update: We are aware that some users may currently be having issues seeing the comments and we're working on it.