£10 off £40 spend at Lidl this weekend
MSE Update 8.58am Fri 16 Nov: The Metro decided NOT to publish this in editions outside London. It was meant to appear across ALL regions, but it got pulled and we only found this out today. We've checked with the Daily Mail and Mail on Sunday, which have confirmed it will still appear in both papers this weekend.
This Fri 16 Nov, pick up a free Metro newspaper (in London only, see update above) and you'll find a coupon for £10 off a £40 spend. It's valid at any Lidl supermarket nationwide (excluding Northern Ireland) from Fri 16 Nov until Thu 22 Nov. This is one of the strongest discounts we've seen at Lidl this year, with most offers being £5 off £40 spends. Metro newspapers are mostly found in train/bus stations in the mornings.
If you can't get your hands on a free Metro tomorrow (the voucher was only printed in the London edition, despite us being told it would be nationwide), don't fret - the coupon should also be available in the Daily Mail on Saturday (£1) or Mail on Sunday (£1.80). As you'll have to pay for these papers, the deal isn't as strong (roughly £9 or £8 off £40 after the paper spend) but it's still a good option if you are shopping at Lidl anyway.

We've double-checked with the Daily Mail and it's told us the voucher IS still going to appear in the weekend papers, but it's probably a good idea to check you can see the voucher inside before you buy one - so you don't end up out of pocket.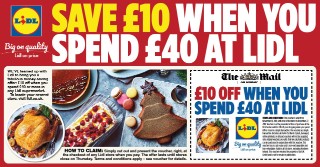 As the coupons are valid until Thu 22 Nov, you don't have to spend them right away. If you know you'll be doing a big shop (more than £80), you can separate them into two shops and use a coupon for each transaction. The only restriction is that you're only allowed two alcoholic products per shop (none in Scotland), and the coupons must be original from the newspapers.
I hope this makes your shopping trip a little cheaper this coming week. Could be a good time to stock up on festive food for the approaching holiday season. Just remember me when you're tucking into cheap mince pies!
Will you be using one of these £10 off Lidl coupons? Have you seen any great coupons like this recently? Let me know in the comments below, on Twitter @MSE_Deals or on Facebook.

Have your say
This is an open discussion but the comments do not represent the views of MSE. We want everyone to enjoy using our site but spam, bullying and offensive comments will not be tolerated. Posts may be deleted and repeat offenders blocked at our discretion. Please contact fbteam@moneysavingexpert.com if you wish to report any comments.
Update: We are aware that some users may currently be having issues seeing the comments and we're working on it.