McDonald's MoneySaving hacks
Incl daily deals, eg, FREE cheese dippers and regular fries, 99p chicken/veggie wrap
There are hundreds of McDonald's hacks articles online – usually all about merging multiple menu items to form ghastly new creations that'd make a MoneySaver's eyes water long before their mouth does. So I decided to think up a few of my own…
Obviously, my hacks are about saving money, and while a few are extreme (that word should probably have been my middle name), there's hopefully something for everyone who enjoys an occasional McDonald's – though I must stress, please eat responsibly.

For some of these, you might need to use the new McDonald's self-ordering screens or app - both up and running in the vast majority of branches UK-wide. Of course, if you're not a McDonald's fan you may prefer my 12 cheeky Nando's tricks or 10 Burger King hacks instead, but here are my McHacks:
New.

Daily deals incl FREE milkshake and regular fries, 99p McChicken sandwich

McDonald's is serving up a new deal every day if you order via its app (free on Apple or Android devices), until Sun 26 Jan. To see what's on offer, you'll need to check the app each day – you can claim as many different offers as you like, but each one only once. Where it's a freebie, there's no purchase necessary and all of the deals are available to both new and existing users of the McDonald's app.

Most but not all McDonald's restaurants are participating – you can easily find out via the app whether your local one is included. For a taste of what to expect, here are a few offers McDonald's has confirmed for this week:
Wed 15 Jan: Big Mac and fries £1.99 (norm £4ish)
Thu 16 Jan: FREE milkshake or coke zero (norm £2ish)
Fri 17 Jan: FREE regular fries (norm £1ish)
Sat 18 Jan: 99p McChicken sandwich (norm £3.30ish)
When this first launched, McDonald's had some technical issues with its app which meant some customers weren't able to claim a free McMuffin. McDonald's has since told us the problem was a result of a huge increase in traffic, and it says it has put in extra measures to make sure this won't happen again.
New.

Free hot drink (norm £2ish)

Until 11.59pm on Fri 31 Jan, you can get any regular or large hot drink (norm up to £2ish) at participating restaurants via the McDonald's app on Apple or Android devices. It's available to new customers only, which means anyone who hasn't ordered through the app before. No purchase is necessary when claiming the hot drink – so you can just claim the freebie if you want – but it can only be claimed once per customer.
£2.20 off a 'McChicken Sandwich'
You can save £2.20 on a McDonald's chicken burger by ditching the £3.19 McChicken Sandwich in favour of a 99p Mayo Chicken.
If you just wanted a chicken burger, they both do the same job. Here's a comparison: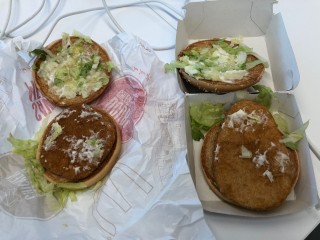 Okay, the Mayo Chicken's a tad lighter – the one I tested weighed 25% less overall – but as it's the same ingredients (chicken, lettuce and mayo in a bun), and it's a massive 70% cheaper, it's surely worth a try. You could technically eat three of the Mayo Chicken and still pay less than for one McChicken Sandwich. Though I wouldn't recommend it.
£1.60 off a DIY 'Big Mac'
Instead of ordering a £3.19 Big Mac, save £1.60 by creating my MoneySaving version. It isn't the same, but comes close (minus a piece of bread and the Big Mac-specific sauce):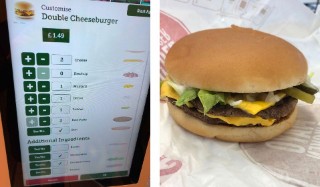 To do it, order a £1.59 Double Cheeseburger and add the following free extras to have the ingredients of a Big Mac: shredded lettuce, onions, pickles, mustard and mayonnaise (for a makeshift Big Mac sauce). The add-ons won't cost extra, so although you might miss the distinctive taste of a real Big Mac – and that iconic middle tier of bread – I reckon the 55% saving you can make every time is worth it.
Big Mac and fries for £1.99 every time
At the top of most McDonald's receipts, there's a 'Food for Thoughts' code. Go online and fill in quick a survey to receive a second code, which you can then exchange in the restaurant for a £1.99 Big Mac and fries (normally £4ish). The best part? You can use your receipt from this purchase to do the survey again, and repeat as many times as you like. For full details, see my £1.99 Big Mac & fries every time blog from last year.
Get FREE extra toppings
On the new self-order screens, or the McDonald's app, you can add extra ketchup, mustard, onion, pickles, mayonnaise and/or shredded lettuce for free to any burger. If there's already one of those ingredients in the burger, you get double the amount, or if it's not normally in there – it's added in for you. You can also pay 20p for extra cheese or 40p for bacon.
£1.11 off a 'Chicken Salad'
If you after something relatively healthy at McDonald's, how about a £3.69 Crispy Chicken Salad? Better yet, use this DIY menu hack to make something similar and pay just £2.58.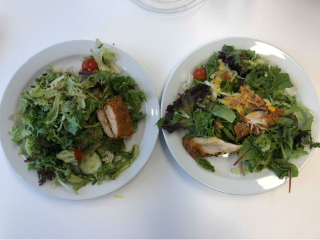 First, choose the £1.49 Spicy Chicken Snack Wrap and couple it with a £1.09 Shaker Side Salad. The presentation won't be quite the same, but you get the same key ingredients plus some extras. You can remove the cheese and sauce from the wrap if you prefer.
99p 'Cheese & Pickle McSandwich'
For a minimalist option, order a basic 99p Cheeseburger and remove all the innards – except for the cheese and pickles (these too can be removed if you must) – and hey presto. If you really want to push the boat out, you can add an extra slice of cheese for 20p.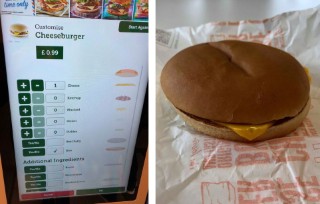 Dodge the 'sugar tax' on drinks
As you might've heard, there's a now a tax on some fizzy drinks (see our 'Sugar tax' news story), but only one drink at McDonald's is affected. If you choose original Coca-Cola (not Diet or Zero), it'll cost you an extra 8p for a small, 12p more for medium or 14p more for a large. You can easily avoid the tax by ordering any other drink off the menu.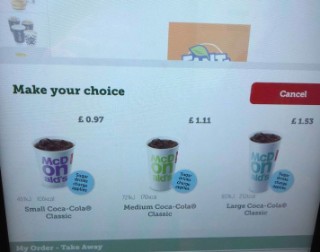 £1.59 less for 8 EXTRA chicken nuggets
Pick up two boxes of six Chicken McNuggets (£3.19 each) and you're paying £6.38 for a respectable 12 chicken nuggets. However, if you switch these for a single £4.79 McNuggets ShareBox of 20 nuggets, you can get an extra eight nuggets and pay £1.59 less.
If your family or the group you're with want two or more McNugget meals, ordering the ShareBox and fries/drinks separately gets you more for less too.
£1.30 off a 'Chicken Selects' meal
Instead of ordering a £4.89 Chicken Selects meal, which includes three pieces of chicken, you can order a £1.99 Wrap of the Day, which includes just two pieces of the same crispy chicken, and you can make it into a meal for £3.59 - saving yourself a tidy £1.30.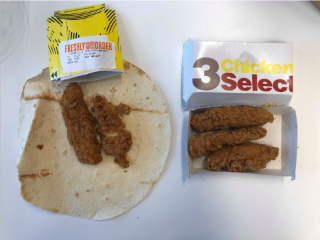 Even if you don't actually want to eat the wrap, you can remove all ingredients except for the chicken – though the price and £1.30 saving just remain the same.
30p off ice cream by switching cones for McFlurry
While McDonald's will happily sell you an 89p Ice Cream Cone, if you're not fussed about the cone itself, you can save 30p by getting a 59p Mini McFlurry instead.
Both use the same soft-serve ice cream, and when I weighed the ice cream in each I found there was only a 10g difference (yes, I took scales into a McDonald's and sat weighing ice cream). You can ask for 'no bits' if you just want the ice cream plain.
Think twice before ordering a Breakfast Wrap meal
McDonald's breakfast meals generally include both a hash brown and a hot drink. Yet if you order a £3.89 Breakfast Wrap meal, which has a small version of the hash brown inside the wrap itself, you'll only get a drink (no separate hash brown – boooo).
It's worth noting other meals, eg, £3.79 Sausage & Egg McMuffin, are also slightly cheaper. So if you value your side of hash brown, you can have the lot and pay 10p less.
Get 2p off a 'Happy Meal'... and ruin a child's day
Before I explain this one, a warning – it's extreme (and you know I mean extreme when even I think something's a bit stingy), and it'll probably make you highly unpopular with your kids. Nonetheless, it's a saving. Instead of buying a Happy Meal, including the 'free' toy, you can sometimes save 2p by ordering the constituent parts of a Happy Meal separately.
For example, a 99p Cheeseburger, 89p small fries and an 89p small drink comes to £2.77 instead of £2.79 for a Happy Meal. Yet they won't get the toy – so it's your call.
Buy six hot drinks, get one free
Possibly the most tried-and-tested tip in this list is the long-running loyalty scheme, where you collect stickers with each hot drink you buy to claim a free seventh cup. Keep them safe in your wallet and when ready, exchange your six stickers for a freebie at the till.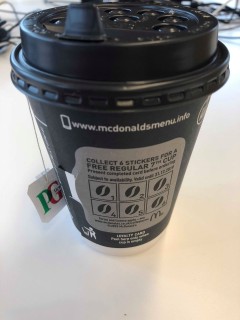 'Womble' your way to a free cuppa
You may be able to collect your six stickers a lot faster (and without spending money) by collecting any you find lying around on other people's discarded McDonald's coffee cups.
This is something I've done for a long time, and I usually find the best time is pre-10.30am as most people order a hot drink along with their Maccies breakfast.
DOUBLE your free hot drinks (via app)
As well as physical stickers, you can also virtual stickers in the form of points on the official McDonald's app. It works the same way, where you get a virtual sticker for each drink you buy - but when collecting your coffee you'll still get the actual sticker on your cup. So by the time you've bought six coffees, you'll now have TWO freebies to claim.
Why pay for a drink? Order a FREE tap water
As a general rule, restaurants only have to offer you free tap water if they serve alcohol (see our Tap Water Rights guide), so McDonald's wouldn't count.
Yet when I did some investigating, I found McDonald's (and other chains) were usually willing to give free tap water when I asked. It certainly beats paying £1.29 for bottled water.
Students get a 'free' burger or McFlurry
If you've got a valid NUS card (see our NUS guide) and you visit a McDonald's, you can claim either a free Cheeseburger, Mayo Chicken or McFlurry, but only if you're ordering an Extra Value Meal from the menu. So not really free, but a nice bonus if you can get it.
Keep your eyes peeled for McDonald's vouchers
You can often spot vouchers on the back of bus tickets and car parking tickets – usually for a £1.99 meal deal – so be sure to check yours, and look out for other folks' stray tickets on the pavements around town if you fancy doing some litter picking for a McDonald's discount.
Have I missed any McDonald's hacks? Share your best MoneySaving nuggets in the comments below or on Twitter.
Have your say
This is an open discussion but the comments do not represent the views of MSE. We want everyone to enjoy using our site but spam, bullying and offensive comments will not be tolerated. Posts may be deleted and repeat offenders blocked at our discretion. Please contact fbteam@moneysavingexpert.com if you wish to report any comments.