McDonald's MoneySaving hacks
Including 50p off breakfast meals, £2.20 off a 'McChicken Sandwich'
While many were already open for takeaway and delivery only, McDonald's has now reopened 700 (about half) of its restaurants for dining in. It won't be quite the experience we were used to pre-lockdown, so we've updated our guide, outlining the changes plus ways you can save.
We've had to remove a few of our MoneySaving tips for now as not all will work, or would be appropriate, during the current Covid-19 climate. But there are many you can still use, plus a couple of new ones – though I must stress, please eat responsibly.

McDonald's dine-in need-to-knows
About 700 of its 1,300 restaurants have reopened for dine-in as of Wed 22 July. You can check if yours is included via the restaurant locator in the free My McDonald's app, or find your nearest online.


Social-distancing measures will be in place and the number of people allowed in the restaurant at one time will be limited, so you'll likely need to queue outside at particularly busy times.


You'll be asked to use hand sanitiser provided by McDonald's when you arrive.


Dining in will be table service only – you can order at the till, the electronic screens, or via the My McDonald's app and your food will be brought to your table when it's ready.


Your table will include a QR code or web address where you'll be asked to register your details as part of the UK Government contact-tracing programme. If you're in a group, you can nominate a 'lead member' to provide details rather than everyone registering individually.


Customer toilets will be open.
New. Free hot drink for My McDonald's app newbies
If you've never signed up to the free My McDonald's app before (available for Android and Apple phones), you can get a free regular hot drink (norm £1-£2ish) until Fri 31 July.
To claim the freebie, you'll need to go to the 'Deals' tab within the app and add it to a mobile order – you don't need to purchase anything – you can just get the free drink if that's all you want.
Croydon
Walworth Rd
Birmingham Dale End
Lincoln
Ashton-Under-Lyne
Lowestoft
Tonbridge - High Street
Rugby
Birkenhead
Falkirk
291 Oxford St
Praed Street
Llandudno
Highway Shadwell
Charlton
Beccles
Whitehall
Croydon Valley Park
Livingston Mall
Eastbourne 2
Tunbridge Wells 2
Croydon 3 Centrale
West One Shopping Centre
Wimbledon Centre Court
Bracknell - The Keep
Chelmsford 2 Riverside
Greenhithe-The Railway Tavern
Victoria Station
New.

VAT price cuts including 50p off breakfast meals, 30p off a Happy Meal and 20p off a Big Mac

On Wed 15 July, VAT for the hospitality sector, including restaurants, was cut from 20% to 5% (which translates as a 12.5% reduction in running costs for McDonald's). Like many of the big chains, McDonald's is passing a saving onto customers by slashing the prices of selected menu items, including:
20p off a Big Mac, quarter pounder with cheese, or six chicken nuggets - £3.19 (was £3.39)
30p off a Happy Meal - £2.59 (was £2.99)
30p off a single McMuffin - £2.19 (was £2.49)
40p off a regular black coffee - 99p (was £1.39)
50p off breakfast meals - £3.49 (was £3.99)
While you're getting the full VAT saving of 12.5% on breakfast meals, it's only a 6% discount on the normal price of a Big Mac. The biggest price drop we've seen is regular coffee, from £1.39 to 99p – a 29% reduction.
As McDonald's restaurants operate on a franchise model, these are prices/savings McDonald's recommends its franchisees give – but they can choose not to. Before heading out, check on the My McDonald's app for prices at your local branch, especially if you've multiple McDonald's nearby as one may be cheaper than another.
See MSE Becky's blog for a list of other restaurants cutting prices due to reduced VAT.
£2.20 off a 'McChicken Sandwich'
You can save £2.20 on a McDonald's chicken burger by ditching the £3.19 McChicken Sandwich in favour of a 99p Mayo Chicken.
If you just wanted a chicken burger, they both do the same job. Here's a comparison: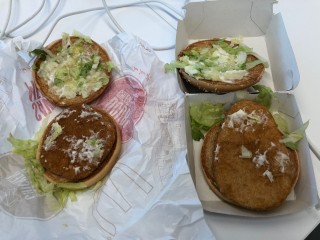 Okay, the Mayo Chicken's a tad lighter – the one I tested weighed 25% less overall – but as it's the same ingredients (chicken, lettuce and mayo in a bun), and a massive 70% cheaper, it's surely worth a try.
You could technically eat three of the Mayo Chicken and still pay less than for one McChicken Sandwich. Though I wouldn't recommend it.
Big Mac and fries for £1.99 every time
At the top of most McDonald's receipts, there's a 'Food for Thoughts' code. Go online and fill in quick a survey to receive a second code, which you can then exchange in the restaurant for a £1.99 Big Mac and fries (normally £4ish). The best part? You can use your receipt from this purchase to do the survey again, and repeat as many times as you like. For full details, see my £1.99 Big Mac & fries every time blog from last year.
New.

50% off when dining in at some Maccies in August

Earlier this month, Chancellor Rishi Sunak announced the 'Eat Out to Help Out' scheme, offering 50% off dine-in bills (up to £10 per person) at participating restaurants Monday to Wednesday in August.

McDonald's has confirmed some of its reopened restaurants will be taking part in the scheme when it launches next month, though it hasn't said which locations will yet – we'll update here when it does.

See more info on the scheme in our Eat Out to Help Out 50% off MSE news story.
£1.10 off a DIY 'Big Mac'
Instead of ordering a £3.19 Big Mac, save £1.10 by creating this MoneySaving version.
To do it, order a Double Cheeseburger for £1.59, and add the following free extras to have the ingredients of a Big Mac: 'extra' onions and pickles, plus shredded lettuce. Since Feb 2020, you can now get Big Mac special sauce for 50p. Add the sauce to the basket, and the total cost will come to £2.09.
The add-ons won't cost extra (just the sauce), so although you might miss that iconic middle tier of bread – I reckon the 34% saving you can make every time is worth it.
If you're not fussed about the Big Mac sauce, you can save yourself an extra 50p. Mustard and mayonnaise can be a nice alternative.
Get FREE extra toppings
On the self-order screens, or the McDonald's app, you can add extra ketchup, mustard, onion, pickles, mayonnaise and/or shredded lettuce for free to any burger. If there's already one of those ingredients in the burger, you get double the amount, or if it's not normally in there – it's added in for you. You can also pay 20p for extra cheese or 40p for bacon.
Dodge the 'sugar tax' on drinks
There's a tax on some fizzy drinks (see our 'Sugar tax' news story), but only one drink at McDonald's is affected. If you choose original Coca-Cola (not Diet or Zero), it'll cost you an extra 8p for a small, 12p more for medium or 14p more for a large. You can easily avoid the tax by ordering any other drink off the menu.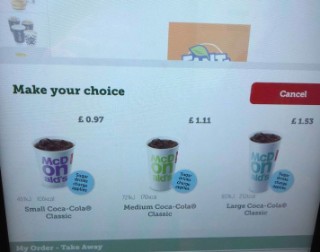 £1.59 less for eight EXTRA chicken nuggets
Pick up two boxes of six Chicken McNuggets (£3.19 each) and you're paying £6.38 for a respectable 12 chicken nuggets. However, if you switch these for a single £4.79 McNuggets ShareBox of 20 nuggets, you can get an extra eight nuggets and pay £1.59 less.
If your family or the group you're with want two or more McNugget meals, ordering the ShareBox and fries/drinks separately gets you more for less too.
Buy six hot drinks, get one free
Possibly the most tried-and-tested tip in this list is the long-running loyalty scheme, where you collect stickers with each hot drink you buy to claim a free seventh cup. Keep them safe in your wallet and when ready, exchange your six stickers for a freebie at the till.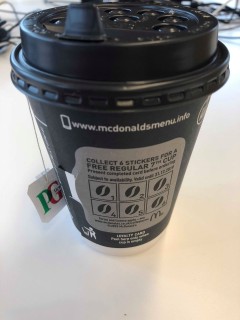 DOUBLE your free hot drinks (via app)
As well as physical stickers, you can also collect virtual stickers in the form of points on the official McDonald's app. It works the same way, where you get a virtual sticker for each drink you buy - but when collecting your coffee you'll still get the actual sticker on your cup.
So by the time you've bought six coffees, you'll now have TWO freebies to claim.
Students get a 'free' burger or McFlurry
If you've got a valid student ID including a Unidays ID or Totum card (see our student guide for more info) and you visit a McDonald's, you can claim either a free Cheeseburger, Mayo Chicken or McFlurry until Mon 31 Aug. To get it, you'll need to order an Extra Value Meal from the menu and show your student ID at the till. So not a total freebie, but a nice bonus if you can get it.
The offer's available after 10.30am, except in selected restaurants in the south of England which offer if from 11am. It's one person, per visit and can't be used with other offers.
Do you have a favourite McDonald's hack? Share your best MoneySaving nuggets in the comments below or on Twitter.
Have your say
This is an open discussion but the comments do not represent the views of MSE. We want everyone to enjoy using our site but spam, bullying and offensive comments will not be tolerated. Posts may be deleted and repeat offenders blocked at our discretion. Please contact fbteam@moneysavingexpert.com if you wish to report any comments.