10 'cheapy' Nando's MoneySaving tips & hacks as it reopens 152 restaurants for collection and delivery
Including ordering off a different section of the menu to save up to £7.70, and new free delivery trick till 21 June
A tough part of lockdown for many has been the closure of popular restaurant chains. If you've been missing a cheeky Nando's in particular, you'll be pleased to know it's reopened 152 of its 400ish UK restaurants – but ONLY for online collection orders, or delivery – you still can't go to the restaurant to eat in.
Nando's discounts are quite rare, so cutting the cost of your chicken 'n' chips fix isn't easy, but we've put together some helpful tips and hacks so you can still make a saving. You may have seen our popular Nando's hacks guide before, but that was largely based on eating in, so we've adapted it – and added new tips – for collection and delivery. As always, please eat responsibly.

Below is a list of Nando's locations that have opened for collection and/or delivery. You can only order online via Nando's or Deliveroo, it's not accepting takeaway orders via phone or in person.
Aberdeen - Belmont Street
Aberdeen Union Square
Aylesbury
Belfast - Boucher Crescent
Berners Street
Birmingham - Bullring
Birmingham - Mailbox
Birmingham - New Street
Birmingham - Percy Barr
Birmingham - Star City
Bournemouth - Castlepoint
Bracknell
Brighton - Duke Street
Bristol - Cabot Circus
Bristol - Cribbs Venue
Brixton
Bromley - St Mark's Square
Camberwell
Cambridge - Leisure
Cambridge - Retail Park
Camden
Canary Wharf - Cabot Place
Canary Wharf - Jubilee Place
Canterbury
Cardiff - Old Brewery Quarter
Cardiff - St David's
Chelmsford
Cheltenham
Chester
Chichester
Chiswick
Clink Street
Colchester - Tollgate
Colliers Wood
Coventry - City
Crawley
Croydon Colonnades
Dalston
Dundee - Camperdown
Durham
Ealing - Bond Street
Ealing Common
Earl's Court
East Croydon
Edgware
Edinburgh - Chambers Street
Edinburgh - Fountain Park
Edinburgh - Lothian Road
Elephant & Castle
Enfield - Retail Park
Enfield - Town
Exeter - Marsh Barton
Finsbury Park
Glasgow - Springfield Quay
Glasgow - Waterloo Street
Glasgow - West End
Glasshouse Street
Gloucester Road
Goodge Street
Guildford
Hammersmith - King Street
Harrogate
Headingley
High Wycombe
Holloway Road
Hornchurch
Horsham
Hounslow
Hove
Ipswich - Cardinal Park
Islington
Kensal Rise
Kensington High Street
Kilburn
Kingston

Leamington Spa

Leeds - Briggate
Leeds - Cardigan Fields
Leeds - The Light
Leeds - White Rose
Leicester - Freemans
Leicester - Granby Street
Lime Street (London)
Lincoln
Liverpool - ONE
Liverpool - Queen Square
Maidstone
Manchester - Fallowfield
Manchester - Oxford Road
Manchester - Parrs Wood
Manchester - Printworks
Manchester - Spinningfields
Middlesex Street
Mile End
Milton Keynes - Xscape
New Malden
Newcastle - Central
Newcastle - The Gate
North End Road
Norwich - Riverside
Notting Hill
Nottingham - Cornerhouse
Nottingham - Market Square
Old Street
One New Change
Oxford - Cowley Road
Oxford - George Street
Paisley
Park Royal
Peckham
Plymouth - Barbican Leisure
Poole
Putney
Reading - Gateway
Reading - Oracle Centre
Sevenoaks
Sheffield - Ecclesall Road
Sheffield - West Street
Sherpherd's Bush
Shirley
Soho
Southampton - Guildhall
Southgate
Spitalfields
Staines
Stoke Newington
Stratford
Sutton
Swansea - The City Gates
Swindon - Orbital
Swindon - Regent Circus
Swiss Cottage
Teddington
Tooting
Twickenham
Uxbridge
Victoria - Wilton Road
Walton On Thames
Wandsworth
Watford - High Street
Wembley Park
West Hampstead
Whitechapel
Wimbledon
Windsor
Woking
Wokingham
Wood Green
Worcester
York

Nando's Greenwich Peninsula and Lavender Hill (London) are accepting delivery orders only.
Got a Nando's Card? Here's what's happening to your 'chillies', and when you can and can't use your card right now
Any Nando's regular will know its free Nando's Card is a no-brainer.
You get a 'chilli' (basically a rewards point) when you spend £7 or more, and after you earn enough chillies, you can claim a reward such as a free ¼ chicken (norm £4.25) when you earn three chillies, or a free whole chicken (norm £13.70) when you earn 10 chillies.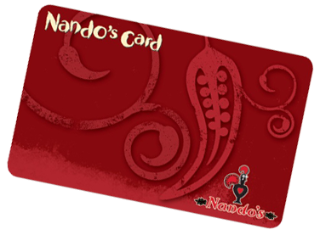 Here are our Nando's Card lockdown need-to-knows...

You can't redeem rewards for 'free' food right now
Nando's has confirmed that unfortunately you can't redeem any of your chillies currently as this can only be done when eating in at a restaurant. However, you can still collect chillies, but only when you order via a certain way (see below). You'll be able to claim any rewards you have when restaurants are open again for dining in.
You can use your Nando's Card to earn chillies when ordering online, but only through the Nando's website – not Deliveroo
If you want to earn chillies on your card, you'll need to register it online at Nando's and make your collection or delivery order via the Nando's website. If you go directly to the Deliveroo website (Nando's exclusive delivery partner) to order your meal, your card won't be linked and you won't earn a chilli. See below for more analysis on whether you should order via Nando's or Deliveroo.
You won't lose rewards that are close to expiry during lockdown
Once you gain enough chillies for a reward, it's valid for one year. In 2019, Nando's told us there were 1.8 million unclaimed freebies – that's a lot of 'free' chicken. It has confirmed that it's extended all rewards so that none will expire during lockdown, while restaurants are closed and you're unable to claim them.
There are two ways you can order a Nando's delivery at the moment - online via the Nando's website, or via Deliveroo. Even if you order via the Nando's site, it links with Deliveroo's system so your experience, and (more importantly) prices will be the same regardless. However, there's a short-term delivery trick which means there's an advantage to ordering via the Nando's website.
Nando's is offering free delivery (usually £2-£3ish depending how far you live from the restaurant) and no service fee (norm 49p) on orders made through its website until Sun 21 June.
You can only get this deal when ordering via the Nando's website – not Deliveroo – so unless you have a special Deliveroo code which beats the cost of delivery and the service fee, you're better off ordering via Nando's.
Save up to £7.70 ordering the exact same food on a different part of the menu
If there are two or more of you, it's cheaper to buy a sharing platter (or the same price in one case) than ordering individual meals.
For example, a family buying two whole chickens and five large sides (enough to feed four to six people) can save £7.70 ordering the 'Family Platter' instead or individual meals.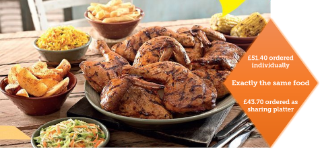 The table below shows how much you can save when ordering the same food from the sharing menu:
| | | |
| --- | --- | --- |
| What you're ordering | Price bought as individual meals | Price bought as a sharing platter |
| Two whole chickens and five large sides | £51.40 | £43.70 for the 'Family Platter' - a £7.70 saving |
| Chicken butterfly, four chicken thighs, and two large sides | £25.80 | £23.20 for the 'Boneless Platter' - a £2.60 saving |
| Chicken butterfly, four chicken thighs, and four regular sides | £23.20 (when buying a four boneless chicken thighs with two regular sides meal and a chicken butterfly with two regular sides meal) | £23.20 for the 'Boneless Platter - the same price |
| Whole chicken and two large sides | £23.30 | £21.70 for the 'Full Platter' - a £1.60 saving |
| Whole chicken and four regular sides | £22.40 (when buying two lots of ½ chicken with two regular sides meals) | £21.70 for the 'Full Platter' - a 70p saving |
| 10 chicken wings and two large sides | £20.55 | £17.70 for the 'Wing Platter' - a £2.85 saving |
| 10 chicken wings and four regular sides | £18.90 (when buying two lots of five chicken wings with two regular sides meals) | £17.70 for the 'Wing Platter' - a £1.20 saving |
We've compared the sharing platters to the cheapest way of ordering the same food as individual meals – for example, if you want a whole chicken and four regular sides, it's cheaper to buy two lots of ½ chicken with sides meals than a whole chicken and four sides separately – though ordering a sharing platter, as we've shown above, saves even more.
Two of you ordering fries? Get MORE for 40p less
If two of you want fries you may just automatically think to order two separate regular portions for £2.60 each (£5.20 in total). However, you should order a large fries for £4.80 instead and split it between you. Not only do you save 40p but you actually get more fries.

You can tell the difference when looking at the portions side-by-side (see above) but of course, we wanted to prove this 'scientifically' – so MSE Laura weighed the portions. When she tested it, two regular portions of fries weighed 332g, while the cheaper large portion of fries weighed 341g – and gave us about 15 extra fries.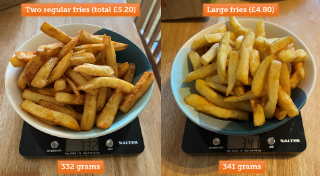 Order chicken butterfly? Get more meat for 55p less (if you don't mind bones)
If chicken butterfly is your go-to at Nando's, it's worth knowing you can get more chicken for 55p less by ordering something else entirely. If you don't mind your chicken on the bone, the ½ chicken is £7.70, compared to £8.25 for the butterfly.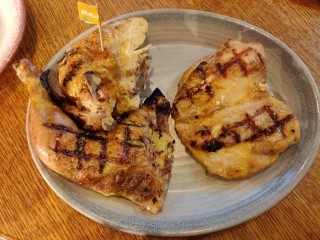 When side-by-side, it looked like the ½ chicken was meatier than the butterfly, but of course as the ½ chicken is on the bone, it was hard to tell for sure – so in true MSE style, we stripped the ½ chicken off the bone and weighed them both. As you can see below, we got 84g more meat on the cheaper ½ chicken.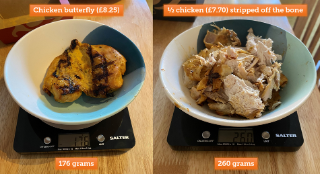 Make your own PERInaise and save 60p
If you want Nando's PERInaise with your collection or delivery, it'll cost you 60p to add it as an extra to your meal – but if you're already ordering one of the 125g sauces (or have some at home), and assuming you already have mayonnaise, then you can just whip up some PERInaise at home by mixing a bit of each. It may not be the exact same taste, but it's a cheaper alternative.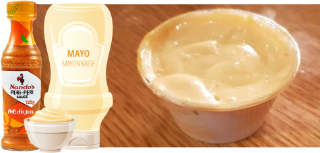 Avoid the sugar tax
Fizzy drinks that are higher in sugar are more expensive because of the sugar tax introduced in 2018. This means original Coca-Cola will cost you 10p more than Coke Zero, Diet Coke, Fanta, and Sprite Zero when ordering at Nando's. Opt for any of those drinks instead if you want to avoid the extra levy.
Get a 'free' ½ chicken when restaurants open with £1ish crisps spend
If you buy a promotional pack of Walkers 'Taste Icons' Nando's peri-peri chicken flavour crisps, you'll get a voucher for a free ½ chicken when you spend £7 or more when dining in, or on takeaway (but not delivery), at Nando's.
Of course, restaurants are closed for eating in at the moment so the voucher won't be valid till later in the year. MSE Becky spotted a five-pack of the crisps at Co-op for £1 (norm £1.65), and as a ½ chicken at Nando's normally costs £7.70, you can make a decent saving.

You'll be able to use the voucher on Sunday to Thursday until 3 December 2020. The end date printed on packs is 10 September 2020 but Walkers has confirmed that due the coronavirus pandemic, it's extended the validity to December.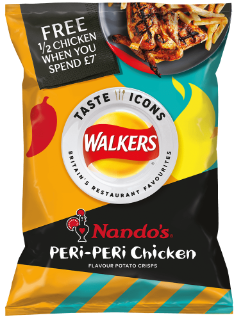 If you don't want a 'free' ½ chicken, you can swap it for a choice of either a mushroom & halloumi burger, supergreen burger, sweet potato & butternut burger, or a beanie burger.
If you've got your pack of Walkers Taste Icons Nando's peri-peri chicken, visit Walkers online. You'll need to enter your name and email address, and then a 10-digit code beginning with NA that you'll find in the best before box on the pack by Thusday 3 December.

Take your voucher to a Nando's restaurant when they open and you can get a ½ chicken when you spend £7 or more, Sunday to Thursday.
Have a go at making Nando's at home
It's not strictly a real Nando's, but you can save a whole lot on your meal by having a go at making it yourself. You can pick up Nando's branded cooking marinades, peri-peri salt, spice rubs and more at the major supermarkets to make yourself a Nando's at home.
Of course, you can save even more money by making your own version totally from scratch, but you may want to use Nando's products to get as close to the real thing as possible.
For example you can recreate a Nando's whole chicken (£13.70 for the real thing) by getting a supermarket whole chicken (£3ish) and two packs of Nando's 25g peri-peri rub (95p each) – meaning you can make a DIY Nando's whole chicken for £4.90ish, almost a £9 saving.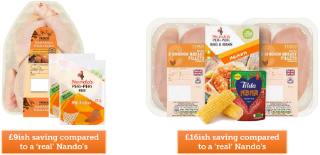 To recreate a butterfly chicken meal for two (£23.50 for the real thing), you could pick up a Nando's bag and bake (£1.35), two packs of two chicken breasts (£3.50ish), some peri-peri rice (£1.60ish), and two corn on the cob (£1.30ish) – meaning you can make a DIY Nando's butterfly chicken meal for two with sides for £7.75ish, almost a £16 saving.
We asked MoneySavers who'd given DIY Nando's a go to send us their homemade creations, so take a look below for some inspiration...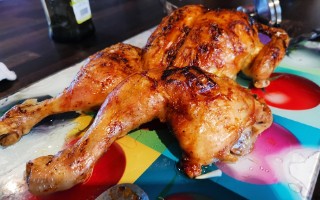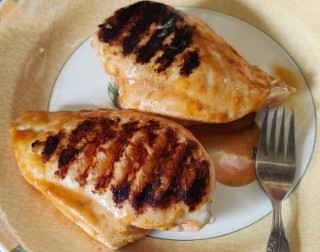 Will you be ordering a Nando's collection or delivery? Do you have any tips or hacks of your own? Have your tried a DIY Nando's at home? Let us know in the comments below or on Twitter @MSE_Deals.
Have your say
This is an open discussion but the comments do not represent the views of MSE. We want everyone to enjoy using our site but spam, bullying and offensive comments will not be tolerated. Posts may be deleted and repeat offenders blocked at our discretion. Please contact fbteam@moneysavingexpert.com if you wish to report any comments.