12 Nando's hacks, eg, £5 off a meal for two and DIY burger
In recent years, Nando's has become one of the nation's favourite restaurants - but as Nando's discounts tend to be quite rare, cutting the cost of your chicken 'n' chips fix isn't easy. So hopefully these tricks can help you save a few quid.
This follows last month's 20+ McDonald's Hacks blog, and I'm already researching hacks for the next restaurant in this series. We've based these hacks on eating in, though some will be available for collection. Let's have a cheeky look at my Nando's hacks…
Two of you ordering half a chicken, drinks and sides? Order EXACTLY the same food for £4.85 less
If two (or more) are eating together, platters work out best value for money as you get exactly the same food for two as on 2x individual orders.
As an example, those ordering two lots of half a chicken with chips and drinks pay £25.30, however ordering the 'meal platter', which comes with a whole chicken, two regular sides and two bottomless drinks only costs £20.45 (saving £4.85). The same principle applies to all the platters:
Wing platter for £17.95 - 10 chicken wings and 4 regular sides (95p saving on two chicken wing meals).
No bones platter for £21.95 - One chicken butterfly and four chicken thighs plus 4 regular sides (75p saving on two meals).
Jumbo platter for £44.95 - Two whole chickens and 5 large sides (£4.80 saving on ordering separately).
Order a double chicken burger? Get MORE meat for 90p less
The chicken you get in a Nando's burger contains a smaller piece to fit it in the bun. However if you're ordering a double chicken burger, you can get a bumper stacked burger by making it yourself.
If you order a butterfly chicken (£7.95 - for two chicken breasts) and buy a portuguese bread roll for 90p (which is the exact same roll as you'll find on the burger), you can make yourself a DIY burger for only £8.85.
You won't get the lettuce or tomato, but you can add your own condiments and create a burger mountain which is tricky to get your mouth around. We didn't test how much more you get with scales, but from what we can see, it's a bigger size.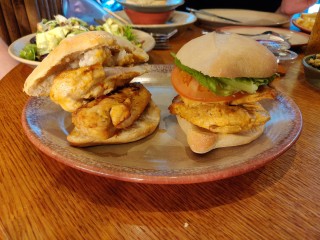 20% off for emergency services, forces & NHS
It isn't widely known, but if you're part of the NHS, emergency services or armed forces, you can get 20% off your food and drink bill (max £4 off) at Nando's simply by showing a valid photo ID card before placing your order. It works when eating in, and on in-restaurant takeaway orders - but not online or delivery orders.
The discount's valid for the whole table but unfortunately, you can only use it once per day, so can't split transactions. Even if you personally don't work for any of the above – but know someone who does – you may still be able to benefit.
Order a large fries instead of two regular for 35p cheaper
Ordering two separate regular portions of fries at £5 isn't the best value. If two of you want fries, order a large fries to split between you (£4.65). Not only does it save you 35p, when we checked, we got 82 chips in the large size and 68 in two regular sizes (14 extra chips in the large portion).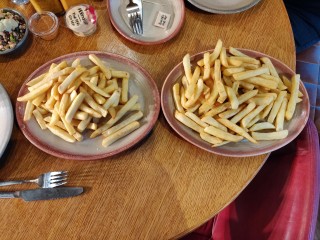 Order Butterfly Chicken? Get more for 50p less (if you don't mind bones)
Butterfly Chicken (Mango & Lime), is my personal 'go to' Nando's dish – though you can actually get more chicken for 50p less by ordering something else entirely.
If you don't mind your chicken on the bone, go for the half chicken. It comes in at £7.45 (the butterfly's £7.95). I'm no chicken expert, but according to the website, there are more calories in the half chicken (600ish) compared to the butterfly chicken (300ish), so you seem to get more for your money.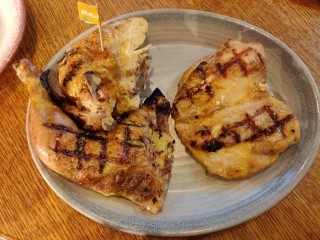 Make DIY PERInaise for free
PERInaise usually costs an extra 50p to add onto your meal on the side – but you can make it yourself for free. It may not be the exact same taste, but it's a cheaper alternative.
When we checked, Nando's no longer stock mayonnaise in the condiments bar, so instead ask for some in a pot, then add whichever spice to it you like. Mix it together with a fork (or a chip) and you've just made some DIY PERInaise. You can make as much as you want too.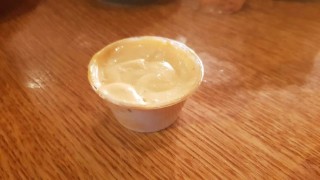 Want a smaller meal? The kids menu can save you £3.50+
If your usual order is the chicken wings meal or the chicken burger, and you can live with the portion being a bit smaller, you can save yourself £3.50-£4.50. Simply order a kids' meal from the 'Nandinos' section (which anyone can do), which gets you either three chicken wings or a smaller chicken burger meal with two sides and a drink for £5.95.
The sides you get are slightly smaller, but if you only wanted a small meal, this is a great option.
Nando's loyalty card gets you free food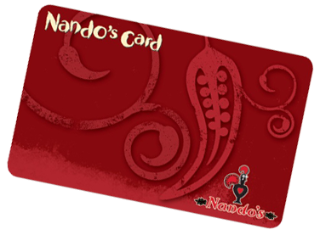 If you frequent Nando's, then its free loyalty card is a no-brainer. Every time you spend £7, you get a 'chilli', which counts towards free food – you'll get your first one just for registering. Here is what the rewards get you:

Three chillies (green reward): Free ¼ chicken or FireStarter (norm £3.70-£3.95)
Six chillies (orange reward): Free ½ chicken or choice of burger, pitta or wrap (norm £6.45-£7.45)
10 chillies (red reward): Free whole chicken or any combo meal with two sides (norm £7.45-£13.25)
Use your loyalty stamps wisely
It's all well and good getting chillies and free food, but claiming them effectively is key. Nando's has cleverly designed the rewards scheme so that you still spend when claiming them.
Claiming a free ¼ chicken for example will save you £3.95 buying it on its own, but you'll still have to pay £5 for two regular sides if you normally have a combo meal. Getting a combo meal would only cost you £3.50 to add the two sides, so you're only really saving £1.50.
We worked out the best value return on you chicken-vestment through the loyalty card, and if you can save up enough chillies to make it to 10, those free combo meals give you the best return (and you don't have to pay for sides with your freebie too).
No. of chillies

Cost to obtain them

Max reward value

Return on investment

🌶️🌶️🌶️
£21 minimum
£3.95
18.8%
🌶️🌶️🌶️
🌶️🌶️🌶️

£42 minimum

£7.45

17.7%

🌶️🌶️🌶️🌶️🌶️
🌶️🌶️🌶️🌶️🌶️
£70 minimum
£13.25
18.9%
How to get free water
Nando's happily offer you free water with your meal if you didn't want to order a bottomless or alcoholic drink. They'll give you a smaller glass to fill up with water (the dispenser is normally next to the soda fountain), and it won't cost you anything. Bottomless drinks regularly cost £2.70 a pop, so it's a good saving for bottomless water instead.
Avoid the sugar tax
As you might've heard, there's now a tax on some fizzy drinks (see full info how the 'Sugar tax' works), but only one drink at Nando's is affected. If you choose original Coca-Cola for your bottomless drink, it'll cost you an extra 20p more. You can easily avoid the tax by going for any other drink, such as Sprite, Fanta or Coke Zero.
Make Nando's at home
And finally, it's not strictly a real Nando's, but you can save a whole lot on your meal by making it yourself at home. At most major supermarkets, you can pick up Nando's branded cooking marinades, peri-peri salt and spice rubs to make yourself a Nando's at home (and you can save even more money by making your own version totally from scratch).
You can pick up a whole pack of chicken breast at the supermarket for £3-4, and the marinades are priced between £1-3, so you can make a bigger batch of Nando's style chicken for three to four people for around £1-2 per head.
You can see a bumper list of recipes on the Nando's website to make it all yourself from home.
Do you have any Nando's hacks that you use? I'd love to know in the comments below, on Twitter @MSE_Deals or on Facebook. The best ones might even be featured!
Have your say
This is an open discussion; anyone can post. Comments may be edited, and are only published during the working day. Please report any spam, illegal, offensive, racist, libellous posts (inc username) to fbteam@moneysavingexpert.com.