75p Easter Eggs at Tesco (norm £1.50)
Easter may be weeks away, but that's not going to stop shops piling shelves high with chocolate eggs. And if you're buying early, here's an egg-cellent deal that could save you shelling out later on (but only if you can resist eating them).
Until Sat 9 Mar, you can pick up selected medium-sized Easter eggs for 75p at Tesco* (in store or online). Brands include KitKat, Smarties, Aero and Rolo.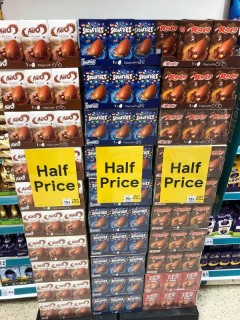 If you're stocking up in advance (Easter Sunday's on 21 April), 75p will likely be the cheapest we'll see these eggs until after Easter's done and dusted. They're normally £1.50.
However, it may still be worth a look even if you just want a cheap sugar fix now - and don't mind tucking into Easter eggs well before the event itself - as we found the KitKat Chunky egg works out three times better value gram-for-gram than buying a KitKat bar alone.
Some KitKat number-crunching...
A KitKat Chunky (which is included in the KitKat Easter egg) costs 60p when bought as a standalone bar. If you buy the Easter egg in this offer, you'll still get the same size bar, but you'll add another 100g of Chunky chocolate on top from the egg.
| | | | |
| --- | --- | --- | --- |
| Item | Size | Price | Price per 100g |
| KitKat chunky (single bar) | 40g | 60p | £1.50 |
| KitKat chunky (easter egg + bar) | 140g | 75p | 53p |