75p Easter Eggs at Tesco (norm £1.50)
It may be three months away from Easter, but that hasn't stopped the retailers from already stocking chocolate eggs. But with an offer this week, you'll be egg-cited to know, you'll be getting egg-ceedingly good value.
Until Tue 5 Feb, you can pick up selected medium sized Easter eggs for 75p at Tesco* (in store or online). You can choose between several branded eggs including KitKat, Smarties, Aero and Rolo.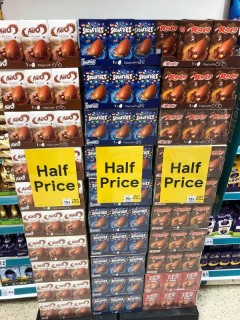 If you wanted to stock up for April, 75p is the likely to be the cheapest we'll see for these eggs. But if you wanted a cheap sugar fix this week, the best value egg we found was the KitKat Chunky, which works out three times better value than buying a bar by itself. Here is the maths:
A KitKat chunky (which is included in the KitKat Easter egg) costs 60p for a single bar. If you bought an Easter egg this week, you will still get the same size bar, but you'll add another 100g of chocolate on top from the Easter egg.
| | | | |
| --- | --- | --- | --- |
| Item | Size | Price | Price per 100g |
| KitKat chunky (single bar) | 40g | 60p | £1.50 |
| KitKat chunky (easter egg + bar) | 140g | 75p | 53p |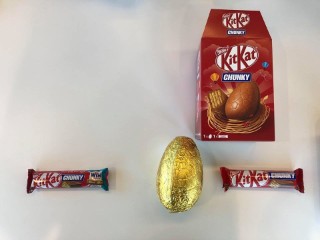 So if you want the most chocolate for the best value, this is a great way to get it. The offer's only on until Tuesday though, so go quick!
What do you think about supermarkets selling cheap Easter Eggs in January? I'd love to know your thoughts in the comments below, on Twitter @MSE_Deals or on Facebook.
Have your say
This is an open discussion; anyone can post. Comments may be edited, and are only published during the working day. Please report any spam, illegal, offensive, racist, libellous posts (inc username) to fbteam@moneysavingexpert.com.