How to get a £6 box of chocolates for free
I can't think of many things better than free chocolate. It's a super-satisfying freebie, especially if it makes you feel less guilty about eating it.
From now until Sun 31 Mar, you can use cashback website/app TopCashback to claim £3 back on the cost of any box of chocolates from any major supermarket. This is open to both new and existing TopCashback members.

What's really great though, is you can combine it with supermarket offers to make an even bigger saving. For example, I bought a half-price Cadbury Milk Tray, see below, and it became completely free after I'd claimed the cashback – it's normally £6.
Important: At MSE we rarely post about cashback deals, as things can go wrong with technology when buying online - so we can never be certain you'll get the cashback. However, with this offer, as it's something you have to physically go and buy in store, the usual risks of your purchase not 'tracking' online are eliminated. Just keep your receipt!
How to get it free
Once you've bought a box of chocolates from a supermarket (I've picked out a few examples below), you'll be eligible to claim £3 cashback. Simply take a picture of your receipt, which must clearly show the chocolate you've bought plus the date and time of purchase, and you'll get the cashback. You can either upload the photo of your receipt to the TopCashback website* or on the app.
If you want to, you can spend more than £3, but you'll only get a maximum of £3 back. If you spend less than £3 though, you will still get the full amount, meaning there could be a small profit to be made.
To max this, you'll need to find chocolates that are priced at £3. If you can find some on offer, then you'll get even more for your money. Here are a few of the best options I found:
Tesco
Nestle Dairy Box 360g - £3 (was £6)
Cadbury Milk Tray 360g – £3 (was £6)
Sainsburys
Quality Street 265g - £3
Cadbury Heroes 290g - £3 (was £4)
Asda
Cadbury Milk Tray 360g – £3
Thorntons 'With Love' Collection 159g - £3
Morrisons
KitKat Senses Salted Caramel 200g - £3 (was £4)
Celebrations 245g - £3
This deal is limited to the first 20,000 redemptions, or until 11.59pm on Sun 31 Mar, so go quick if it's something you want. Though before you go digging around your bag for old receipts, the furthest back you can claim for is 10am on Mon 25 Mar (any earlier and it won't be accepted).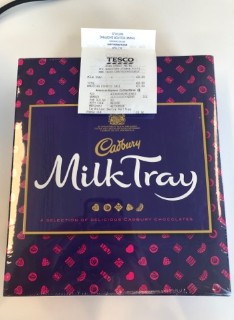 Whether it's a gift for Mother's Day or you keep it for yourself, this will be a tasty freebie.
Will you be getting some free chocolate? Let me know what you get in the comments below, on Twitter @MSE_Deals or on Facebook.