MSE Easter Egg Taste Test 2019 (where a £1 Aldi egg beat the £8 M&S one)
Chocolate eggs have been in the shops since January, but this month it's finally Easter – so for a bit of fun, I arranged a blind taste test at MSE Towers...
The aim was to find out if it's worth shelling out for a posh Easter egg, or whether cheap ones taste just as good, and luckily at MSE we've a team of penny-pinching researchers who'll leave no egg unwrapped in their search for the best deal. So while it's a tough job, tasting six chocolate eggs is all in a day's work for our poor, hard-done-by staff.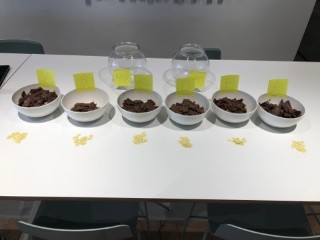 I asked 30+ MSE tasters to sample the chocolate from six Easter eggs, all unlabelled, and then tell me which they thought tasted best (and worst). For each 'best' vote, one point was awarded, and for each 'worst' vote, one point was taken away. I included a couple of own-brand eggs (from Tesco and Sainsbury's, the two supermarkets nearest MSE Towers), and added in two of the big names in chocolate, Cadbury and Mars, plus Aldi and M&S to represent each extreme on the price scale, which ranged from 79p to £8.
The results may surprise you...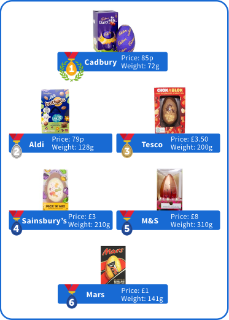 Results in more detail
1st – Cadbury (9 'best' votes, 1 'worst' vote) - Despite being one of the most recognisable brands, Cadbury's £1 egg was at the cheaper end of our line-up. However, it came out on top for its flavour, with a convincing lead over more expensive brands.
2nd – Aldi (8 'best' votes, 3 'worst' votes) – Not far behind this year's winner, and way ahead of the competition (including M&S, which cost 10 times as much).
3rd – Tesco (7 'best' votes, 7 'worst' votes) – Tesco did better this year than in previous years' tests. Though it's not as cheap as you might expect for a supermarket own-brand.
4th – Sainsbury's (4 'best' votes, 8 'worst' votes) – A few years ago, Sainsbury's had an 80p own-brand egg, which won our taste test. This year, it's not selling any eggs that cheap, which is why we tested this semi-posh one (I removed the 'pick & mix' sweets so it was only the chocolate that was rated). Sadly for Sainsbury's, it's slipped down in our rankings.
5th - M&S (2 'best' votes, 6 'worst' votes) – The most expensive egg in our test, not that our office guinea pigs could tell. Maybe MoneySavers have cheap taste!
Last place - Mars (0 'best' votes, 5 'worst' votes) – Yet another big brand that failed to impress our taste-testers. Interestingly, Mars also finished last in our 2017 taste test.
So, if you've yet to buy Easter eggs, these findings – although not terribly scientific – may well prove you don't need to shell out for an egg-cellent taste. Enjoy!
Have you tasted any of these Easter eggs yourself? I'd love to know your thoughts in the comments below, on Twitter @MSE_Deals or on Facebook.
Have your say
This is an open discussion but the comments do not represent the views of MSE. We want everyone to enjoy using our site but spam, bullying and offensive comments will not be tolerated. Posts may be deleted and repeat offenders blocked at our discretion. Please contact fbteam@moneysavingexpert.com if you wish to report any comments.
Update: We are aware that some users may currently be having issues seeing the comments and we're working on it.