Burger King hacks including FREE Whopper & £2 off a 'Bacon Double Cheeseburger' every time
If Burger King takes the crown as your favourite fast food joint (or is one of them), then we've a right royal rundown of tips and tricks to help make sure you don't pay a whopper of a price...
Of course, it's not the healthiest grub so we're not suggesting you go wild with these – please eat responsibly. Before we get into the hacks, an important note on Burger King prices...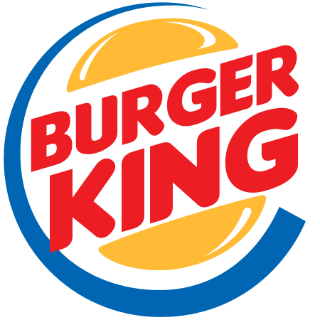 As Burger King is a franchise, its prices vary somewhat by location. You may find that the prices we've used below differ slightly from your local restaurant, yet the general principle of each of these MoneySaving tips and tricks should remain the same.
New. Get a totally FREE Whopper on Wed only

From 6am on Wed 23 Jun, you can get a free original or plant-based Whopper (norm £4.49) at most Burger King restaurants via the Burger King app (available on the App Store and Google Play). It's for both new and existing app users, on Wed 23 Jun only. This won't work if you're ordering a delivery via Deliveroo, Just Eat or Uber Eats, and you can only use it once.
Just go to the 'Offers' section of the app and tap the 'Free Whopper Day' deal, then place your order via the app. There's no need to purchase anything else – you can just get the freebie if you want. Burger King has told us that this will be available in most restaurants, excluding those at airports, motorway service stations, train stations and holiday parks.
Save £2 on a 'Bacon Double Cheeseburger'
For many years, Burger King's slogan was 'Have it your way', and for this hack... we will. A regular Bacon Double Cheeseburger costs £3.99, but there's a way to order it which gets you the same thing for £2 less.
On the King Saver menu, you can order a Double Cheeseburger for £1.49. All that's missing from that, to convert it into a Bacon Double Cheeseburger, is the bacon – but you can actually add bacon to any burger for an extra 40p-50p, depending on the branch.
So order a Double Cheeseburger and ask to add bacon, and you can get the same thing for less than £2, about half-price.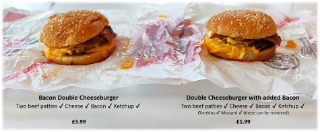 Note: The 'Have it MSE's way' burger will include gherkins and mustard (which the regular Bacon Double Cheeseburger doesn't come with), but you can ask for these to be removed if you don't want them.
How to get a £6.49 Whopper meal for £4ish
On the back of Burger King receipts, you'll find an offer for a 'free' Whopper, plant-based Whopper, Chicken Royale or Vegan Royale when you buy a drink and regular fries (so you end up with a full meal). You'll need to complete a short survey to get a code, then purchase the fries and drink within 30 days of the date on your original receipt.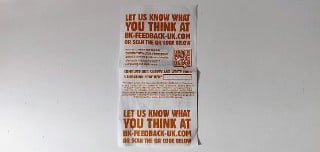 To get a cheap Whopper, Plant-based Whopper, Chicken Royale or Vegan Royale meal:
Purchase any cheap item from the menu to obtain a receipt – when we tried it we opted for a 99p coffee.
On the receipt, there's a link to complete a short online survey. This should only take five minutes, and at the end of the survey you'll instantly be given a code to write down on your receipt to claim the freebie. So you can easily do all of this during a single Burger King visit, though if you'd prefer to do the survey at home you can return to claim the offer at any time within 30 days of your initial purchase.
Finally, order a regular fries and drink for £3.18 and hand over the receipt to bag your freebie.
Factoring in the cost of the 99p coffee we bought initially, we got a £6.49 Whopper meal for £4.17.
Order two Chicken Sandwiches instead of a Chicken Royale and pay £3ish less for MORE of the same food
If you're looking for a simple sandwich of chicken, lettuce and mayo, you might go for the Chicken Royale, which has all three ingredients in a long bun, and costs £4.79. However, on the King Saver menu, its baby sibling – the Chicken Sandwich, has the exact same ingredients but in a regular round bun, and for just 99p.
The Royale is quite a bit bigger – but not as big as the price difference between the two. We weighed the Chicken Royale and it was 193g, while a Chicken Sandwich weighed 116g. So we've worked out that if you order two of the Chicken Sandwich at 99p each, you'll pay £2.81 less but get more of essentially the same food.

Buy a small drink and refill it for free in some restaurants
A simple, but useful hack. When you walk into Burger King, have a look to see if that restaurant has a self-service drinks machine – some do and some don't (Burger King says 181 restaurants have these).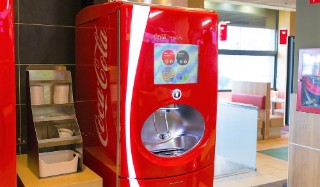 If the restaurant does have one, simply order a small drink, which is on the King Saver menu at 99p. You can refill your drink if you finish it, so there isn't much point paying more for a regular (£1.69) or large (£1.99) drink – unless of course it comes as part of a meal deal.

Two Whopper Jr meals are bigger AND cheaper than a single Whopper meal
The Whopper Jr meal (which isn't a kids' meal, despite the name adults can get it) is £2.99 and includes a small drink, small fries and a mini version of Burger King's famous Whopper. A standard Whopper meal including regular fries, regular drink and a regular-sized Whopper is £6.49.
Buying two lots of the smaller Jr meals for £5.98 is not only about 50p cheaper, but you'll actually get more than with the standard meal.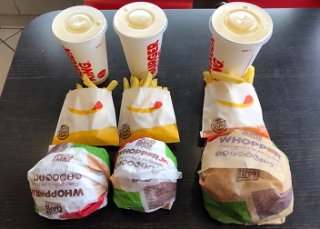 The two Whopper Jr burgers and two small fries weighed in at 410g, while the standard Whopper and regular fries had a combined weight of 371g. Not only that, but when combining the Whopper Jr's two small drinks, they contained over a quarter of a pint more liquid than the regular drink with the standard Whopper meal.
Download the Burger King app for deals, eg, £1.99 Whopper
The free Burger King app for Android and Apple devices has a regular selection of vouchers which work out cheaper than just ordering normally. Offers we've found include two Double Bacon Cheeseburgers, two large fries and two large soft drinks for £10 (normally £15.94), two Whopper meals for £8.49 (normally £12.98), and regular fries for 99p (normally £1.49).
Once you've used a voucher, it'll disappear from the app, but the list of offers are refreshed every couple of weeks, so that voucher may then reappear.
Occasionally, Burger King runs a 'Whopper Wednesday' promotion through its app, where you can pick up a Whopper burger for just £1.99 (normally £4.49).
To claim a voucher, simply tap on the offer you want when you're in the restaurant, and show the code that appears on your phone at the till.
You can only use one voucher per transaction and you won't be able to use another voucher for 15 minutes. You can't use app vouchers at motorway service locations, airports, train stations, or holiday parks.
Burger King is currently running a summer promotion, with two weeks of deals. The upcoming deals will be:

Wed 23 Jun - Free Whopper Day - £0 (norm £4.49)
Thu 24 Jun - 4x Chilli Cheese Bites - £0 with all purchases over 1p (norm £1.49)
Fri 25 Jun - BOGOF Fries - £1.59 (regular portion only)
Sat 26 Jun - 2x Chicken Royale / Whopper (Plant-Based or Vegan options available) - £5 (norm £4.79 each)
Tue 29 Jun - 20x Nuggets - £3.99
Wed 30 Jun - Whopper Wednesday - £1.99 (norm £4.49)
Thu 1 Jul - 4x Chilli Cheese Bites - £0 with all purchases over 1p (norm £1.49)
Fri 2 Jul - BOGOF Fries - £1.59 (regular portion only)
Mon 5 Jul - Double Cheeseburger - £3.99 (norm
Tue 6 Jul - 20x Nuggets - £3.99
Combine the app with King Saver deals for even bigger savings
By combining the Burger King app and the King Saver menu, you can make your own meal for cheap.
Taking the £1.99 Whopper app offer as an example... If you then purchased some small fries for £1.49 and a small drink for 99p from the King Saver menu, your meal would come to £4.47. Ordering a Whopper meal normally is £6.49 – so a whopping £2.02 saving.
Look out for Deliveroo, Uber Eats and Just Eat codes
You can now get Burger King delivered via takeaway delivery services Deliveroo, Uber Eats and Just Eat. These apps often have deals and promo codes, so it could be worth keeping an eye out to see if you can get a discount that way.

If you're going to order from a delivery app, there are a few things to be aware of:
While prices for some online items are the same, others are more expensive. At our local Burger King, you'll pay 50p more for a Whopper meal and 20p more for a Kids' Cheeseburger meal through Just Eat – though strangely, the Chicken Royale is 30p less.
Remember to take delivery charges into consideration – even with a code, it could be cheaper to collect the food yourself.
You'll need to check if your local restaurant has a minimum order (many don't, but some require up to a £15 spend).
Some items can be excluded from online delivery menus – usually cheaper items such as small fries and hamburgers, so you may not be able to get what you want.
Check out our 10 takeaway and delivery food tips for more on finding codes and getting the cheapest deal.
Ah, the gherkin – it divides opinion – some love it, some hate it... and we're not just talking about the famous London skyscraper.

You're probably aware that if gherkins make you gag (or you just don't like 'em), you can ask for them to be removed from your burger. But if you've ever bought a burger and thought, "I wish this had more gherkins", well the good news is you can ask for extra gherkins, and Burger King will add them to your burger for free.
When we've ordered a standard 99p Cheeseburger, it's only had two gherkin slices, but after asking for extra, look how many free gherkin slices we got...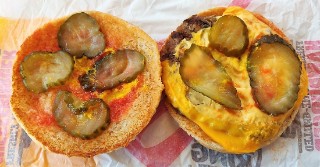 Can you get other toppings free?
Unfortunately, not all extra toppings are free – you'll have to pay an extra 40p-50p for more cheese or bacon. But if ketchup, mayo, lettuce, onion or tomato are already in your burger and you fancy extra, it's worth asking if these can be added for free.
Dodge the sugar tax on drinks
As you might've heard, there's a tax on some sugary fizzy drinks. At Burger King, this is only applied to original 'classic' Coca-Cola (not Diet Coke, nor Coke Zero, Sprite, Dr Pepper or any other drinks). It'll cost you an extra 10p for a small, 13p more for regular, or 16p more for a large. If you don't mind ditching original Coke, you can avoid the tax by ordering any other drink off the menu. Of course, fizzy pop in general is never the healthiest of drinks – but if you'll have one, it might as well contain less sugar and be a few pence cheaper.

Have you used any Burger King hacks? Whether it's any we've written about here, or one of your own, let us know in the comments below, or on Twitter @MSE_Deals.
Have your say
This is an open discussion but the comments do not represent the views of MSE. We want everyone to enjoy using our site but spam, bullying and offensive comments will not be tolerated. Posts may be deleted and repeat offenders blocked at our discretion. Please contact fbteam@moneysavingexpert.com if you wish to report any comments.
Update: We are aware that some users may currently be having issues seeing the comments and we're working on it.