Cinema MoneySaving tips & tricks
Including 2for1 for a whole year, and free preview screenings
Let's be honest, the cinema isn't the cheap date it used to be. If you want to check out the latest blockbusters on the big screen, it can set you back up to £18 for a ticket alone – more horrifying than a bad B-movie.
So we've premiered our guide full of tips and tricks to help you save at the cinema almost as many times as James Bond has saved the world.
A deal for every day of the week
We're going to talk about our picks of the best cinema deals so you can save on seeing big movies such as Joker (from Fri 4 Oct), Downton Abbey, Ad Astra and IT Chapter Two.
The first thing we want to do is make it easy to find the best deal for you, whether you can only visit the cinema on a certain day, or you just want to know when you can use a particular deal.
As you'll see from the table below, there's at least one deal available every day of the week. Select an offer for full info, how to get it, and any exclusions.

Meerkat Movies* has been highly publicised by an enterprising Russian meerkat and his pal Sergei for a few years now. Buy certain insurance, switch utilities, or successfully apply for a financial product through comparison site Compare The Market*, and you'll get 2for1 cinema tickets on a Tuesday or Wednesday for a whole year.
2for1 cinema tickets should never be your reason for choosing a product like insurance – use other comparison sites and our insurance guides to check you're getting the best deal. So what we wanted to know is...
What's the cheapest product you can buy to qualify for Meerkat Movies?
The answer is one night's UK travel insurance for one person. When we did a quick search on Compare The Market* on Mon 30 Sep, we found three single-trip travel insurance policies for £1.01.
At these prices, the insurance is far cheaper than the cost of a second cinema ticket, so in most cases you'll save even if you use it just once. What's more, you'll also be given Meerkat Meals, which gets 2for1 starters, mains and desserts at many big chain and independent restaurants from Sunday to Thursday.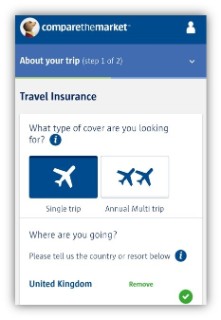 Meerkat Movies is valid at most cinemas across the UK – the big chains (eg, Cineworld, Odeon and Vue) as well as lots of independents – but not all of them. If in doubt, check with your local cinema before turning up.
To qualify for Meerkat Movies & Meals membership, you need to purchase one of the following through Compare The Market: Car, motorcycle, home, van, pet, landlord, life, home/content or travel insurance. You can also qualify by taking out a credit card or loan or switch energy, digital TV or broadband supplier.
Activation can take at least 48 hours, so you may not be able to use the 2for1 offer on the same day you activate Meerkat Movies.
The year's 2for1 membership begins from the date you made a purchase. If you make any additional purchases during the 12 months, it'll extend your membership from the date of your most recent purchase.

For more info on what you get and how to use this offer, see Meerkat Movies & Meals 2for1 cinema and restaurants.
Seeing movies on the big screen can be a fun experience for little ones, but adding up the cost of tickets, snacks and drinks can be anything but a fun experience for parents.
However, many of the larger cinema chains offer special daytime family-friendly screenings at weekends, and often during the week in school holidays, where everyone – kids and accompanying adults – pay just £1 to £2.50, depending on the cinema.
This means a family of four could see a movie for £10 or less. Select a deal below for more info...
12-months' unlimited Odeon screenings for £180 (normally £216)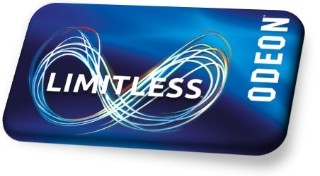 If you're a frequent cinema-goer and have an Odeon near you, it's offering 12-months' Limitless membership* (see as many movies as you want at Odeon cinemas) for £179.90 when you enter the code STUDENT2 online until 11.59pm on Thu 31 Oct. A year's membership normally costs £215.88, so you're getting two months free.
If you want to include central London cinemas, the code will get 12-months' Limitless membership for £199.90 (normally £239.88).
These subscription deals are only really for serious movie buffs who tend to see three or more movies a month, and of course it'll only be worthwhile if you live or work near that brand of cinema.
Anyone over 16 can get this deal – Odeon has confirmed you don't have to be a student, despite the code. You'll pay £17.99 a month (£19.99 a month for central London) for the first 10 months, and then pay nothing in months 11 and 12. The deal also works for existing Limitless members wanting to renew.
Pay for a year's membership in one go to save more
If you can afford to pay for 12-months' membership upfront, you'll pay £205 (£228 for central London) – a 5% saving on the normal price – and then Odeon will refund you the equivalent of two months' membership in month 10 (unfortunately you have to wait till then for the refund), meaning you'll have paid £170.83 for the year (£190 for central London)
If paying by monthly direct debit, your membership will automatically continue after the minimum 12-months and you'll be charged £17.99/£19.99 again from month 13, so remember to cancel if you don't want keep it. You'll need to give at least 30-days' notice by calling Odeon on 0333 004 4411. Membership paid for upfront won't automatically renew.
Odeon Luxe Leicester Square, Haymarket, Covent Garden, Tottenham Court Road, and Camden.
Check deals at your local independent cinema
We've focused a lot so far on the big chains, but you may have an independent cinema near you that offers cheaper tickets. They usually have fewer screens and you sometimes have to wait a couple of weeks to see the bigger releases, but some prefer the more intimate setting.
We asked MoneySavers on Twitter for their thoughts on independent cinemas and which ones they'd visited – many said they're able to get tickets for under £5. Click the tweet below to read the comments or add your own.
Free or cheap preview screenings
If you'd like to get your beady eyes on a movie before it's released to the masses, we've a much better solution than streaming some dodgy illegal copy filmed on a camcorder. There are free 'clubs' that you can join, and get free or cheap tickets for special preview screenings of upcoming releases.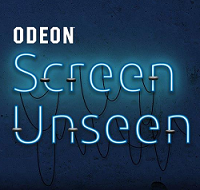 If you're someone who doesn't mind surprises, you can catch preview screenings of upcoming movies for £5 if booked at the cinema, or £5.75 online at Odeon. The catch is, you won't know which movie you're going to see until it starts, but Odeon says it'll always have a rating from 'U' to '15' and won't be a horror movie – they're reserved for Odeon's separate Scream Unseen.
The most recent Screen Unseen movies have included Extra Ordinary, Booksmart, Wild Rose, If Beale Street Could Talk, and Vice – so based on this, you probably shouldn't expect a blockbuster of the magnitude of Avengers, but if you're someone who likes to go see movies in general, this can be a good and fun way to get your hands on a cheap ticket.
Register at Odeon Screen Unseen and you'll be emailed when a movie is available to book.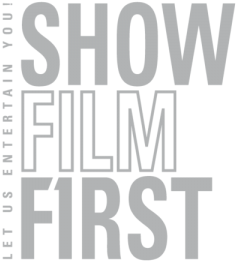 This one isn't quite so straight-forward, but it can give you the chance to see preview screenings for 'free' (there's usually a £2ish admin fee), in order to generate word of mouth and get feedback before a film opens to the public.
You'll need to register at ShowFilmFirst and you'll be offered tickets depending on your genre preferences, your demographic and your location – though you'll have to be fast as they get snapped up quickly.
A big rule with this one, is that if you go to a preview screening, you have to keep schtum about where you got your tickets from, and you're required to give feedback on the movie after you've seen it.
You'll hear from ShowFilmFirst within 30 days if your registration is successful. However, unsurprisingly, this is popular and it isn't accepting new membership in some locations – meaning you'll be added to a waiting list until space becomes available.
Free preview screenings for students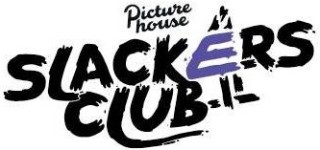 Students can get tickets to free preview screenings (usually once or twice a month) at Picturehouse cinemas through E4 Slackers Club. You'll need to register by visiting a cinema (find your nearest) and showing a valid student ID. When there's a screening, you'll then be able to book tickets at the box office, or online at Picturehouse. Recent movies have included Good Boys, Stuber, Late Night, and Booksmart.
Do you need to go to the cinema? Streaming services have big movies including some released at the SAME time as the cinema
With the proliferation of video streaming services such as Netflix, Amazon Prime Video and Now TV over the past few years, there is less need to venture to the cinema to get your film fix – and with packages for the big services mentioned costing less than £12 a month, you can watch a lot more movies for your money at home.
Of course, watching a movie from your living room sofa is a different experience to the cinema, but if you're not so fussed about the night out element, or giant screen, then streaming services can be a good alternative to forking out for a cinema ticket, especially if you're paying for one or more of them anyway.
While the majority of big studio blockbusters will get their first showing at the cinema, there's been a trend in recent years of some movies being released on streaming services at the same time as their cinema release. For example, Hotel Mumbai premiered on Sky Cinema, Now TV and in cinemas on the same date last week – Fri 27 Sep, and the 2018 Oscar-winning movie ROMA streamed on Netflix at the same time it was in cinemas.
Some movies don't even make it to the cinema at all – Netflix for example, produces its own original movies – see our Netflix hacks for how to cut the cost and get more from your subscription.
Bring your own snacks – you don't need to sneak them in to the big chains
It's no surprise to anyone that snacks and drinks bought at the cinema often have a high mark-up. Although that waft of popcorn when you enter the cinema lobby can easily tempt many, you'll be paying a lot more than if you brought your own snacks – though it's long been thought that cinemas don't allow this, so MoneySavers have been sneaking snacks into their bags, pockets and socks (maybe?) for years.
However... Cineworld, Odeon, Vue, Empire and Showcase all told us its policy is that you can bring your own drink (as long as it's non-alcoholic and not in a glass container) and food, as long as it's not hot or has an overly strong odour – so you shouldn't be whipping out a cheeseboard or egg sandwich, but chocolates or sweets, or a bit of fruit are fine – just be mindful of loud crunching.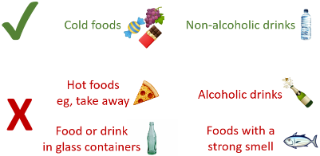 While the big cinema chains we asked shared the same policy, it may not be universal at all cinema brands or independents.
Gift card trick, eg, £25 Odeon or Vue for £20 plus stack 'em with other offers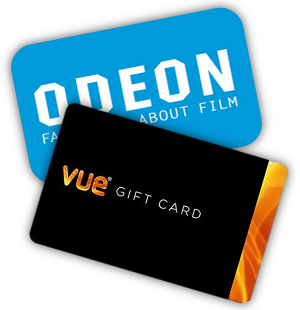 A few times a year, Tesco and Asda offer discounts on cinema gift cards – usually in-store only. In the past we've seen a £25 Odeon or Vue gift card for £20, so it can be worth keeping an eye out for these promotions.
We're not big fans of gift cards as gifts, because often people forget to use them before they expire, and if a firm goes bust, its gift cards are usually rendered useless.
So we suggest you buy them for yourself, provided you'd visit those places anyway, and because gift cards essentially work like cash, you can then use them when there's an offer on (such as Meerkat Movies) to save even more money.
Don't waste money on a bad film – read user reviews
There's nothing worse than sitting through a terrible movie for two hours, especially when you've paid to watch it. Save yourself (and your money) from any modern day equivalent of Jaws: The Revenge by checking out reviews from other cinema-goers first.
The two most popular free movie review sites are IMDb and Rotten Tomatoes. You can get a quick glance at a movie's overall user rating, read reviews from the public, or see what critics thought. Don't worry about spoilers, reviews that include those are clearly marked.
Having a bad cinema experience? When can you get
compensation?
Sometimes the cinema experience isn't as enjoyable or comfortable as you'd hope, and many don't think to complain or ask for a refund if things go wrong. Most cinemas will refund your ticket if there was a technical glitch that was the cinema's fault, eg, the projector breaks or the sound is out of sync.
But we've also heard from MoneySavers on Facebook (see some of the comments below) who have complained about annoyances such other cinema-goers being loud and distracting, or the cinema being too cold, and have received refunds or free tickets for a future visit. So if you've had a bad cinema experience, it's worth raising this with staff.
Walked out half way through because of rowdy kids and got our money back.
– Lianne S.
Had compensation from cinema after the film ended for being so COLD 🥶
– Jo-ann
We asked for a refund at the end of the film as we were watching a quiet film and next door was a film with screaming and loud explosion effects drowning out our sound. The manager issued full refunds on both tickets.
– Paul C.
I once went to see Star Wars at our local Odeon but they started to show Coco instead! They stopped it after about 10 minutes (I was actually quite enjoying it!), refunded us and gave us upgrades to the posh screen for when we came back.
– Claire M.
As for whether you can walk out of a movie because you're not enjoying it and receive a refund, the big cinema chains we asked went quiet on us – probably because they don't want mass walkouts if there's ever an Emoji Movie 2 😒.
In general, you're unlikely to be given compensation just because you think a movie's rubbish, yet we did hear from a few users who received complimentary tickets for a future visit, so it may be worth asking, though this very much seems down to the cinema manager's discretion.
You might be able to go free to the cinema as a 'mystery shopper'
When you think mystery shopping, you probably think about surreptitiously picking up some supermarket shopping, or dining out at a restaurant for nowt. But it turns out cinema trips can be part of a mystery shoppers undercover duties as well.
You wouldn't necessarily get paid, but would most likely get to watch a movie – and may be allowed a snack and a drink – for free, depending on the specific instructions you're given. MSE Anthony recalls when he did it...
I was sent as a 'mystery shopper' to a cinema in South London. I first needed to sit through the film (a very average coming-of-age comedy I've since had no desire to re-watch), though some free popcorn did sweeten the deal. Then, I was required to sit in the bar for 30 minutes (free drink in hand).
Afterwards, I was asked to complete a short survey about the cinema's cleanliness, customer service and general atmosphere. I wasn't paid, but it was a free trip to the cinema, popcorn and a beer, which all in all would've cost about £20.
– MSE Anthony
Unfortunately, we can't tell you exactly which cinemas you might get to visit as a mystery shopper, as they're sworn to secrecy (it wouldn't be much of a mystery otherwise).
Weighing up the cost of pick & mix, eg, how many giant cola bottles in 100g?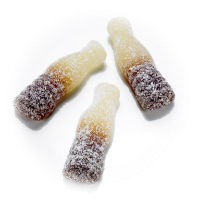 Pick & mix is as much a cinema staple as popcorn and hotdogs. These days, it's usually sold in cups at a fixed price but there's often the option to pay 'per 100g' – though of course, there are rarely any scales available so while you're stuffing your bag with goodies, how much you'll pay is essentially guesswork.
So MSE Ant took on the sugary task of trying to figure out the individual cost of certain pick & mix sweets per 100g – more for fun, rather than anything scientific. While cinema pick & mix prices being around 80% higher than the supermarket may not come as a surprise – you might be shocked at how few sweets tip you over the scales.
What are your top tips for saving at the cinema? Let us know in the comments below, or on Twitter @MSE_Deals.
Have your say
This is an open discussion but the comments do not represent the views of MSE. We want everyone to enjoy using our site but spam, bullying and offensive comments will not be tolerated. Posts may be deleted and repeat offenders blocked at our discretion. Please contact fbteam@moneysavingexpert.com if you wish to report any comments.