Cinema MoneySaving tips & tricks
Including year's 2for1 movies for £1, free Odeon tickets for some, and can you take your own food?
Many would say the last year or so has been like a disaster movie come to life, but we've fingers crossed for a happier 'Hollywood ending' to the remainder of 2021.
With major releases returning to the big screen, we've updated our tips and tricks to help you save at the cinema almost as many times as James Bond has saved the world.
A deal for every day of the week
This guide has our pick of the best cinema deals so you can save on seeing big movies such as No Time to Die, Free Guy and Shang-Chi and the Legend of the Ten Rings.
The first thing we want to do is make it easy to find the best deal for you, whether you can only visit the cinema on a certain day, or you just want to know when you can use a particular deal.
As you'll see from the table below, there's at least one deal available every day of the week. Select an offer for full info, how to get it, and any exclusions.

Meerkat Movies has been highly publicised by an enterprising Russian meerkat and his pal Sergei for a few years now. Buy certain insurance, switch utilities, or successfully apply for a financial product through comparison site Compare The Market, and you'll get 2for1 cinema tickets on a Tuesday or Wednesday for a whole year.
2for1 cinema tickets should never be your reason for choosing a product such as insurance – use other comparison sites and our insurance guides to check you're getting the best deal. However, if Compare The Market isn't cheapest/best for what you need, we've a trick so you can still get the 2for1 movies...
What's the cheapest product you can buy to qualify for Meerkat Movies?
The answer is one night's UK travel insurance for one person. If the insurance is dead cheap, you can get a one-day policy for when you're not actually travelling/needing it, just so you'll be eligible for the 2for1 deal.
When we did a quick search on Compare The Market on Tue 12 Oct, we found the cheapest single-trip travel insurance policy was £1.01.
At this price, the insurance is far cheaper than the cost of a second cinema ticket, so in most cases you'll save even if you use it just once. What's more, you'll also be given Meerkat Meals, which gets 2for1 starters, mains and desserts at many big chain and independent restaurants from Sunday to Thursday as well as other perks – see our full Meerkat offers info.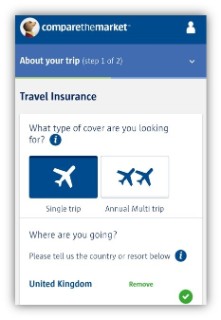 Meerkat Movies is valid at most cinemas across the UK – the big chains (eg, Odeon and Vue) as well as lots of independents – but not all of them. If in doubt, check with your local cinema before turning up. Unlike some cinema offers, you can use it on the latest blockbusters.
To qualify for Meerkat Movies & Meals membership, you need to purchase one of the following through Compare The Market: Car, motorcycle, home, van, pet, landlord, life, home/content or travel insurance. You can also qualify by taking out a credit card or loan or switch energy, digital TV or broadband supplier.
Activation can take at least 48 hours, so you may not be able to use the 2for1 offer on the same day you activate Meerkat Movies.
The year's 2for1 membership begins from the date you made a purchase. If you make any additional purchases during the 12 months, it'll extend your membership from the date of your most recent purchase.

For more info on what you get and how to use this offer, see Meerkat Movies & Meals 2for1 cinema and restaurants.
O2 customers can get a free Odeon adult ticket for any 2D screening on a Monday only, with a code from Priority. You'll be able to get a free ticket code once per calendar month and O2 says the offer will be ongoing until the end of 2021.
How to get the deal

Sign into the free Priority app (Android/iOS) and search 'Odeon' to find its 'Movie Monday' promotion.

Free ticket codes for the following Monday are released at 12pm on the Tuesday before, eg, codes for Mon 18 Oct are released on Tue 12 Oct – 10,000 are available each week and are likely to get snapped up.
Select 'Use Now' to get your code. You'll be redirected to Odeon's website (you can only book online) where you can choose your movie and seat – be sure to check it's for the same Monday you chose in the Priority app.
Add your Priority code into the 'Have a special code?' box at the Odeon checkout. You'll need to do this by 11.59pm on the day before you want to use your free ticket, eg, Sun 17 Oct to see a movie on Mon 18 Oct.

If you're going with others, you can add extra tickets when you book. O2 says other Priority members can also book a free ticket at the same time with their own unique code. The free ticket code will also work alongside a myLimitless pass or MyOdeon 'Member Monday' discount, but won't work with any other deal.

The free ticket code can't be used at the BFI, IMAX, Odeon Leicester Square, or Odeon Luxe & Dine. It also isn't valid on 3D, IMAX, Gallery or Dolby, Event Cinema, premieres, special events or screenings or events not open to the public. You may need to pay an upgrade fee for ISENSE, premier and recliner seats.

Vodafone mobile customers can get two adult tickets for £7 (£3.50 each) at most Vue cinemas to see any 2D movie each week through the My Vodafone app. This popular offer is now back, and Vodafone has confirmed it's ongoing.
You'll need to have a Vodafone pay monthly or small business contract, or if you're a pay-as-you-go customer you'll need to have topped up £10 or more in the last 60 days.
How to get the deal
Download or sign into the free My Vodafone App.

Select the 'VeryMe' button to access a list of available offers and choose the Vue deal.
Visit the Vue link within the deal and you'll be able to claim a promo code for two tickets for £7.
You'll be emailed two e-codes which you can exchange at the box office or online (but not over the phone).
The offer refreshes each week at 00.01am on Mondays, so if you've had a code before, that's when you can pick up a new code to go again.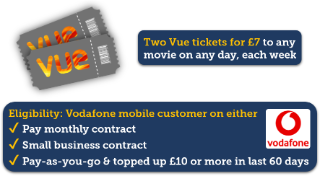 What's particularly good about this deal, is it can be used to see any 2D movie, on any day of the week, including weekends when discounts are rare. However, depending on the price of tickets at your local Vue, you may be able to get a better deal on a Tuesday or Wednesday using Meerkat Movies.
The deal can't be used on the following types of screening: Premieres, Big Screen Events and alternative/special showings including Mini Mornings, Senior-friendly, Autism-friendly and Scene screenings.

You'll only be able to get two tickets for £7 on 2D screenings, though you can book a 3D screening, IMAX, VIP, Recliner, Xtreme seating or Gold class screening online or at the box office if you pay the difference in price.

You can use this deal at all Vue cinemas except for Vue West End in Leicester Square, London.
Seeing movies on the big screen can be a fun experience for little ones, but adding up the cost of tickets, snacks and drinks can be anything but a fun experience for parents.
However, some of the larger cinema chains offer special daytime family-friendly screenings at weekends, and often during the week in school holidays, where everyone – kids and accompanying adults – pay from £2.50 (or from £1.50 at the smaller Empire cinemas chain).
This means a family of four could see a movie for £10. See more info on current available deals below...
Cinema chain
Deal info
'Cineworld Movies for Juniors' on selected films – £2.50 tickets for kids (aged 14 and under) and accompanying adults on weekends and school holidays. If booking online, there's a 75p per ticket fee.

Rather than brand new releases, it's generally recently or previously-released films. What's on offer will vary by cinema. See Cineworld for current listings.

'Empire Jnrs' on selected films – £1.50 tickets for kids (aged 14 and under) and accompanying adults on weekends at selected cinemas. If booking online, there's a 70p per ticket fee.

You can usually choose from a couple of movies each week, which will be recent (but not the newest) releases or classic family movies. See Empire for current listings.

'Odeon Kids' on selected films – £2.50 tickets for kids (aged 14 and under) and accompanying adults on weekends and school holidays for MyOdeon members booking online (£3 for MyOdeon members booking at the cinema). If you aren't a MyOdeon member, you can sign up free, otherwise you'll pay £3.25 online or £3.75 at the cinema.

Odeon is currently showing one selected movie per week (labelled with 'Odeon Kids'), every day through the school holidays. See Odeon for current listings.

'Vue Mini Mornings' on selected films – £2.49 tickets for kids aged 2-12 and accompanying adults on weekends after 10am and every morning during school holidays, when booked online or via the Vue app (if bought at the cinema, tickets are £3.49 each).

What's on offer will vary by cinema. See Vue for current listings.
Frequent cinema-goer? A 'watch as many movies as you like' subscription could be worth it
Cineworld and Odeon have both offered paid-for memberships for many years now which allow you to see as many 2D movies as you want at their cinemas for a set monthly fee.
These subscription deals are generally for serious movie buffs who tend to see three or more movies a month – and of course it's only worthwhile if you live or work near that brand of cinema. Yet as memberships for some are now as little as £10 a month, it may now be worth it for more people.
Cineworld Unlimited shake-up – some can now pay £10/month (was £18.40) but it's a location lottery
Cineworld's Unlimited membership* allows you to see as many movies as you want at its cinemas. Previously, it had two prices – £18.40 a month for all cinemas except London West End, which was £2 more a month to have included.
But since May, it's created two cheaper price groups, and some will be able to pay up to £8.40 less a month depending on where they're nearest cinema is, and which additional Cineworlds they want to be able to use Unlimited at.
You'll benefit most if your local cinema is in one of the 13 'Group 1' locations as you'll save £100 over 12 months, as long you only visit cinemas within that group. The majority of cinemas, 68 in total, have been placed into the £15.99/month 'Group 2' which is still a £29 saving over 12 months on the previous standard price.

Aberdeen
Aberdeen Union Square
Aldershot
Bedford
Bolton
Bradford
Bristol

Cardiff

Hull
Plymouth
Runcorn
Stoke on Trent
Weymouth

If you want to visit a cinema in any of the other groups, you can pay an additional charge of £2-£6 per ticket.

Ashton-Under-Lyne
Birmingham Broad St
Boldon Tyne and Wear
Bracknell
Brighton
Broughton
Burton on Trent
Bury St Edmonds
Castleford
Chesterfield
Chichester
Dalton Park
Didcot
Didsbury
Dover
Dundee
Eastbourne the Beacon
Edinburgh
Ely
Falkirk
London Feltham
Glasgow Parkhead
Glasgow Renfrew St

Glasgow Silverburn
Gloucester Quay
Harlow Harvey Centre
Harlow Queensgate
Haverhill
High Wycombe
Hinckley
Huntingdon
London Ilford
Ipswich
Isle of White
Jersey

Leeds
Leigh
Llandudno
Loughborough
Luton
Middlesbrough
Newcastle
Newport Spytty Park
Northampton
Nottingham
Poole

Rochester

Rugby
Sheffield
Shrewsbury
Solihull
Speke
St Helen's
St Neots
Swindon Regents Circus
Swindon Shaw Ridge
Telford
Wakefield
Warrington
Watford
London West India Quay
Whitely
Whitney
Wolverhampton
London Wood Green
Yate
Yeovil
York

If your local cinema falls into Group 2, you'll also have access to all cinemas in Group 1. If you want to visit a cinema in Group 3 or Group 4, you can pay an additional charge of £2-£4 per ticket.

Ashfield
Basildon
London Bexley Heath
Birmingham NEC
Braintree
Cheltenham
Crawley
London Wnfield

London O2
Hemel Hempstead
Milton Keynes
Rushden Lakes
London South Ruislip
Stevenage
London Wandsworth
London Wembley

If your local cinema falls into Group 3, you'll also have access to all cinemas in Group 1 and Group 2. If you want to visit Leicester Square cinema, you can pay an extra £2 per ticket.
Odeon's 'myLimitless' membership also allows you to see as many standard 2D movies as you want in a month at its cinemas. It was £17.99 a month (£19.99 including central London) but as of 1 October, you can now get it for £12.99 a month (or £14.99 a month to include London West End cinemas). Odeon says this is an ongoing price reduction, but of course it could change that at any time.
What's more, you usually have to sign up for a minimum of 12 months, but Odeon has confirmed there's currently a three month minimum term only when paying monthly.

If you've a Showcase cinema near you (there are 20 across the UK – see all locations), then you can get tickets to see 2D movies (including new releases) for £7.30 from 7pm on Sunday, and all day Monday and Tuesday. Tickets normally cost up to £12ish at the majority of cinemas.
To get the deal, all you need to do is sign up for free to Showcase's 'Insider' membership. You'll be sent a membership card by post but you can print off a temporary card to use before it arrives, or use it immediately online by logging into your account.
You can book the cheap tickets by showing your card at the box office, or online by logging into your account and selecting the 'Insider' ticket option (there's a 60p booking fee).
If you'd like to get a sneak peek of a movie before it's released to the masses, there's a much better solution than streaming some dodgy illegal copy filmed on a camcorder.
If you're someone who doesn't mind surprises, you can catch preview screenings of upcoming movies for £5 if booked at the cinema or £5.75 booked online at Odeon.
The catch is, you won't know which movie you're going to see until it starts, but Odeon says it'll always have a rating from 'U' to '15' and won't be a horror movie – they're reserved for its separate Scream Unseen.

The most recent Screen Unseen showing on 29 June was Another Round, and pre-lockdown the movies included Parasite, Le Mans '66, Extra Ordinary, and Booksmart – so based on this, you probably shouldn't expect a blockbuster of the magnitude of Avengers, but if you're someone who likes to go see movies in general, this can be a good and fun way to get your hands on a cheap ticket.
Register at Odeon Screen Unseen and you'll be emailed when a movie is available to book.
Check deals at your local independent cinema
We've focused a lot so far on the big chains, but you may have an independent cinema near you that offers cheaper tickets. They usually have fewer screens and you sometimes have to wait a couple of weeks to see the bigger releases, but some prefer the more intimate setting.
We asked MoneySavers on Twitter for their thoughts on independent cinemas and which ones they'd visited – many said they're able to get tickets for under £5. Click the tweet below to read the comments or add your own.
Bring your own snacks – you don't need to sneak them in to the big chains
It's no surprise to anyone that snacks and drinks bought at the cinema often have a high mark-up. Although that waft of popcorn when you enter the cinema lobby can easily tempt many, you'll be paying a lot more than if you brought your own snacks – though it's long been thought that cinemas don't allow this, so MoneySavers have been sneaking snacks into their bags, pockets and socks (maybe?) for years.
However... Cineworld, Odeon, Vue, Empire and Showcase all told us its policy is that you can bring your own drink (as long as it's non-alcoholic and not in a glass container) and food, as long as it's not hot nor has an overly strong odour – so you shouldn't be whipping out a cheeseboard or egg sandwich, but chocolates or sweets, or a bit of fruit are fine – just be mindful of loud crunching.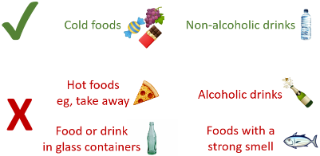 While the big cinema chains we asked shared the same policy, it may not be universal at all cinema brands or independents.
Don't waste money on a bad film – read user reviews
There's nothing worse than sitting through a terrible movie for two hours, especially when you've paid to watch it. Save yourself (and your money) from any modern day equivalent of Jaws: The Revenge by checking out reviews from other cinema-goers first.
The two most popular free movie review sites are IMDb and Rotten Tomatoes. You can get a quick glance at a movie's overall user rating, read reviews from the public, or see what critics thought. Don't worry about spoilers, reviews that include those are clearly marked.
Having a bad cinema experience? When can you get
compensation?
Sometimes the cinema experience isn't as enjoyable or comfortable as you'd hope, and many don't think to complain or ask for a refund if things go wrong. Most cinemas will refund your ticket if there was a technical glitch that was the cinema's fault, eg, the projector breaks or the sound is out of sync.
But we've also heard from MoneySavers on Facebook (see some of the comments below) who have complained about annoyances such other cinema-goers being loud and distracting, or the cinema being too cold, and have received refunds or free tickets for a future visit. So if you've had a bad cinema experience, it's worth raising this with staff.
Walked out half way through because of rowdy kids and got our money back.
– Lianne S.
Had compensation from cinema after the film ended for being so COLD 🥶
– Jo-ann
We asked for a refund at the end of the film as we were watching a quiet film and next door was a film with screaming and loud explosion effects drowning out our sound. The manager issued full refunds on both tickets.
– Paul C.
I once went to see Star Wars at our local Odeon but they started to show Coco instead! They stopped it after about 10 minutes (I was actually quite enjoying it!), refunded us and gave us upgrades to the posh screen for when we came back.
– Claire M.
As for whether you can walk out of a movie because you're not enjoying it and receive a refund, the big cinema chains we asked went quiet on us – probably because they don't want mass walkouts if there's ever an Emoji Movie 2 😒.
In general, you're unlikely to be given compensation just because you think a movie's rubbish, yet we did hear from a few users who received complimentary tickets for a future visit, so it may be worth asking, though this very much seems down to the cinema manager's discretion.
Have your say
This is an open discussion but the comments do not represent the views of MSE. We want everyone to enjoy using our site but spam, bullying and offensive comments will not be tolerated. Posts may be deleted and repeat offenders blocked at our discretion. Please contact fbteam@moneysavingexpert.com if you wish to report any comments.
Update: We are aware that some users may currently be having issues seeing the comments and we're working on it.