How to get £4ish Kellogg's granola for free
It's how many of us start the day, but a branded breakfast can be cerealously expensive. Yet right now, you can bag the most important meal of the day for free via a cashback offer – no coupons required.
To get it, look out for special packs of £4ish WK Kellogg granola (with a 'Try me free' sticker on the box - see below). You'll need to purchase by Tue 8 Oct, then simply upload a picture of your receipt by 11.59pm on Fri 15 Nov to have the full amount you paid refunded. While you can also buy the granola online, buying in store's the safer option as you won't know if the box you'll be sent has a 'Try me free' sticker until it's delivered.

Here's a full step-by-step with a little bit more detail:
1) Buy a 'Try me free' pack of WK Kellogg granola in store
This new Kellogg's cereal is stocked in Tesco, Sainsbury's, Asda, Morrisons, Waitrose and Co-op. You're probably more likely to find them in larger superstores that sell a wider selection of cereal.
You can only do this if there's a 'Try me free' sticker, but all the packs I've seen so far have had one (I've asked Kellogg's how many promo packs are available, and I'll update this when it confirms).
There are four flavours you can choose from: 'Original', 'Cocoa & Hazelnut', 'Coconut, Cashew & Almond' or 'Raspberry, Apple & Carrot'.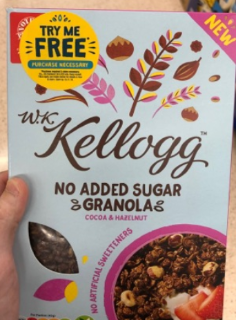 2) Upload the receipt to claim your money back
Head to the Kellogg's promo website to claim a refund. It'll ask for two photos of the receipt (front and back), which shop you bought it from and how much you paid. You'll only get the amount back you paid, and Kellogg's says the maximum is £3.99, but that shouldn't be an issue as the price is £3.80 everywhere I've looked.
Once you've submitted those details, you'll need to enter a bank account number and sort code. You should then receive your refund within 28 days of submitting your claim.
After you've completed your form, you should be offered a '50p off' WK Kellogg granola coupon to print as well (handy if you decide to buy again in future). Unfortunately, the 'Try me free' deal is limited to one per bank account so you'll not be able to fill the kitchen cupboards.
To cut grocery costs further, say 'Cheerio' to big brands with the Downshift Challenge and check out our regularly updated list of Supermarket Coupons.
Had any good freebies recently? I'd love to know in the comments below or on Twitter @MSE_Deals.
Have your say
This is an open discussion but the comments do not represent the views of MSE. We want everyone to enjoy using our site but spam, bullying and offensive comments will not be tolerated. Posts may be deleted and repeat offenders blocked at our discretion. Please contact fbteam@moneysavingexpert.com if you wish to report any comments.
Update: We are aware that some users may currently be having issues seeing the comments and we're working on it.