10 KFC MoneySaving tricks
Including FREE fries, £4 of food for £2, and secret menu items
I've already brought you tricks and hacks for some of its hottest fast food rivals, but now it's KFC's turn in the spotlight and I've uncovered 10 MoneySaving top tips that I hope are going to help you save a clucking fortune.
Earlier in this series, I showed you how to save money with McDonald's, Nando's and Burger King menu hacks. Of course, none of these offer the healthiest of grub, and I'm not suggesting anyone eat fast food all the time, but if you're treating yourself to a Kentucky-fried fix, I can show you a few ways to cut costs. On with my finger lickin' MoneySaving tricks…
Ends Sat.

Get a £4 burger, wings & fries for £2
KFC is currently offering a special deal for lunch that includes a burger, hot wings and chips for £1.99 (normally £4ish separately). While you can only get this between 12pm and 3pm daily, you can get it at any KFC restaurant (find your nearest), and there is no coupon required – just ask for a 'fill up lunch'. There is no drink included, so you'll need to get one separately if you want one.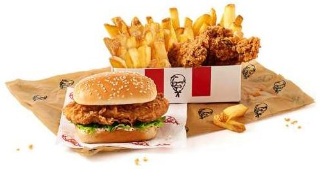 This offer will end on Sat 19 Oct, though these lunchtime specials seem to come around often now, so there may be a new one again soon.
FREE fries, hot wings or popcorn chicken via app
KFC has a pretty generous loyalty scheme, and it rewards new members just for signing up.
Download and register via the free app and you'll receive three stamps straight away, which you can exchange for a free side, such as fries, hot wings, popcorn chicken, an ice cream sundae or a regular soft drink.
To claim it, just show the app or hand over your card after you've registered, and it will come off your bill. There's no minimum spend, so you could just walk in, grab the freebie and walk out without spending a penny.
Note: If you sign up via KFC's website you'll only receive one stamp, which isn't enough to claim the free side.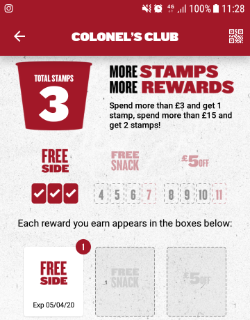 KFC app offers, eg, £1 off fillet burger meal
Once you've downloaded the KFC Colonel's Club app, you can regularly find new deals on there to save money on each visit. When I last checked my app, there was a deal for £1 off a fillet burger meal (norm £4.99), and it's worth keeping an eye on the app in case better offers pop up, as they change frequently.
Bag a 15% discount when you complete a quick survey
At the bottom of every KFC receipt, there's a note about an online survey you can fill in (it only takes a few minutes) to get a code for 15% off your next spend of £5 or more, within 30 days.
To get the discount, write the code at the bottom of your receipt on the dotted line and hand it over to the cashier when you've placed your order.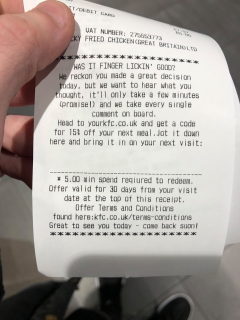 If you're using this on a bigger order such as a sharing bucket, you'll save around £2, so it's worth the effort.
There are a few items on KFC's menu that aren't widely advertised or sometimes even acknowledged on the menu, but in my experience they've always been available whenever I've asked for them specifically – so while I can't guarantee it, they're worth requesting if you want a MoneySaving option.
Firstly, there's the £1.99 Snackbox, which used to be really popular back in the day, and still exists, but doesn't seem to be advertised on its menu.

You can get a box of either popcorn chicken, one piece of chicken or a mini fillet, which comes with regular chips, for £1.99 all-in (normally £2.80ish). The low price makes it one of the cheapest meal options you can get from KFC.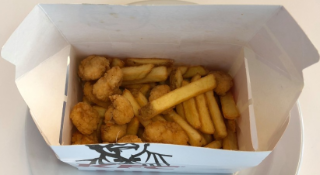 Similar to the Snackbox above, but slightly larger.
Lunchboxes contain a large portion of fries and either a large popcorn chicken, two mini fillets or two pieces for £2.99 all-in (normally £3.80ish).
Once again, it's not advertised on the menu, so it's only for those of us in the know.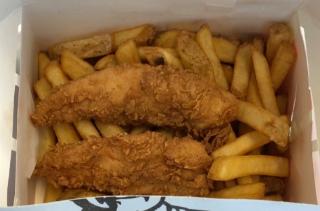 If you want the biggest small-lunch option, you can go for a Megabox – the final item which isn't normally publicised.
For £3.99 you'll get one piece, a mini breast fillet and two hot wings with large fries and a pot of gravy – something for every appetite, but on a budget.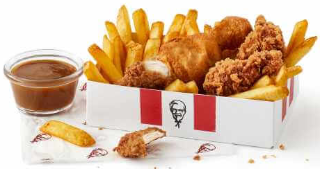 Create your own 'Boneless Banquet' for £3
If you usually go for a Boneless Banquet meal, you're probably used to paying about £6. Though if you're happy to make a few small compromises, you can half the cost and obtain something similar (minus a couple of extras).

Order an All Star meal instead and you'll be given popcorn chicken, fries and a wrap for £2.99. The wrap contains a mini fillet and sauce, but you could ask for it plain if you were just after the fillet. So although you're missing two mini fillets and a side, you're getting something close to a Boneless Banquet for half the price. Yet portion sizes might be slightly smaller, so it depends how hungry you're feeling.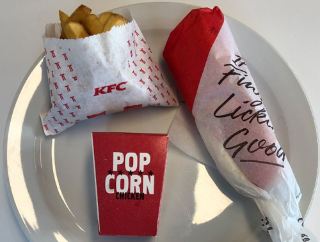 Order kids' meals from the 'grown up' menu
Kids' meals will set you back £2.99 for a small meal, including drink and dessert. However, if you'd rather your kid skipped dessert and have more dinner, you can order a £1.99 Snackbox as above.
Not only will they get a slightly larger portion, but you can also add a larger soft drink for 99p, making the whole meal 1p cheaper. Or, if they had a Fruit Shoot, it could be 20p cheaper.
Dodge the 'sugar tax' on soft drinks
As you might've heard, there's now a tax on some fizzy drinks (see our 'Sugar tax' MSE news story), but only one drink sold by KFC is affected. Simply avoid choosing 'Pepsi' (the normal kind – Pepsi Max and Diet Pepsi is fine), and you'll save up to 20p on your drink.
I hope these hacks will save you an arm and a leg (or a wing) on your next trip to KFC. Do you have any hacks of your own? Let me know in the comments below, or on Twitter @MSE_Deals.

Have your say
This is an open discussion but the comments do not represent the views of MSE. We want everyone to enjoy using our site but spam, bullying and offensive comments will not be tolerated. Posts may be deleted and repeat offenders blocked at our discretion. Please contact fbteam@moneysavingexpert.com if you wish to report any comments.