Free chocolate for Londoners at pop-up recycling event
Friday 13 March until 5pm only
MSE Update, Fri 13 Mar 3.17pm: Unfortunately, Montezuma has just decided to close the pop-up shop early today at 5pm, due to fears surrounding Covid-19, and it is not expected to reopen.
Don't be choco-late for this recycling event in London where you can bag free exclusive handmade truffle chocs in exchange for, err, rubbish?!
Posh chocolate brand Montezuma is giving away free chocolate at a pop-up store in Covent Garden today and tomorrow only, when you exchange 'lunchtime rubbish' like a sandwich wrapper, or disposable coffee cup. As Montezuma chocolate is normally about £3ish a bar, it's well worth a look if you'll be in the area.
You'll find the 'Waste Not, Want Not Recycling Shop' at 67b Neal Street, Covent Garden WC2H 9PJ on Friday 13 March and Saturday 14 March from 10am to 6pm only. You don't need to buy anything, and the swap is free.

Montezuma says it will be recycling the rubbish, and it does not expect to run out of free samples of chocolate.
Why is it doing this?
The event is to promote a new sustainable 100% recyclable, compostable/biodegradable packaging. Montezuma is offering handmade chocolate in the shape of grab-and-go salad bowls, sandwich wrappers, and sushi trays made from Montezuma's classic white chocolate, filled with a truffle centre, and hand painted.
Montezuma told me that there will be dairy-free options available instead of the truffles, so people who can't have dairy can still get involved.
If you think you'll have trouble finding it, the window of the store features a fully edible 3D artwork (see below), which looks like a bin overflowing with non-recyclable rubbish (lovely).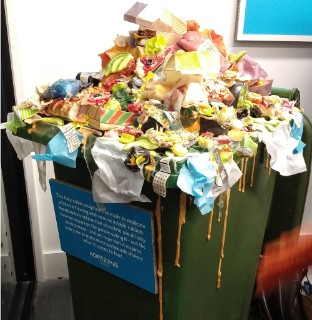 What if I'm not in London?
Don't fret, I've other ways you can recycle and get something for it. See my blog Get paid to recycle for more info.
Do you like free chocolate? Will you be popping along? Let me know in the comments below, or on Twitter.
Have your say
This is an open discussion but the comments do not represent the views of MSE. We want everyone to enjoy using our site but spam, bullying and offensive comments will not be tolerated. Posts may be deleted and repeat offenders blocked at our discretion. Please contact fbteam@moneysavingexpert.com if you wish to report any comments.
Update: We are aware that some users may currently be having issues seeing the comments and we're working on it.