9 Boots tips & tricks incl £40ish No7 mascara for £10
Plus hidden beauty dupes & 3 month's free digital membership for MoveGB
Boots is a high street stalwart and always popular with MoneySavers. Whether you're a fan of big brands, No7, or even just a sandwich, we've been busy filling our boots with deals to bring you nine ways to save right now so you can bag some Boots bargains.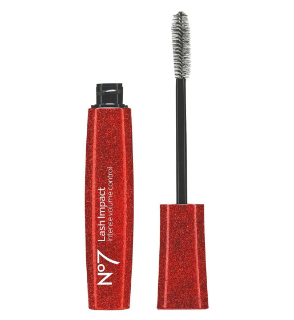 You won't need to blink twice at this deal. On Fri 28 Aug only, Boots is running its '£5 Friday' sale (see below for full details), and I've spotted a way you can bag £40ish No7 mascara for only £10. If buying online, delivery's £3.50 or you can collect in a store for £1.50.
To get the deal, simply select three of the following mascaras on Fri 28 Aug:
This mascara's in the 3for2 on No7* offer and Boots has confirmed you can stack this with the '£5 Friday' promotion, so you'll be able to get three mascaras for only £10.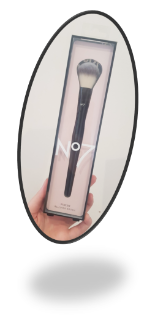 You may be saying 'Thank Boots it's Friday' because you can snap up some everyday little luxuries that normally cost up to £15 for just a fiver online at this special Boots £5 Friday* link, or in-store. Deals will only show at that link every Friday, so look then to see what's on offer.
Check if included products are also part of a 3for2 offer such as No7 or Soap & Glory as you'll be able to combine the deals for an even bigger saving.
What you can expect in this Friday's £5 sale (Fri 28 Aug):
Dr Palm hand sanitiser bottle, 100ml six for £5 bundle (online only) - norm £12
Prai Throat crème night (online only), 15ml - norm £10
Ted Baker Travel mini gift set - norm £16
Olay Clay stick mask glow boost (grey) - norm £12.99
Olay Clay stick mask Tone perfect (pink) - norm £12.99
Olay Clay stick mask detox (black) - norm £12.99
MASQD blusher brush - norm £8
MASQD brow set - norm £7.50
No7 Lash Impact Mascara (black), 7ml - norm £13.50
No7 Lash Impact Mascara (brown/black), 7ml - norm £13.50
Examples of what's previously been featured in the £5 Friday deal:
No7 Blusher brush - norm £15
Umberto Giannini Curl scrunching jelly bundle (two pack) - norm £14.50 when bought separately.
Aussie Scent-sational conditioning mist, 95ml - norm £11.99
Lee Stafford intensive hair 10 in 1 leave-in spray, 100ml - norm £11.99
Soap & Glory 'Your Best Shot' coffee & oat scrub, 180g - norm £8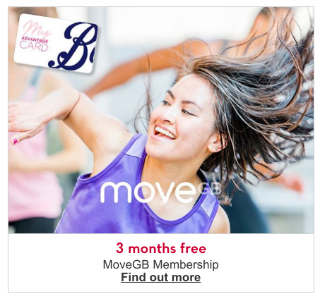 If you're not already a holder of a Boots Advantage card, you can get three months' free digital membership at MoveGB, including access to over 100 workout videos. To get it, sign up to the Advantage card through the banner advertising the deal at the bottom of the Boots* homepage (see image right) until Mon 31 Aug.
There's no auto-renew or card details required for the sign-up, but you will need to enter payment details when booking a class, in case of 'no show' (this includes free and paid-for classes). If you fail to attend the booked session or do not cancel 24 hours prior to the start of the class, you'll then be charged the full amount.

Check a special link for weekly £10 Tuesday flash bargains, eg, we've spotted norm £30ish No7 items
Tuesday is never a snooze day at MSE (it's when we put together our weekly email), but it might be worth setting your alarm for Boots' £10 Tuesday* promotion, where you can often bag big discounts on popular beauty products online or in-store. Offers will only appear at that special link every Tuesday – it'll be blank on other days of the week – and deals only last for 24-hours.
Unfortunately, Boots can't give us a heads up on what will be on offer in future weeks, but some of the best bargains we've spotted in previous weeks are No7 make-up and skincare. As Boots regularly promote 3for2 on No7 beauty products, you can use this offer to stack on top of the No7 products within the £10 Tuesday offer.
For example, here are three No7 products my flatmate bought in a previous £10 Tuesday promotion that were also in the 3for2 offer and meant she got £58 of No7 skincare for £20:
Ole Henriksen Transform Plus PHAT Glow Facial, 50ml - norm £42
No7 Core collection brush set - norm £30
Maybelline Soda pop eye shadow palette, 8g - norm £30
No7 Dark circles corrector, 15ml - norm £28
No7 Lift & luminate serum boost sheet masks (pack of four) - norm £26
No7 Eyebrush set - norm £25
Too Faced Hangover wash away the day cleanser, 125ml - norm £20
No7 Youthful glyconic peel kit - norm £25
Isle of Paradise tanning drops, 30ml - norm £19.95
Pixi glow tonic toner, 250ml - norm £18
Oral-B 3D White replacement brush heads (pack of four) - norm £17.99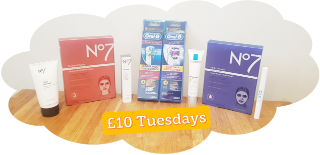 'Free' £3 of Boots points for downloading its app and making a purchase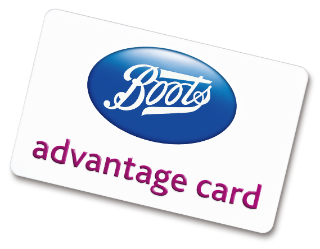 I think some of us have had our Boots card longer than our local library card (must return that Titanic VHS). If you've yet to sign up to a Boots Advantage card* though, you can get 300 Boots points (equivalent to £3 to spend at Boots), just by following these extra simple steps:
1) Download the Boots Advantage card app (Apple or Google Play) for the first time and you'll get 200 points (equivalent to £2 to spend at Boots), which will be added to your account after you've made a purchase online or in-store – there's no minimum spend so you could buy 40p salt and vinegar spirals* or 50p Boots total care mini toothpaste, 25ml* to get the free £2 of points.
You'll just need to load the offer to your account on the app and remember to swipe it when you make your purchase. It's worth noting you'll only have a week to claim it. The app is free to download and you can collect and spend reward points straight from your mobile with the digital Advantage Card. For every £1 you spend, you'll be rewarded with four points.
2) Collect 100 points (equivalent to £1) when you give your email address. If you're already a member you can add your email by managing your preferences*.
What else does the app give?
The app gives personalised offers, so it's worth checking the 'My offers' section from time-to-time. Current personalised offers I spotted on mine are:
Get 400 points when you spend £20 in a single transaction
250 points when you buy a No7 brush
200 points when you buy a No7 foundation
Boots Soltan protect & moisturise sun lotion* 200ml only £3.50 (norm £4)
Extra points and discounts for students, over 60s and parents
If you're not already in the know, there are other ways your Advantage card can reward you if you're a student, over 60 or have signed up to Boots' Parenting Club: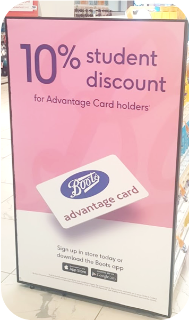 Students* - 10% discount across all items including those in the clearance sale. You can also save 10% on your first pair of glasses, prescription sunglasses and contact lenses. Plus, you'll be able to get every additional pair of prescription glasses half-price at Boots Opticians*.

Parenting Club*- Collect eight points per £1 on baby products and receive 'free' gifts at key stages of your baby's development. The Boots app offers personalised special offers and free access to expert parenting advice.
Over 60* - You'll get eight points per £1 you spend across all items and also 200 free points when you take a free Boots hearing health check.
Boots' hidden beauty dupes, eg, £4 cleansing oil vs £24 Glossier
Boots has released a new skincare range called Glow*, where every item costs just £4 or £5. What I noticed is how it looks incredibly similar to popular cult brand 'Glossier'. Here's a comparison:

There's also a new 'pineapple' edition, which appears to be very similar to another brand called 'Glow' (you can't make-up this, honestly). See the price difference: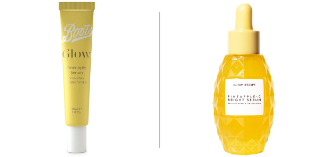 Now of course I'm no beauty guru (although a girl can dream many flawless, sun-kissed shiny dreams), so I must stress this is purely a price comparison and I haven't tested all the products myself. While packaging is similar, the contents won't be exactly the same, but for the price difference, it might be worth glowing with the flow – though it's very important to always read the packaging and check ingredients if you have any allergy or skin concerns.
Chloe Street, lifestyle writer at the Evening Standard, has written a piece about the Boots dupes price and contents. She says:
The colour is an obvious nod to Glossier's trademark millennial pink branding, but the collection is a fraction of the price.
Boots stocks other dupes for popular big brands such as MAC, Fenty, Huda, and Benefit. See MSE Rhiannon's Beauty Downshift Challenge to see how much you can save ditching brands for cheaper dupes.
When to expect the big popular No7 beauty sets
Now, we here at MSE love a No7 trick whether we're stacking codes and offers or giving hints at when we think a new bargain beauty collection is on the horizon. No7 is Boots' brand so you'll often find great offers on its make-up and skincare range. Before you decide to buy any products, always check to see if you can hack and stack the following:
Is there a 3for2 offer on?
Is there a code?
Any Boots points promotions or beauty offers I could load onto my Advantage card via the app?
Is there a 'free gift' included?
Below we're giving away our MSE secret on how we predict when a No7 beauty collection is coming. Thanks to MSE Laura's analysis, you can see when the ever-popular No7 Beauty sets are expected to be released based on what we've seen in previous years:
£170ish for £42 Advent Calendar - mid October
In the second half of October, we expect No7 to reduce the price of its beauty Advent Calendar. This is always very popular with MoneySavers and contains make-up and skincare, with the contents usually costing about £170 if bought individually.
When has it happened?
2019: 22 Oct - 28 Oct
2018: 14 Oct - 23 Oct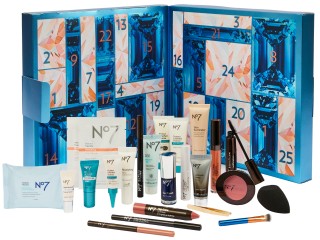 £150ish for £39 half-price beauty set - mid December
One that MoneySavers wait for, we usually see No7 offer a half-price beauty set as part of its 'Big Deal' Christmas promotions (formally called 'Star Gift'). The set usually costs about £40 but if bought individually, the contents have previously been over £150.
When has it happened?
2019: 9 Dec - 24 Dec
2018: 14 Dec - 20 Dec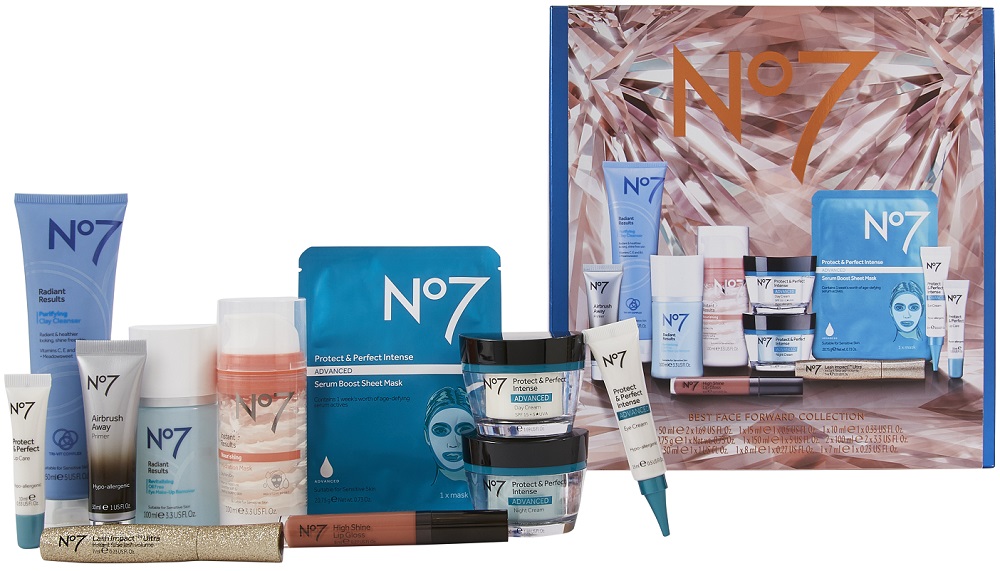 £75ish for £35 skincare sets - end of February/start of March
Towards the end of Feb or first week of March, we see No7 offer a few skincare sets. We've seen them as part of a Mother's Day promotion, where you can choose from three skincare sets. The sets ranged from £35-£37 and if you bought the items separately, it'd cost about £75.
When has it happened?
2020: 2 Mar - 30 Mar
2019: 27 Feb - 13 Mar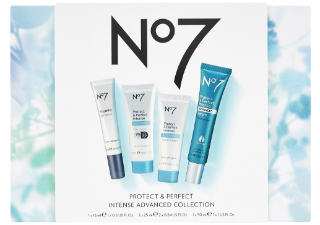 £130 for £32 'Beauty Vault' - mid July
In July, we usually see No7 offer its 'Beauty Vault' which contains make-up and skincare items. This year, its contents came to £130 if bought individually, but you could get it for £32.
When has it happened?
2020: 8 Jul - 21 Jul
2019: 17 Jul - 19 Jul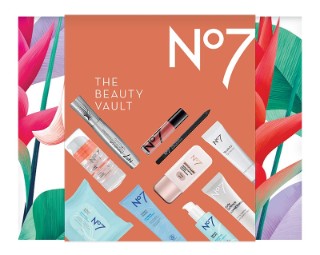 Discounts on wellness products each Wednesday
Similar to £10 Tuesdays and £5 Fridays, Boots has introduced a 'Live Well Wednesdays', which gives a series of offers across different wellness categories. This offer has already launched online at Boots* and will run 'for the foreseeable future'.
The following products are included in this week's Live Well Wednesday (Wed 26 Aug):
Do you have any handy Boots tips and tricks? Comment below as I'd love to hear them, or send us a tweet on Twitter.
Have your say
This is an open discussion but the comments do not represent the views of MSE. We want everyone to enjoy using our site but spam, bullying and offensive comments will not be tolerated. Posts may be deleted and repeat offenders blocked at our discretion. Please contact fbteam@moneysavingexpert.com if you wish to report any comments.