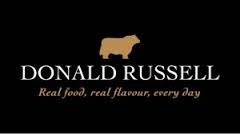 We don't currently have any Donald Russell deals.
Latest Expired Deals
£29 - dine-in meal box, incl Chateaubriand & scallops

Go via special link to get the bundle box and free delivery

Ever wondered what the Queen eats? We've heard Donald Russell supplies Her Majesty with meat, so we've blagged a discount so one can dine like royalty for less.

You can order the Donald Russell* three-course Valentine's meal for two for £29, including free delivery. If the code to get it for this price doesn't appear automatically when you click on the special link, enter the code VALM in the offer code box. The meat box contains:

250g of Queen scallops
500g Chateaubriand
2 white chocolate and ginger cheesecakes - 190g.


The box usually costs £50 from Donald Russell, but after comparing prices at other online retailers, 250g of scallops came in at £8, a 500g fillet of Chateaubriand starts from £25 and the cheesecake would usually cost around £7, so approx £40 all in.

It usually charges £5 for delivery, but use the special link above and you'll get free delivery in England, Scotland or Wales. If you're in Northern Ireland or the Channel Islands, you'll need to pay extra for delivery.

You have to nominate a day for delivery. As this box comes frozen, you'll need to have it delivered by Thu 13 Feb to allow it to defrost in time for Valentine's Day. To get it delivered by then, you must order by 11.59pm on Tue 11 Feb.