Foreo Luna Deals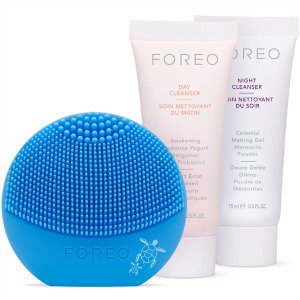 We don't currently have any Foreo Luna deals.
Latest Expired Deals
£25 Foreo mini face brush and cleanser set

Via Blagged code. Or £90 full-sized Luna face brush set

MSE Update 3.21pm Mon 3 Oct: Delivery on Foreo's website is now only free on orders over £45, so the Foreo Play is only worth buying with the discount if you're buying two sets, otherwise you'll be charged an eye-watering £9.90 for delivery.

If you're looking for a discount on a face brush, we've blagged two codes for Swedish electrical beauty brand Foreo for 5,000 of its silicone facial brushes.

£25 Foreo Luna Play 'Save' the Sea' (3,000 avail, norm £29)

If you use the MSE Blagged code MSESTS you can get 15% off the Luna Play 'Save the Sea' set*, Foreo's cheapest face brush, making the set £24.65 (norm £29, plus £9.90 delivery if you only order one), until 3,000 sets are sold. The next cheapest we found is £29 at Feel Unique - which is cheaper if you only want one.

It's non-rechargeable and the size of a cotton wool pad - great for travelling. You'll also get a 15ml daytime and 15ml nighttime cleanser (worth £7ish each based on full-sized 100ml versions).

Foreo says it's good for up to 100 one-minute uses and when you're done, it can be recycled.

£90 Foreo Luna (2,000 avail, norm £129)

If you use the MSE Blagged code MSELUNA30 you can get 30% off the Luna set*, including Foreo's flagship face brush, taking it down to £90.30 delivered (norm £129), until all 2,000 sets are sold. The next cheapest similar we found is £125 at Look Fantastic for the device only with no cleansers.

It's rechargeable via a USB cable (supplied) and the size of the palm of your hand. You'll also get a 60ml daytime and 60ml nighttime cleanser (usually £28ish each based on the full-sized 100ml versions).

It has two sides - one for facial cleansing, and one side for an 'anti-ageing' massage, which the smaller device doesn't have.

Warning - If you choose to checkout with the Amazon option it only supports payments in dollars, so you may be charged extra from your bank for the conversion. Payments made via Paypal or directly with a credit or debit card should not be subjected to any additional fees.