Nexium Deals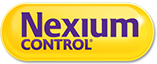 We don't currently have any Nexium deals.
Latest Expired Deals
£2 off Nexium control tablets

Printable voucher for over the counter heartburn relief

Print a coupon from the Nexium site to get £2 off any Nexium product before Thu 31 Dec. You'll need to answer a few short questions about heartburn and sign up with your email address. Coupons are valid until Thu 14 Jan 2016.

Nexium couldn't tell us how many coupons were left, but there were 50,000 in total available at the start of the promotion on Mon 16 Nov, so go quickly if you'd like this, as we've seen similar offers disappear early. See full T&Cs.

The coupon should be accepted at most major retailers including Boots, Tesco, Sainsbury's, Morrisons, Asda, Waitrose, Superdrug and Lloyds.