Reclaim care costs free
Get back £10,000s in wrongly paid care home and nursing fees
Get Our Free Money Tips Email!
For all the latest deals, guides and loopholes - join the 12m who get it. Don't miss out

Dan | Edited by Martin
Archived 28 Aug 2012
While this guide has been archived and hasn't been updated for five years, it may still be possible to reclaim private care costs. For full information see your local clinical commissioning group.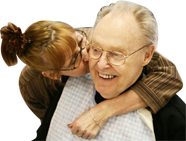 Many older people in England and their families have paid for NHS or private care and could reclaim £10,000s, even for relatives now passed away. Yet there's an urgent deadline - you must start by 30 Sept 2012.
There's no need to pay a claims firm - even no-win, no-fee usually costs 30% of what you're owed. While not everyone qualifies for money back, it's important to check your eligibility then, if you are, reclaim for free.
This guide's been written with kind help from the Alzheimer's Society and Age UK.
While every effort's been made to ensure this article's accuracy, it doesn't constitute legal advice tailored to your individual circumstances. If you act on it, you do so at your own risk. We can't assume responsibility and don't accept liability for any damage or loss which may arise as a result of your reliance upon it.
Some inspiration before you begin
If you paid for care when the NHS should have paid for it, you CAN get the money back. Below is a big success found by personal finance site This is Money. Please report your successes.
Robert Beaman, who had Parkinson's disease and dementia, needed 24-hour nursing care for the last two years of his life. When his daughter asked the NHS to meet the costs of £6,000 a month, she was turned down, and his family told to sell his home and use his savings to pay for it.
She said: "I was simply told that as he had savings and a house, he had to pay for his nursing home fees." Mr Beaman died in December 2010 at the age of 84. After going through the reclaim process, the family was finally repaid £84,000 towards his care.
---

Daughne Taylor recovered £84,000 of costs paid towards her father's care. Her case study was on BBC Radio 4's MoneyBox.
Hear Daughne's story (11 mins 30 seconds in)
IMPORTANT NOTE: Care home costs are a live political issue, with proposed changes being put to parliament. This guide relates to reclaiming costs under the CURRENT system. Ensure you're getting the free weekly Martin's Money Tips email so we can let you know of changes.
Care should've been FREE if for health
This guide is aimed at reclaiming care home costs that have already been paid. However, the steps involved can equally apply to avoiding paying care costs in future too.
Many people have paid for care over the past few years when they didn't need to. If you or a relative stumped up cash to pay for care - either at home or in a specialist care home - then you may have done so unneccessarily. That's because, since October 2007...
If you received care ANYWHERE in England because of a "primary health need", the NHS must pay the entire cost, without means-testing.
This is regardless of how old you were when care was received, or how much you had in savings and assets. Sadly this clear, huge exception for those in England is massively underpublicised. We do our best to define a primary health need below.
The following people are most likely to have missed out on free care that they were eligible for:
If the main reason for receiving care was NOT health - based on the severity of the condition - then local authorities may have met some costs. The person needing care or their family is left to make up the rest, on a means-tested basis. Those with savings and assets of over £23,250 - including a house - will have been liable for the entire cost of care.
Please feed back, report errors and ask any questions - we'll try to get this updated ASAP.
Who is eligible for free care/refunds?
The NHS Continuing Healthcare benefit meets the full cost of accommodation in a care home (if needed), plus healthcare from nurses or specialists, and any help needed with basic tasks like bathing and dressing - if you're eligible for it.
Working out eligibility is, sadly, not a simple box-ticking exercise. It's the NHS that assesses this and in its own woolly words...
"It's not dependent on a particular disease, diagnosis or condition, nor on who provides the care or where that care is provided."
That's clears it up, doesn't it? Obviously not, and this gets complicated pretty swiftly.
What is a "primary health need"?
Instead, eligibility is based on your 'score' (from the highest 'priority' need, to severe need, low need), in 12 'care domains' (such as mobility, continence and breathing). If you had one 'priority' or two 'severe' needs, there's a decent chance you were eligible.
To keep it simple, ask yourself whether a reasonable person, who wasn't emotionally involved in this would say whether health needs - physical or mental, caused by disability, accident or illness - are the main reason for care being needed.
If the answer is YES, either for now or at any time since 2004, it's worth considering putting in a claim.
How to reclaim care costs for free
It's the responsibility of the NHS to assess eligibility for continuing healthcare. It does this via Primary Care Trusts (PCTs), the bodies that organise healthcare at a local level.
This guide is aimed at reclaiming care home costs that have already been paid. However, the steps involved can equally apply to avoiding paying care costs in future too.
If the care recipient was never assessed to see if he or she was eligible for this (see below), or was turned down, and you believe this was done incorrectly, you can challenge it. Use the official NHS complaints procedure and take it to the independent Ombudsman if necessary to get the cash now plus any you were wrongly denied in the past.
STEP 1: Get a preliminary assessment from the local NHS
First you need to get a provisional assessment of whether the NHS thinks you are likely to qualify. This is decided by the Primary Care Trusts. If you have already been FULLY assessed for the period you're complaining for and were rejected, you can jump to step 3 now.
The aim is to get through the first assessment, to get a full assessment which is where the real decision is made...
STEP 2: A full assessment will be done
If the NHS checklist shows further assessment is needed, the PCT then take a comprehensive look at the person's physical, mental and emotional needs. This will require contributions from everyone involved in the care, though it's unlikely you will have to submit your own evidence.
From October 2007, the criteria used should be the same wherever you live in England. The assessment is based on the NHS's drily-named and very complex Decision Support Checklist (its useful to scan through it to get a feel for the criteria - but don't be scared off it's too complex).
This review should take a maximum of 28 days, at which point you'll be given a yes or a no from the PCT.
Potential health needs are broken into 12 categories, then they are ranked based on their severity. It's up to you to judge which of these apply, and how important they are in terms of contributing to the overall need for care.
Find out more about the criteria
For care costs between April 2004 and October 2007, cases were decided on different criteria depending where you lived in England - and the assessment and reclaim will be based on those. To see the criteria that should have been used, speak to your local Primary Care Trust.
If the full assessment rejects you...
... jump to Step 3.
If the claim is successful...
... the NHS should pay for all nursing and accommodation costs incurred during the period you were assessed for (since April 2004).
STEP 3: Rejected and feel it's wrong?
If you were rejected after the full assessment, you need to stop and reflect whether it is appropriate to continue, and if you truly have a strong case that their 'primary need' is health-related.
If you do want to carry on, there are set review procedures to go through. However, it will take time and a good deal of work. The key at this stage is to work out whether you believe the criteria are met in your case. Go through the following, and take your time to decide:
Speak to these helpful groups
Read these documents in full (they're long but worth it)
If you want to continue, it's time to start the next level of review stages:
Challenge the Primary Care Trust's decision
You'll need to gather evidence of why you believe your case was incorrectly turned down and send it to the Primary Care Trust. It's important to understand this means you believe the laid down criteria weren't correctly applied - not that the criteria themselves aren't fair.
Access to the official medical notes should help to supplement notes that you or a carer kept regarding the patient's condition. You can request these from the hospital and GP's surgery - or may want to visit in person to ensure you see everything. if you encounter problems, remind them you have a right under the Access to Medical Records Act 1988.
Use the template letter below, created by the Alzheimer's Society, which includes its top tips to prepare your case and obtain the most useful evidence. Massive thanks to them for this.
Depending on which Primary Care Trust area you are in, it may be referred to a neighbouring PCT to maintain impartiality. Either way, it will attempt to resolve the case locally first, and should keep you updated on the progress (phone it if you hear nowt).
Appeal for free to the Strategic Health Authority
The PCT may decide it cannot resolve this for you, and will call an independent review panel (you must go to the PCT first, you can't jump to this stage yourself). This is convened by the Strategic Health Authority (SHA) - the next rung up on the ladder of NHS administration.
If the PCT says you have no case, and doesn't refer it up to the Strategic Health Authority, you'll have to do this yourself by sending this Alzheimer's Society template letter.
The panel's job is to either uphold the original assessment, or decide that the decision wasn't based on the correct criteria so was invalid.
This is when the person in need of care can give evidence, either themselves or through a representative. This can be a relative, or care, or even an independent advocate. If you would like to find an advocate, contact your local NHS Patients Advice and Liaison office.
The case made should centre on how the official criteria - in the Decision Support Tool - match up against the needs of individual who received care. Go back through the arguments used in the letters so far, refine the argument, and be as prepared as you can be.
If the panel overturns the original decision, any money you've paid out should be refunded. However, if the review panel upholds the original decision, and you still believe the claim to be valid, you'll need to escalate your complaint to the independent Ombudsman.
Complain to the Health Ombudsman
The Parliamentary and Health Service Ombudsman exists to resolve complaints about government departments, and the NHS. It has a comprehensive explanation of how to make a complaint on its website - or you can give it a call to talk through options on 0345 015 4033.
There are various options for the Ombudsman at this stage. If you get this far, please let us know how it went, and what the outcome was in the forum discussion.
Can I get FREE help?
There's no doubt that this could be a long process for many. Though if you push and win the numbers could be huge, possibly £100,000+. There are a number of free sources of information and support that others have found helpful along the way.
I want to pay someone to help me
We don't normally believe in using lawyers or claims handlers for things it's easy to do yourself, such as PPI Reclaiming, as they take a cut of your payout. Yet, even though we think it's possible to reclaim care costs DIY, we're not as militant in this case.
If you're struggling and need help, we strongly suggest using a solicitor rather than a claims handler. But never pay up front, and ensure itís a Ďno-win no-fee dealí where they wonít take more than 20%. The Law Society has a good 'find a solicitor' tool.
While lawyers are regulated, care costs claims handlers are not (some other types of claims handlers are). If you weren't happy with the claims firm, all you would be able to do is complain to Trading Standards.
Still intent on using a claims handler? It's imperative you do the right checks. Use our 'What to check when picking claims handlers checklist'.
For further details on how to take county court action see the taking court action section of the How to complain guide. If you give it a try please let us know how you've got on in the successes and failures forum thread.