After weeks of poring over entries for the Britain's Best Debt Dieter competition, we've finally crowned the winner. There was stiff competition from other MoneySavers to win the title, with bags of entries from across the country, many of whom saved thousands of pounds.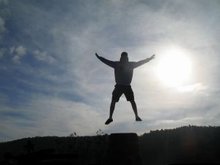 Being debt free's an uplifting feeling...
The idea behind the competition
The great inspiration for the debt dieter contest was to remind anyone who's suffering dark times because of being in debt, which can be all-pervasive and depressing, that there's a way out. I wanted to pay tribute to the incredibly valuable work that goes on in the Debt Free Wannabe forum: at any one time hundreds of people are giving each other help and support to help get debt-free.
Drum roll please!
And the winner is…. Alison Brixton, an Admin manager from Kent. Alison, 37, began her debt journey when she was enticed, like many people, to take 4 credit cards and 3 store cards; an all-too-typical route to financial misery. She bought everything on the cards when her salary ran out – which it often did. Within less than a year she had run up thousands of pounds worth of debt and faced financial ruin – that was until she logged onto the site.
Fast-forward a year and Alison's paid back over £8,000 of her £20,500 debt, no small feat, I'm sure you'll agree. Yet what really made her entry stand out was the amazingly creative ways she chose to cut her debt. Brilliantly she's also helped everybody she knows to save money; where she works over 20 people have got their bank charges back with her help.
Alison's journey in the last year is really an inspiration. Here are just some of the creative ways she went about her debt diet:
Renting out bouncy castles. At the beginning of summer, Alison invested in two second-hand bouncy castles and set about hiring them out. After successfully renting them at numerous summer events, she managed to sell them on for the same price they were purchased for. This earned a tidy £2,500 towards her debt after overheads and tax.

Reclaiming bank charges. After reclaiming over £1,700 of her own charges, Alison set about helping her colleagues get theirs back. She gave Moneysaving advice to over 20 of them, assisting them with their reclaims, and helping them out with any problems along the way. This is MoneySaving evangelism at its best. (See Bank Charges Reclaiming)

Switching her utilities suppliers. Following the guidelines in the Cheaper Gas & Elec, and Cheapest Broadband articles, Alison saved hundreds over the course of a year.

Buying to sell. A keen eye for collectable records allowed Alison to buy rare vinyl records cheaply at car boot sales, and then resell them on eBay, putting all the proceeds back towards her debt.

Buying in bulk. Shopping at a Cash and Carry to buy staple products in bulk helped cut £30 per week off shopping costs.
As a result of all her hard work, she's now on course to be debt free by November 2008. Alison's campaign shows that the small day-to-day savings are just as important as the big one-off ones, and also, that with some initiative you can really boost your income with work on the side. We asked Alison for her top two debt dieting tips:
If you've a mortgage, work out how much interest you're paying per day. This alone can be the biggest motivator to pay your debts and mortgage off; you really don't want to be giving so much money away. (Read my Mortgage Guide for more)

If you want to pamper yourself on a shoestring, get all your beauty treatments at a local college- it's less than half-price. Since you're helping the students out they'll treat you well, and sometimes you can get a bargain meal in the student restaurant too!
The runners up
The other two finalists — Lyndsey Read and Sarah Giles – both win £100. Lyndsey cut the cost of her utilities by switching to the best deal, switched job location to cut travel costs, and quit smoking to turn the ash into cash. She's now teaching groups of 16-year-olds the finer points of MoneySaving, as well as other day-to-day skills.
Sarah, a regular Debt Free Wannabe forum contributor, trimmed back the pounds by using MSE articles to cut down on outgoings; budgeting, getting the best balance transfer deals, and using freecycle to dispense with the cost of baby buys. And inspirationally, she did all of this during her pregnancy.
The 10 runners-up get a signed copy of the Money Diet; they are: James Kingston, Kate Deane, Angela Cooper, Liza Williams, Debbie Goode, James Lake, Jane O'Neill, Jaime Owen, Natalie Anderson and Anonymous. Well done! Their best MoneySaving included:
James Kingston: Budget! "Check what you're spending on- write it all down and see if you can reduce the cost of the essentials" (my Budget Planner's a good place to start).
Kate Deane: Do your research. "Check everywhere to see if you can save; don't leave any stone unturned… stop at nothing… turn it into a hobby!"
Jane O'Neill: Work on the side. "Get a second job, if your circumstances allow. Preferably one like mine where you get free food and have to work weekends - so you can't go out and spend."
James Lake: Be focused. "Make an effort to STAY MOTIVATED – otherwise it's like giving up smoking without willpower."
If you've debt problems, read the Debt Problems: Where to start, what to do, where to get help article for a full step-by-step checklist.
You can find more top tips in the free weekly MoneySaving e-mail