Education Maint. Allowance
Grants for FE (now closed in England)
Get Our Free Money Tips Email!
For all the latest deals, guides and loopholes - join the 12m who get it. Don't miss out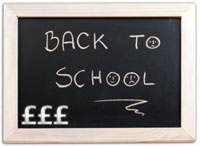 There's potentially thousands of pounds in free cash available to 16 to 19 year olds who stay on at college or sixth form, thanks to the Education Maintenance Allowance (EMA).
So whether youíre from Scotland, Wales or Northern Ireland (EMA's not available in England), check to see if you're eligible to be paid to go to college.
Grants for 16-19s
Who can get EMA?
The Education Maintenance Allowance is designed to entice and encourage school leavers who previously didnít want, or couldnít afford, to carry on studying past the compulsory education level. As itís based largely on parental income, thousands of students are eligible for the cash boost.
You need to satisfy several criteria to apply for EMA:
You must live and go to school in Scotland, Wales or Northern Ireland

This allowance used to be available to all 16-19 year olds, regardless of where they lived. But in September 2012, the scheme was scrapped in England, being replaced by a bursary scheme. So, it's now only available in Scotland, Wales and Northern Ireland.

Be aged between 16 and 18

Only those aged 16, 17 and 18 can apply (though you'll still get it when you turn 19), for up to a maximum of three years' worth of cash. So, unfortunately, if youíve done well at school and managed to skip a year, thus enter further education before 16, you wonít be eligible.

You can claim at any point in the school year, but you'll only receive backdated payments if you apply within 28 days of the course's start date or by the end of September, depending on where in the country you are.

Your parents must earn under the income limits

EMA eligibility is based on the total tax year income of both parents you live with (including step-parents), or sole income if you live with just one. The good news is any benefits you receive or cash from a part time job arenít included in the assessment... hoorah!

The top qualifying level of income differs slightly depending on which country within the UK you're from and study in - it is higher in Northern Ireland, for instance. If it's under £20,000 youíll definitely receive at least £30 per week. For full details see the how much section.

However, if household income has dropped significantly over the last year you may be allowed to be 'reassessed' using more recent household income evidence. This is available for students in Northern Ireland and Wales.

It applies to both academic and vocational subjects/courses

AS/A2 Levels and Highers, diplomas and even GCSE resits: they all qualify. They can be based in any sixth form, college or other further education institution.

Thereís a minimum weekly classroom attendance

Depending on where you study, thereís a minimum number of hours you must be in class or at a placement each week to qualify for the EMA. In Wales the minimum is 12, in Northern Ireland itís 15 and in Scotland itís a diligent 21.

You must stick to your studies and attend regularly

You have to be committed to your studies, have a good attendance record and achieve the specific goals agreed between you and your college, otherwise youíll forgo payments, which canít be recouped. Your efforts will be monitored by your school or college.
How much will you get?
Those studying in Scotland get their EMAís paid weekly, whereas in Wales and Northern Ireland itís fortnightly. It's credited straight into your bank, so youíll need to open a bank or Savings Account, if you havenít already done so.
In all three countries, the amount is a fixed £30. However, if your parents' income exceeds the upper threshold, you won't we eligible for any of the cash.
How Much Can You Get?
Household Income
EMA Entitlement/Week
Wales
Scotland
Northern Ireland

One child

Up to £20,817

Up to £20,351

Up to £20,500

Two+ children

Up to £23,077

Up to £22,403

Up to £22,500
How to apply
The way you apply varies between the three countries:
Northern Ireland. You can get forms from your school, college, or local jobs or benefits office, or you can download one from nidirect.

Wales. You can get a form from your college, or download one from Student Finance Wales.

Scotland. You need to ask your school, college or Local Education Authority for a form to fill in.
Each applicant must provide proof of their parentsí household income, which can be done using a Tax Credit Award Notice or by a P60, plus youíll need to give your bank details.
Other sources of funding
If you aren't eligible for EMA, or are getting it but still struggling financially, you may be entitled to money from elsewhere.