The new flood grants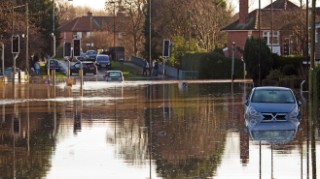 The Government grant scheme was created to help homeowners affected by the recent floods. But who's eligible and how can you apply?
Get Our Free Money Tips Email!
For all the latest deals, guides and loopholes - join the 12m who get it. Don't miss out
My house was flooded last year. What is this grant and how do I get one? Sorry to hear about your house. It was a horrible winter for many homeowners between 2013 - 14. But on the slight upside, you should be eligible to apply for the grant of up to £5,000 - known as the Repair and Renewal Grant - if you or your business was flooded between the 1 April 2013 and 31 March 2014.

So how do I apply for the grant and how much do I get? If you think you're due a grant, give your local council a call or have a look on its website. You might have to fill out a few forms but it shouldn't be too strenuous. If you don't know what council you're part of, you can check on Gov.uk.
Before you get the grant your council is likely to carry out a survey on your home to get an idea of the work that needs to be done.
How much you'll get depends on how much work needs to be done to make your house future flood-proofed. The decision on the amount will be made by the local council and the grant will be paid to the owner of the property or business.
Ok, sounds worth doing. So if I get the grant can I use it for repairs? I'm afraid not. Despite its name the grant is not designed for flood-related home repairs - that will be covered by the insurance industry. The Government is working closely with insurers to make sure that any repairs to your home are carried out as soon as possible.
Instead, the grant is there to help you future flood-proof your home. The Government hopes this will help you get better flood insurance rates in the future.
So what kind of stuff can I do to my house to help prevent flooding in the future? If you're a complete novice, a good starting point is the National Flood Forum site, which gives you tips on how to protect your home against flooding.
If you want to know exactly what can be done to flood-proof your home, you can get a report on your home via the Property Protection Adviser. This will outline what kind of flood proof stuff need to be fitted – ranging from airbrick covers to replacing wooden floors – and how much it will cost. All you have to do is answer a couple of questions about your property.
I need to go and Google airbrick covers – what the heebie-jeebies is that? But before I do, are there any measures to stop people taking the money and legging it? Ha, yes, there are plenty of new and wonderful words to learn in the process of flood-proofing – airbrick cover being one of them. It's basically a shield you can put on top of a brick with air holes in it.
But back to your other question…Could people take the money without doing any work to their home? That's unlikely. While the full details are still being discussed, it looks like homeowners will be asked to produce a receipt for any of the work that is carried out. So make sure you keep all the documents safe.
Related guides
More 60 seconds on...
Great. Has the Government put any other schemes in place to help people that have been flooded? Yes, it has. Flooded homeowners are being offered discounts and rebates on their council tax too. You can get at least three months rebated – and you can do what you want with the money. This will be completely at the discretion of your local council but it doesn't hurt asking so just give it a call.

Get Our Free Money Tips Email!
For all the latest deals, guides and loopholes - join the 12m who get it. Don't miss out