50-Word Moneyfesto 2013
Small changes for a big difference
Get Our Free Money Tips Email!
For all the latest deals, guides and loopholes - join the 12m who get it. Don't miss out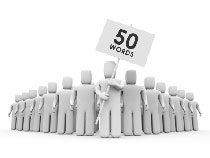 Politicians like to focus on big 'legacy' issues, but they miss the little changes that are easily implemented, which would help make all our lives better.
We collected 50-word suggestions on what changes you'd make to go into our MSE 50-Word Moneyfesto. Our first list had some great successes, proving the little ideas really do matter.
In this guide
What's 50 Words all about?
In summer 2009, we asked site users to suggest in about 50 words the little things that could be changed to make life fairer when dealing with companies and money issues.
If you've got an issue that bugs you – this is your chance.
The whole idea expanded as we were swamped with amazing, innovative and clever suggestions on subjects as diverse as parking meters, airline fees, bank charges, and more. So we decided to turn it into the 50-Word Moneyfesto (see the last Moneyfesto).
Once done, we sent it out to a range of politicians, including the then-Prime Minister and other party leaders, as well as influential MPs, regulators and more. The result was amazing, with parliamentary investigations and super-complaints galore.
50 Words campaign successes
We had some great successes with our first list, proving the little ideas really do matter.
Past ideas directly led to Consumer Focus's super-complaint which sped up cash ISA transfers and they aided Ofgem's work to improve energy statements, as well as Trading Standards' doorstep selling rule changes.
Some of the highlights are below - see the last Moneyfesto for all the ideas.
Issue:

Right to know rate you'll get before application goes on credit file
Apply for a product and it puts a mark on your credit file, which hits your credit score. Yet many products are 'rate for risk', which means that without applying, you won't know the rate you'll be offered. This is a vicious circle that should be stopped as many are unaware that applying can harm them.
What's happened? As a direct result of the 50 Words campaign, the Treasury Select Committee of MPs launched an investigation, at which Martin Lewis was the first to give evidence.
On the issue in question, the committee called for "an end to situations in which the user may not know what interest rate is to be applied to a card until after it has been issued".
After the report was produced it was considered by the OFT, which put a guideline in its Irresponsible Lending Guidance for Creditors which states credit firms should allow 'quotation searches' (as distinct from 'application searches') when appropriate to do so.
Issue:

Restaurants must display what happens to your tips
It must be clear how exactly service charges are distributed to staff, such as whether they go directly to waiters in addition to their wage, or whether they go to the restaurant.
What's happened? In October 2009, restaurants were barred from using tips to make up their staff's pay to the minimum wage.
The Department for Business, Innovation and Skills (BIS) took on the cause and released research which showed 61% of adults who tip don't realise where it goes, with an enormous 95% believing it goes to staff.
It also launched a campaign to encourage consumers to ask "who gets the tip?" (BIS has developed a voluntary code to encourages transparency by businesses).
The code states that information on tipping policy should be displayed BEFORE a customer leaves a tip. It should show how tips are distributed, along with any deductions made. It also makes it clear that staff should be aware of and understand the tips policy and know where to direct customers for more information.
Issue:

Speed up tax-free cash ISA transfers
Why can some bank transfers take a matter of seconds, yet moving money from one cash ISA to another can take months?
Although ISA transfers are not as simple as a standard bank transfer, they used to happen at an extremely slow pace, leaving money in limbo for months and not collecting any interest at all. Closely linked to this was Martin's suggestion that all savings statements must list the current interest rate, either online or on a printed statement.
What's happened? Based directly on the 50 Words suggestion, Consumer Focus launched its first super-complaint on the subject of cash ISAs, highlighting the issues mentioned above.
A super-complaint is a powerful tool that allows the government and regulator to look at the issues in question and ultimately act on them. The complaint was investigated by the OFT, which concluded that the transfer process was too lengthy. From December 2010, the time a transfer should take was reduced from 23 to 15 days.
On clearly displaying an account's interest rate, the OFT got an industry agreement that from early 2012 all cash ISA statements would show the current interest rate for the account. See Cash ISA Transfers for details of how to transfer most efficiently now.
Get Our Free Money Tips Email!
For all the latest deals, guides and loopholes - join the 10m who get it. Don't miss out
Issue:

Banks must offer current accounts (unless you have no ID)
Having an account to pay in money, to withdraw cash and to set up a direct debit from should be a basic requirement for all. While you may be turned down for an overdraft or a more complex account, everyone should be entitled to a basic current account.
It's estimated there's over a million people who cannot get an account because they have only resided in the UK for a short period, or have a bad credit history. If you are rejected, you should really have been offered a basic account by the bank. Many are failing to do so, although Barclays tells us it offers basic accounts to anyone turned down for its standard account. (See the Best Bank Accounts guide.)
What's happened? This looked promising. In April 2010 Alistair Darling, the then Chancellor, announced in his budget that everyone in the UK would be guaranteed a bank account. The plan was to introduce a "universal service obligation", although the exact details were to be subject to consultation.
However since the change of government, this hasn't yet been taken up - though the Coalition has said it's committed to improving access to banking for consumers. For now, if you're struggling to get a bank account, see the Best Basic Bank Accounts guide.
Issue:

Utility firms must put contract end dates and tariff details on statements
You often have little idea when you're able to switch or exactly what charges are, due to the non-transparent nature of communications from providers.
It wouldn't be difficult for energy providers to make our bills transparent and understandable so that we know exactly what our bill represents. Yet, if you look at any of your energy bills from before July 2010, you'd probably be filled with confusion.
What's happened? In July 2010 Ofgem, the energy regulator, changed its rules, so companies had to put tariff details on all statements. A new annual statement tells consumers, amongst other info, their contract end date and the estimated cost for the year ahead; although the latter doesn't say what happens if a promotional rate ends in the next year, so watch out for this if it applies to you.
The energy statement also contains advice on how to switch provider and should be written in clearer language. See the MSE guide to Annual Energy Statements.
Issue:

Tighter controls on door-to-door salespeople
There are countless stories of people who have been switched to a different utility company, without their permission, following a cold call from a salesman. The Government needs to be doing more to protect us from what is basically a form of fraud.
The hardline, high-pressure sales tactics in this sort of sales particularly affects the elderly and needs to be stopped. Research has shown just under half of people who switch because of a direct sales approach actually end up on a worse deal.
What's happened? Consumer Focus carried out a lengthy campaign alongside the Trading Standards Institute to have the big six energy companies respect those who live in no-cold calling zones, and those who have signs up saying "no" to cold callers.
The much-welcomed changes were implemented through the 2010 EnergySure Code update. You can find our 'no cold caller' sign here.
If you find energy suppliers are ignoring these signs, you should complain to the energy firm in question.
Issue:

No retrospective energy price rises
Energy companies should notify customers of increases in tariffs in advance. At the moment, an energy company can notify you in March that all the gas you used in the previous Dec, Jan and Feb will now be charged at a higher price than you were told!
Before 2010, as long as gas & electricity providers informed you within roughly 90 days of a price rise, they were within the rules.
What's happened? The Liberal Democrats raised the issue in January 2010. Ofgem looked into it, and carried out a consultation on the issue.
It decided that from April 2011, companies had to give customers 30 calendar days' warning before raising prices, to allow them to check for better deals, rather than informing them after the event.
There's also a little known-about Ofgem rule which allows you to reject a price rise (even retrospectively), as long as you switch provider. More information on this can be found in the How to beat price hikes MSE News story.
Get Our Free Money Tips Email!
For all the latest deals, guides and loopholes - join the 10m who get it. Don't miss out
Issue:

Lenders shouldn't be allowed to automatically take money from a savings account to pay off debts
This process, known as setting off, should be outlawed as it means people are unexpectedly left without the balance they expected in their savings account. Sometimes this means vital purchases are not then possible.
This allows banks to take money from a savings account, without warning or permission, to pay off the same person's (or a joint or sometimes even a related child's) account. It effectively penalises those who bank and save with the same institution.
What's happened since? In 2010, the then FSA (now the FCA) consulted on measures to crack down on lenders who dip into your current account or savings to pay off your debt.
The result was that anyone in difficulties should now be warned in advance, and be told about the specific payment after the event.
Anyone found to be in financial difficulty due to the set-off - eg, they are left without enough cash to cover essential living costs - can also ask for a refund of the payment. Their request should be dealt with fairly and sympathetically.
Issue:

Ban private wheelclamping (and the associated 'legal extortion')
This has already been done in Scotland, so why can't it happen in the rest of the UK, why should they be allowed to kidnap our car without strict controls on their actions?
The rules on this in England and Wales were lax. There was no automatic right of appeal. It was like giving permission for legal extortion, and the entire private parking ticket rules system needed a complete overhaul.
What's happened since? The Protection of Freedoms Act 2012 banned clamping and towing on most private land in England and Wales. It doesn't apply in Northern Ireland.
Drivers wanting to challenge charges made in private car parks in England and Wales are also now able to use a new independent appeals service, Popla (Parking on Private Land Appeals), if they have no success appealing to the parking company first. See the Private Parking Tickets guide.
Issue:

Legal right to fair energy direct debits
While paying by direct debit is cheaper, you've no legal right to demand the amount you pay is fair; meaning companies can up it willy-nilly. This should be stopped.
Many consumers often end up being in credit on their utilities at the end of the year when paying their bills by direct debit. This means they are essentially giving utility firms an interest-free loan. This is something many people can't afford.
What's happened since? Energy regulator Ofgem took note of this problem, and implemented new rules which came into force in January 2010.
These rules mean customers will get an explanation in "clear, plain and intelligible language" of how payments are calculated and, if the direct debit has increased, why this has happened.
Payments must also be calculated using "the best and most current information available". If credit does accumulate on your account, it should be refunded unless there is a "fair and reasonable" reason not to do so. If this is the case, the reason should be explained to you. See the Fair Energy Direct Debits guide.