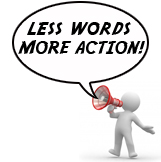 It's the little things that really irk. Politicians often focus on 'legacy change' leaving practical solutions to life's nitty gritty missed. Often they're so simple it only takes 50 words to explain, so we asked MoneySavingExpert users for suggestions and compiled this manifesto to send to politicians.
In summer 2009, MoneySavingExpert asked site users to suggest little things, in around 50 words, that could speedily be changed to make life fairer when dealing with companies and money issues. We had a wide range of suggestions. See full 50 words 2010 discussion from which we've picked a selection of the best.
What are the criteria?
We also ignored anything that'd been done before and 'changed' (eg, married couples' allowance) as our focus is providing new ideas for politicians, not engaging in existing debate. Of course, we don't expect everyone to agree with all suggestions, but we do hope you'll think most of them are sensible ideas for fair change.
Which politicians will look at it?
We asked the party leaders for their comments on the 50 words manifesto. Here's what they said:


Change has already started
Even before we launched the full manifesto we started work spreading the message about the ideas...
Treasury Select Commitee Investigation launched

The Treasury Select Committee has already picked up on one of the initial suggestions: the 'Right to know the rate you'll get before applications go on credit files' (see below), specifically naming MSE as the source, and has run an investigation into it (see the MPs call for probe into 'unfair' credit applications MSE News story).



Consumer Focus considering investigations

When we showed the list to Consumer Focus it went through it in detail and is already considering investigating a couple of the topics.
We've also shown the list to Ofgem and met a positive response and intent for it to go to the FCA consumer panel and relevant regulators for each area.

The 50 word suggestions
The following are MoneySavers' 'fifty-word' suggestions. We have done some minor editing and changes where appropriate. Thank you to all those who made suggestions. Each has an added comment and explanation from Martin...
Martin's five suggestions
Here are Martin's five suggestions, made before the others were gathered up: