Many struggle with debt, yet it ISN'T unsolvable. See what you can do and where to get help in our guide

Those with mental health issues are 4x more likely to be in debt crisis. Affected? Download our free PDF

Show your landlord this handy fact-sheet explaining your rights and what they need to know
Tools & Calculators to slash your bills
More Tools & Calcs
Poll
What is it appropriate to borrow for?
This week's MoneySaving poll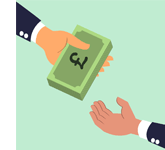 When is it right or wrong to borrow? Are some things more acceptable than others – where is the line between flippant purchases and core needs – or is it more about long-term investment in your home or happiness?

We've listed 20 options and want to know which you feel is appropriate to borrow for, or if it's appropriate to borrow at all. We've included some disguised lending such as paying for your mobile phone or car insurance monthly – in effect a loan.

Please select YES or NO for each option under the relevant category.