Free Extended Warranties
Don't pay for extended warranties, get 'em free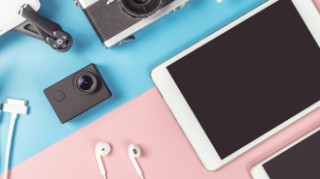 Many shops try to scare customers into buying costly warranties for all electrical appliances and white goods - most are a complete waste of money.
Yet if you want peace of mind, there are tricks to get free cover or multiple-item policies for as little as £11 per month. This step-by-step guide will help you decide whether to get a warranty (or an extended one if you've already got one covering an initial period), the cheapest deals if you do, and how to maximise protection without one.
The five need-to-knows
Before you jump in at the deep end and sign up for a warranty (or an extended), consider these need-to-knows.
A warranty is an insurance policy that lasts one to five years after you've bought an appliance, which covers you against the cost of repairs and replacements.
While the concept is good, the problem is they can cost as much as the product itself and account for a large proportion of retailers' profits and salespeoples' commission.
Worse still, some warranties used to advertise rights that were already yours by law; though the Consumer Protection from Unfair Trading Regulations 2008 now prohibit this.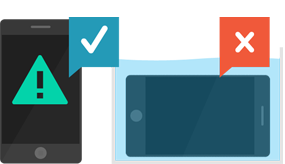 What do they cover?
Warranties usually cover your appliance for mechanical or electrical failure, not accidental damage. You should get a repair including parts and labour or, if it can't be repaired, a replacement (though you may have to pay towards this).

It won't pay out for theft, or damage caused by sun, sea water or other natural elements. Stand-alone warranties won't pay out if you're still covered by a manfacturer's guarantee so there's little point in having both.
Different warranty types
Retailers pushing expensive warranties have dragged the product's name through the mud.
Worse, in recent years some have changed from being insurance policies to service agreements and the Financial Conduct Authority doesn't regulate these providers in the same way. More on protection below.
Yet they're not the only ones offering warranties, there are others out there that may be far cheaper. There are three main different ways you can cover products:
Most manufacturers include a one-year guarantee with their product, yet it's always worth checking in the box to see if they offer an extended warranty service.

This simply extends the one-year manufacturer's guarantee for less than the cost of a standalone policy, though it often only covers manufacturing defects. Also be aware you don't have to buy an extended warranty at the time of purchasing the goods.

Effectively you buy an insurance policy from the manufacturer that is often cheper than retailer versions and tend to be more tailored to the product.

So if your washing machine manufacturer includes a free five-year, parts-only warranty, ask the insurance company for a warranty excluding parts, cutting your premium. You can usually buy these at any time.

These specialist insurance policies cover a number of appliances in one. They're often based on monthly premiums and can be better value than single policies. Prices depend on the appliances you want covered and their age, though be aware of maximum claim caps.
Before you consider a warranty, it's worth understanding your rights and checking if you're already covered.
Is there a manufacturer's guarantee?
Most appliances come with a 12-month manufacturer's guarantee. Problems within that time will get you a repair or replacement but it's unlikely to cover you for accidental damage. Make sure you register your appliance or you risk invalidating the guarantee.
If you're wondering about the difference between a guarantee and warranty...
A guarantee... is usually a free promise by the manufacturer or retailer to fix or replace the problem.

You have strong statutory rights anyway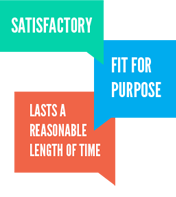 When you buy anything, you will be protected by the Consumer Rights Act 2015. It says goods should be of satisfactory quality, fit to do the job intended and last a reasonable length of time.
Where goods are faulty, take them back within six months and this law means the shop has to prove they WERE NOT faulty when you bought them.
Even after that you still have strong rights for six years, but from then on you must prove the goods WERE faulty when you bought them. So at the very worst, if you buy, take it home and it doesn't work, take it back and you are entitled to a full repair, replacement or at least a percentage towards the cost of a replacement.
Act as soon as possible
If you get in touch with the trader to tell them you want to cancel the contract within 30 days from the day after you receive the goods this is called your 'short-term right to reject'. Some stores may offer longer than 30 days, so it's worth asking if you have more time.
If you act within this time, and you send the goods back if asked by the trader, you're entitled to a full refund. The refund needs to be paid without any delays and within 14 days at the most. After this time, you lose the right to reject the goods and you'll have fewer rights.
After 30 days you can choose if you want a repair or replacement. Which to ask for is entirely down to you but the retailer can say no if it's impossible to carry out or the cost of your choice is much higher for them than the alternative.
If the item is still dodgy after just one attempt at a repair or replacement, the repair or replacement isn't possible or it hasn't been carried out quickly enough you're then entitled to ask for a partial refund. Within the first six months this could be the full amount.
Some home insurance policies will cover electrical items and white goods from theft and damage, though breakdown is less likely. Plus if you have 'all-risks' cover it may cover portable items taken outside the home too. So it's worth quickly checking:

If it provides a replacement. If so, how long will it take?

If you'll get current or new value. If you get cash for the item, check whether it'll pay to buy a new one, or just enough for its current value

If you'll need to pay an excess on the reclaim. You may have opted for a hefty home insurance excess to make the policy cheaper (excesses on warranties are usually small). If the excess is more than the item is worth, it will be pointless to claim.

If you'll have to pay call-out fees. If you need a repair, it's possible you may have to cover call-out or delivery/collection fees yourself.

If it includes portable items? Some home insurers will exclude items that can be taken out of the home, check first.

Home insurance can be an extremely cheap solution. In fact, using the Cheap Home Insurance system, some MoneySavers have actually been paid to take policies out.

A number of retailers offer their own warranties for free. For example, John Lewis offers a five year guarantee on all TVs. It now also offers a minimum two-year guarantee on all electrical products at no extra cost.

Yet these retailers can be more expensive for the products, so you have to balance the two out. In the case of John Lewis, as it has a price match promise, if you find it elsewhere cheaper, use the price match and get the warranty added free.

Credit cards can help protect your goods. Buy something costing over £100 on a credit card and you get Section 75 legal protection; this doesn't happen with cash, cheque or debit card transactions.

So buy anything costing over £100, and providing some of it's paid on the card, the card company's equally liable with the retailer if things go wrong.

Always set up a direct debit to repay the balance in full each month, else you'll have to pay interest on your purchases.

If the problem is a simple one, getting it repaired yourself may be a cheaper option if you're nifty with a tool set or it's a low tech appliance.

Get parts or spares which you can then use to fix the item yourself. Even calling a repairman might be cheaper than the cost of a warranty over a few years.

APPLIANCE

AVERAGE COST (1)

% THAT HAVEN'T REQUIRED REPAIR AFTER SIX YEARS (2)

AVERAGE COST OF COMMON REPAIR (3)

COST OF THE CHEAPEST 12 MTH WARRANTY (4)

Upright vacuum
£239
79%
£3-£10 (new belt)
(only up to £200) £19.02
Cylinder vacuum
£180
91%
£5-£20 (new filter/dustbag)
(only up to £200) £19.02
Dishwasher
£412
86%
£20-£50 (Internal blockage)
£45.83
Washing machine
£659
81%
£25- £65 (New hose and valve)
£88.05
Washer dryer
£727
71%
£73 (element failure)
£88.05
Tumble dryer
£493
89%
£40-£100 (New heater)
£45.83
(1) Based on the average of Which?'s best buys. (2) From Which?'s reliability survey. (3) From Which?'s repair or replace report. (4) Based on appliance four years old. June 2006-January 2010.

Self insuring means instead of paying for an insurance policy, you put the money aside each month into a savings account.

This way if you lose or damage the item you've got cash to pay towards a replacement, and if you don't, the cash and the interest are yours rather than the warranty company's.

The risk is you'll need the cash before you've saved up enough.
If you want a warranty, free ones via credit card perks are the cheapest way to get them.
A poor second is via specialist standalone providers. Here, the cheapest depends on what the appliance is, how much it's worth and how old it is. Usually, standalone warranties won't cover goods over eight years old.
It's always important to check the cover is appropriate for you first. And remember most policies won't pay out within the first 30 days.
Best for: Multiple products
Compare Extended Warranties is simple price comparison site where you can compare the price of warranties across a range of household items. It's run by four providers - Currys PC World, Argos, Domestic & General, Tesco - under an agreement with the Office of Fair Trading.
You don't need to buy the product and the warranty from the same place, though some won't cover products bought elsewhere. Currys PC World don't allow you to buy the warranty separately, but Domestic & General does.
This comparison site often comes out best for single products, and for multiple products with low values, so check for the items you want to cover and see whether you can beat the multiple item policies above.
Be very careful when using this site as it can be confusing in the way it lists policies. For some policies listed you pay monthly, but others are priced for three or five years. Check that the price - and the cover - are suitable for your needs.
You can't click through from the comparison site to the provider, so you'll have to visit the warranty provider separately. Usually, you'll then need to call or visit a store as only a couple of providers allow you to buy online.

John Lewis has been left off the comparison site, but offers a good alternative. It typically offers a five-year guarantee on TVs, three years on its own-brand appliances, and now a minimum of two years on all other electrical goods at no extra cost. It also price matches, so if you find the product cheaper elsewhere, it'll match it.
The warranties warning checklist
The small print varies between policies, so make sure you check the following before parting with any cash.
Accidental damage is sometimes covered, a big benefit over manufacturers' guarantees. However while theft usually isn't, your house insurance might cover it, so check you're not paying twice for the same cover.
When it comes to protection there are two types of policy; service agreements and insurance policies.


Insurance policies are fairly well protected, service agreements have almost no protection if something goes wrong.

Service agreements offer less protection

Service agreements - usually the ones sold at the point of sale, such as Argos's Replacement Product Care - aren't regulated by the FCA. If the company goes under, you have almost no protection.

Insurance policies are Government-backed

Insurance policies from providers which are regulated by the FCA are covered by the Government-backed FSCS scheme.

There are two main ways in which it protects you:

If you need to claim from a bust insurer
The FSCS's main objective is to 'maintain continuity'. This means if your insurer goes bust, it will try to find another provider to take over your policy, or issue a substitute policy. However, if you have any ongoing claims, or need to make a claim before a new insurer is found, the FSCS should ensure these are covered.

If it goes bust and you paid upfront
If you've paid for cover for a year, but the company goes bust after a month or two, then you would lose out.

To protect against that, if the FSCS can't transfer your policy to another provider, you'll be given a period of time to take out alternative insurance, and any money you've already paid will be refunded as compensation via the FSCS. To help explain, here's a quick example...

You paid for a year-long policy in January and the insurer went bust in September. If the FSCS can't get the policy transferred elsewhere, then you will receive four months' compensation of the original cost.

The limits of the compensation depend on whether the policy is compulsory or not. Compensation for policies you are required by law to have, such as third party car insurance, is unlimited, so you get 100% of the premium back. Non-compulsory policies (including warranties, home, travel, life and PPI) cover 90% of the money paid.

Accidental damage is sometimes covered, a big benefit over manufacturers' guarantees. However while theft usually isn't, your house insurance might cover it, so check you're not paying twice for the same cover.

Some extended warranties start after your manufacturer's policy ends but most will run from when you buy it (which often needs to be within 30 days of purchase) so a five year policy is only really covering you for an extra four years after the manufacturer's guarantee ends.

While the policy may cover the cost of parts it might not pay for delivery of these parts. Some providers may not cough up for call-out fees, particularly if it needs to be done outside normal working hours.

You may also have to pay for the repair upfront, then claim back the cash. These types of policy can be cheap but if you're likely to forget, don't bother.

Most policies try to repair the appliance up to three times before a replacement is even considered. When that happens, check whether you'll get the cost of buying a new appliance or the price you paid for it initially.

Some providers may offer you a renewal at the same price you paid originally, however others will offer a new quote, take into account how old the appliance is.

Sneakily, some policies will only cover the full replacement costs in the first year of purchase when you're still covered by the manufacturer's guarantee. After this, you may only get a proportion of the replacement costs in a descending ratio. For example, in the third year of purchase, you may only get 30% towards replacement costs.

Many of the specialist extended warranty providers offer one warranty for multiple items. This is usually cheaper but beware of annual claim limits. Often you can only claim £2,000 in a year, so if you're insuring an expensive item, this allowance can be wiped out in in one hit.

Cashback warranties give a full refund if you don't use the policy after a certain number of years. However they'll make you jump through hoops and it's notoriously difficult to actually get your money.

There's usually a very tight timescale within which you claim the cash. If you have one, use our Free Tart Alert to send yourself an automatic reminder six weeks before you need to send in the forms.

With shop-bought policies, by law you can get a refund, provided you haven't claimed, up to 45 days after you purchased it. With standalone policies cancellation terms differ, though you can usually cancel with one month's notice provided you haven't claimed - otherwise you're entitled to a refund within 14 days under the Consumer Contracts Regulations.

Some providers may offer you a renewal at the same price you paid originally, however others will requote and take into account how old the appliance is.
What if the warranty doesn't pay up?
Warranties are legally binding - so if the retailer or provider doesn't do what it should, you have legal recourse. Hopefully it will never get to this, but it's worth being aware of your rights if there's a problem.
Step 1: Complain to the policy provider
Escalate the complaint as far as you can with the policy provider. Include all the details of previous communications. Quote the clause in your warranty that you want to claim under to help your case.
Step 2: FCA-regulated? Complain to the free Ombudsman
Specialist providers of warranties are usually regulated by the Financial Conduct Authority. So if you encounter any problems claiming, you can go to the Financial Ombudsman, the independent arbiter of financial disputes.
The most important thing to remember is that with any FCA-regulated company you have a right to be "treated fairly" - which of course is a very wide statement. So if you think your complaint hasn't been treated fairly, you can refer it to the free Financial Ombudsman.
Hopefully, just threatening the policy provider with this should be enough in the first place. If not, then fill in the Ombudsman's form and submit your complaint. Read the Your Financial Rights guide for full details of how to do it.
Policies you get direct from manufacturers or retailers (these tend to be free) are usually service agreements meaning they're not regulated by the Financial Conduct Authority. In which case you'll have to skip to step 3.
Step 3: Consider the small claims court
As a very last resort, you could consider going to the small claims court. There's a fee from £25 depending on how much you're claiming, but it's refunded with successful claims. For full info, see the Small Claims Court guide.
What to do if something goes wrong
First, you need to complain to your insurance company directly. If it doesn't respond, or if you don't like what it says, then you don't need to just take it.
You can escalate your complaint to the free Financial Ombudsman. The ombudsman is an independent adjudicator which will make the final decision on a claim if you are locked in a dispute with your insurer. For more on how to make a complaint, read our Financial Rights guide.
Get Our Free Money Tips Email!
For all the latest deals, guides and loopholes - join the 12m who get it. Don't miss out
Join the MSE Forum Discussion