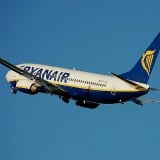 Budget airline Ryanair's booking fees have risen today, making some check-in charges up to 250% more expensive.
If you're not careful, a family of four with two bags could pay up to £500 in additional charges for a return trip by checking in at the airport.
Though if you play the system right, when sales are on, you could also end up paying 1p for a single flight (see the Budget Airline Fee Fighting guide).
The hiked charges are:
Checking a bag in at the airport will cost £35 each way from today compared to £20 yesterday.
Paying to check-in a bag online now costs £15 per leg compared to £10 previously.
Ryanair has withdrawn its airport check-in service, which used to cost £10 per flight, meaning you'll now pay a £40 'Airport Boarding Card Re-issue' fee if you forget to print you card online. It also costs £5 per leg to check-in online, though the fee is waived on some promotional fares.
The cost of taking a second bag onboard is up by £15, if booked online, making it £35.
The price of a second bag at the airport is now £70, up 250% from £20.
Further reading/Key links
Slash flights costs: Ryanair Flight Sale, Budget Airline Fee-Fighting
Find cheap air travel: Flightchecker
New charges: Ryanair website