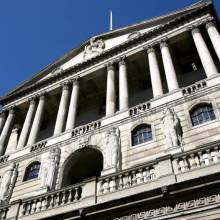 The Bank of England today announced it is holding the Base Rate at 0.5% for the seventh consecutive month.
Many commentators expect the official borrowing measure to remain low for a number of months further (see the MSE News Rates to stay low story).
The stable interest rate environment means now is a good time for savers to check what they're earning on their money and switch elsewhere, if necessary.
Over the past few weeks, savings rates have been steadily rising, but only on the top accounts (see the Top Savings guide for the best picks).
However, most have seen the rate paid on their savings plummet over recent months because the Base Rate is at an historic low (see the Millions earn sub 1% savings interest MSE News story).
Homeowners with mortgages linked to the base rate or their lender's standard variable rate have generally seen monthly payments plummet over the past year.
However, mortgage experts say it's a tough choice for those taking out a new homeloan whether to opt for a fix or variable rate. Variable rates are comparatviely cheaper but will rise when Base Rate is hiked.
Jonathan Cornell, from mortgage broker First Action Finance, says: "For those taking out new mortgages, the fixed vs floating decision is not getting any easier.
"Whilst it is good to see lenders have passed on cuts to short term fixed rates there seems to be little change for borrowers taking out long term fixes.
"Lenders need to price longer term fixed rates realistically to avoid forcing risk-averse borrowers out of the market."
Prior to the present benign period, there were six months of falls. On this day last year, Base Rate started to tumble from the then 5% level to its current low.
Further reading/Key links
Boost your rate : Top Savings
Cut-price homeloans: Cheap Mortgage Finding