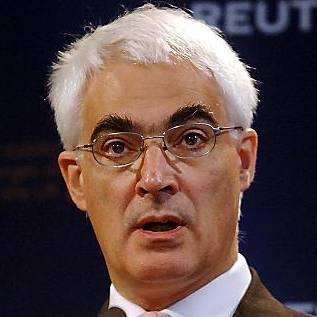 Customers of the three Government-backed banks will get a choice which provider they belong to when the trio are dismantled, the Chancellor has revealed.
Customers of former standalone financial companies like Cheltenham & Gloucester (C&G), Williams & Glyn and TSB – now part of state-run banks – had been left in confusion about which provider they'd be part of when sold off.

Alistair Darling (right) has today said state-backed trio Lloyds Banking Group, Northern Rock and the Royal Bank of Scotland (RBS) will write to customers asking them which bank they would prefer to be a part of following the break-up.
For now, it is business as usual for those who bank or have a financial product with one of the Government-backed trio.
The Chancellor revealed the information when questioned by MoneySavingExpert.com founder Martin Lewis this morning in the lift of the GMTV studio.

He said consumers would get a letter outlining a choice of bank for each product they hold (see Martin's Chancellor in the lift blog).
If someone had a bank account and savings with one banks being broken up, they'd get two letters and the option to stay put or switch on both products.
However, Darling was unable to confirm whether this option would apply to all customers or just those who belong to part of a bank that is later sold off.
It is understood such fine detail has yet to be ironed out.
It was announced earlier this week the trio will be dismantled with sold-off parts offloaded to third parties over the next few years. Tesco and Virgin Money have been touted as potential bidders, as both are keen to become fully-fledged banks.
The Chancellor is expected to make a speech at 3.30pm today on this subject.
Martin says: "So far these suggestions look quite good, but with all these mammoth banking machinations we need be very careful not to play with customers as if they were just pawns in a giant game – sold off to satisfy the whims of EU regulation and recouping spent funds."
Which parts will be sold?
RBS is likely to sell its insurance arm, which includes Churchill, Direct Line and Green Flag, its 312 RBS-branded branches in England, and six NatWest branches in Scotland, as well as part of its investment banking business.
Lloyds is likely to sell C&G, its Lloyds TSB network in Scotland and its Intelligent Finance online bank.
Northern Rock is likely to be divided into 'good' and 'bad' parts. The 'good' business, which includes its branches and savings arm, is likely to be up for grabs.
The 'bad' part – including most existing mortgages and loans – is likely to remain state-owned initially.
It is expected Rock customers who belong to the 'good' bank will be given the option to stay put with the new owner or switch to another provider.
Meanwhile, it is likely Lloyds and RBS customers, if part of a sold-off arm, will have those options plus the choice of whether to revert back to either of the duo, if possible.
Further reading/key links
Top accounts: Best Bank Accounts
Reclaim cash: Bank Charges