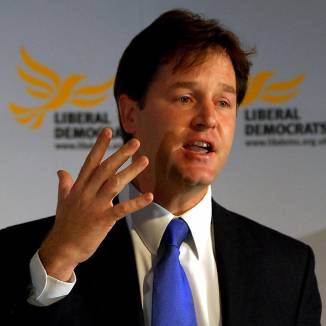 The Liberal Democrats have pledged to end unfair bank charges and help victims of excessive fees get them back in their 'manifesto for consumers'.
The party also says it will cap credit and store card interest rates. It also plans to clamp down on excessive airline fees, cut rail fares, make energy tariffs fairer and ban wheel clamping on private land.
Lib Dem leader Nick Clegg (pictured, right) says: "This manifesto for consumers is about levelling the playing field, giving people more power to get a fair deal: in banking, on the railways, from the energy companies, from the supermarkets."
Clegg, along with Prime Minister Gordon Brown and Conservative leader David Cameron, has previously supported a MoneySavingExpert.com campaign on unfair bank charges (see the Bank charges campaign MSE News story).
That campaign centred on swift compensation for charges victims if banks were defeated in the Supreme Court test case last year. However, the banks won (see the Bank Charges guide).
Yet Clegg now states: "I believe bank bosses have a moral obligation to pay that money back. If they had a shred of moral decency, they would never have imposed these charges. They should not be able to profiteer from customers making small mistakes."
The present Government has stated charges for exceeding your overdraft limit in future must be fair (see the Govt bank charges warning MSE News story).
The Lib Dem manifesto also backs a number of other MSE campaigns including stopping budget airlines hitting you with hidden charges (see the Budget airline chutzpah MSE News story), fairer energy prices (see the Energy price warning MSE News story) and an end to clamping on private land (See the Private Parking guide).
The Lib Dems' policies on banking include:
Legislating to end unfair bank charges on unauthorised overdrafts, bounced cheques or failed direct debits. Charges must be proportionate to the costs incurred by banks.

The party says "unfair bank charges have hurt millions of people across the UK, and this can cause a mountain of debt to pile up".


It also wants to help those charged in the past to get their money back, despite the banks' court victory.


Putting a cap on credit and store card interest rates.


Forcing banks to stop unnecessary delays in clearing cheques and online payments.
The Lib Dems' policies on travel and shopping include:
Preventing airlines charging unreasonable fees simply for paying for your ticket. They will only be able to charge what it costs them to process your fee and pay the card provider.


Cut rail fares, changing the rules in contracts with train operating companies so that regulated fares fall behind inflation by 1% each year.


Make Network Rail refund a third of your ticket price if you have to take a replacement bus service.


Introduce a legally binding supermarket code of practice along with an independent food market regulator to ensure a fair price for food and to ensure that people do not face local monopolies.


Ban private sector wheel-clamping.
The Lib Dems' policies on utilities include:
Ensuring the initial units of energy you use are cheaper than later units. At present, power firms often hike charges for the initial amount of gas or electricity you use and make later units cheaper.


Introducing mandatory social tariffs available to all of those on means-tested state benefits.


Mandating water companies to introduce a social tariff to "alleviate water poverty".
The Lib Dems' policies on customer service include:
Introducing a 'Universal Service Code' to secure high-quality customer service in private and public sectors.


Ensuring customer service phone numbers are free from mobiles and landlines.


Requiring companies to give specific hour-long time slots for visits and deliveries.

Martin Lewis, MoneySavingExpert.com creator, says: "It's great news bank charges haven't been forgotten. Over a million people were on hold to get their charges back, when due to a technical ruling, the Supreme Court overturned two other decisions that were in reclaimers' favour.

"Since then, having been let down by the OFT, the real hope now for mainstream reclaiming is political.

"What's interesting about the Lib Dem's policy is while they want to see bank charges sorted going forward, which the other parties have also said, they are also talking about helping those who've unfairly had charges in the past.
"Having this as a mainstream part of the agenda of one of the big parties is a huge boon."
MSE is staying politically neutral, though we're not obliged to do so. Therefore, we will bring you similar announcements from the other main parties.
Further reading/Key Links
Cut costs: House-Buying MoneySaving, Best Bank Accounts, Inheritance Tax, Cheap Petrol & Diesel, Benefits Check-Up