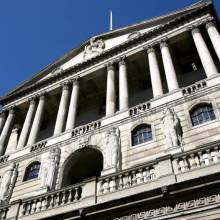 The Bank of England today announced it is holding the Base Rate at its 0.5% historic low for the 13th consecutive month.
The Bank's Monetary Policy Committee (MPC) also opted not to alter the £200 billion it has spent so far on quantitative easing (QE) to boost the money supply.
Its decision comes in the wake of recent figures showing the UK moved out of recession faster than originally thought in the fourth quarter of 2009.
Recovery hopes were also raised this week by predictions from the Organisation for Economic Co-operation and Development (OECD) that UK output will grow at a faster pace than many other major international nations at the beginning of this year.
What now for savers and borrowers?
The stable interest rate environment means now is a good time for savers to check what they're earning on their money and switch elsewhere, if necessary (see the Top Savings guide for the best picks).
Homeowners with mortgages linked to the base rate or their lender's standard variable rate (SVR) have generally been paying relatively low rates over the past year, though some building society SVRs are rising (see the SVRs up MSE News story, and the Remortgage Guide).
Prior to the present benign period, there were six months of falls. In October 2008, Base Rate started to tumble from the then 5% level to its current low.
Further reading/Key links
Boost your rate : Top Savings
Cut-price homeloans: Cheap Mortgage Finding