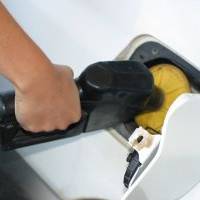 Asda has sparked a possible fuel price war by announcing a 2p-a-litre reduction in the cost of its petrol.
The cuts, from tomorrow, will take Asda petrol prices down to 115.9p a litre, while diesel drops 1p to 118.9p a litre.
The news comes as the AA says average UK petrol prices, which reached an all-time record of 121.61p a litre last week, stabilised for the first time since late February (see Cheap Petrol & Diesel guide).
The UK price of petrol dipped to 121.54p a litre on Monday, while the average diesel price is now 122.94p a litre, but the AA says UK fuel prices should have gone down by more, as the wholesale price of petrol in north-west Europe has fallen of late.
Even with the price cut, Asda won't necessarily be the cheapest in your area. To find the lowest prices, go to Petrolprices.com.
'Relieved'
Asda commercial director David Miles says: "Motorists will be relieved commodity prices are coming down and as always we are the first to reflect falling costs in our prices at the pump."
Regionally, Yorkshire and Humberside remain the cheapest area for petrol (120.7p a litre) and diesel (122.2p a litre).
Northern Ireland (122.1p) and south-east England (also 122.1p) are the most expensive for petrol. Northern Ireland drivers are also paying most for diesel (123.7p).
AA president Edmund King says: "The failure so far to pass on wholesale petrol price cuts is leaving hard-pressed drivers feeling short-changed at the pumps.
"Fuel is an unavoidable and essential purchase for drivers and many would prefer to see pump prices come down instead of having to go to the next town for cheaper prices or having to qualify for savings, such as spending £50 in store first."
How to slash fuel costs
Joint MoneySavingExpert.com/RAC research has found you could cut fuel bills by up to 60% by following some simple steps.
That equates to a £1,500 a year saving for a household that spends £2,500 a year on petrol or diesel.
Here are our tips for drivers:
Look for cheap petrol promotions, particularly in supermarkets. The Cheap Petrol & Diesel guide is updated when promotions are announced.
Use Petrolprices.com to find the cheapest local filling station.
Accelerate and brake gently.
Turn off the air conditioning.
Keep your car aerodynamic by ensuring it is clean and free of its roofrack, unless in use.
Keep tyres properly inflated.
De-clutter your car to make it lighter.
Additional reporting by the Press Association.
Further reading/Key links
Drive down fuel costs: Cheap Petrol & Diesel
Find cheap filling stations: PetrolPrices.com