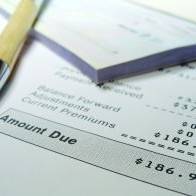 HM Revenue & Customs (HMRC) has apologised after accidentally distributing private details about 50,000 tax credit claimants.
Individuals were sent other people's personal information in the post along with their annual award notice (see the Benefits Check-up guide).
One woman from Hyde in Greater Manchester told the BBC she had received a letter that included her neighbour's earnings.
She also got the bank sort code and the last four digits of the bank account number of another claimant.
Boss's salary revealed
In another instance, someone is understood to have received their boss's salary, who lived four houses away on the same street.
An HMRC spokesman blames a printing error, and played down the danger of identity theft.
"HMRC takes data security extremely seriously," he says. "Unfortunately an error has occurred in one of the tax credits print runs causing some customer information to be wrongly formatted.
"Investigations are under way to identify the cause of the problem and we will be contacting affected customers in writing this week, apologising and providing a corrected award notice.
"An initial analysis shows that ID theft could not result from this printing error."
TaxPayers' Alliance chief executive Matthew Elliott says: "It's appalling that taxpayers' details have been posted out to total strangers."
Further reading / Key links
Grab entitlements: Benefits Check-up
Taxing times: Income Tax guide