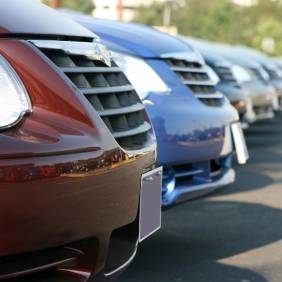 Morrisons, Sainsbury's, Tesco have all cut the price of filling up your car as the petrol price war hots up.
Within hours of fellow supermarket giant Asda triggering the price war by announcing a 2p/litre drop in petrol and a 1p/litre diesel cut from today, the trio have sought to lure customers with cheaper fuel (see the Asda price drop MSE News story).
But now:
Morrisons has cut petrol prices by 2p/litre and diesel by 1p/litre. The changes came into force last night.


Sainsbury's has cut petrol and diesel costs by 2p/litre. The new prices will take effect over the course of today. In addition, if you hold a voucher for spending over £50 in store you can get an extra 5p off per litre by 31 May, though you can no longer collect vouchers.


Tesco has today reduced petrol and diesel prices by up to 2p per litre, though the exact drop varies by store. The Tesco cut is in addition to a promotion whereby you get 5p off a litre if you spend at least £50 in store by Sunday. You're given a cheap fuel voucher at the till which must be used within two weeks.
Find the cheapest fuel
Even with the price cuts, the supermarkets won't necessarily be the cheapest in your area. To get the lowest prices, go to Petrolprices.com, but factor in any promotions, which won't appear on the site.
The price drops follow a fall in oil prices. A Tesco spokesman says: "We have recently seen an easing of the pressure on world oil prices and as always we want to pass these lower prices back to customers as quickly as possible."
The news comes as the AA says average UK petrol prices, which reached an all-time record of 121.61p a litre last week, stabilised for the first time since late February (see Cheap Petrol & Diesel guide).
The UK price of petrol dipped to 121.54p a litre on Monday, while the average diesel price is now 122.94p a litre, but the AA says UK fuel prices should have gone down by more, as the wholesale price of petrol in north-west Europe has fallen of late.
How to slash fuel costs
Joint MoneySavingExpert.com/RAC research has found you could cut fuel bills by up to 60% by following some simple steps.
That equates to a £1,500 a year saving for a household that spends £2,500 a year on petrol or diesel.
Here are our tips for drivers:
Look for cheap petrol promotions, particularly in supermarkets. The Cheap Petrol & Diesel guide is updated when promotions are announced.
Use Petrolprices.com to find the cheapest local filling station.
Accelerate and brake gently.
Turn off the air conditioning.
Keep your car aerodynamic by ensuring it is clean and free of its roofrack, unless in use.
Keep tyres properly inflated.
De-clutter your car to make it lighter.
Further reading/Key links
Drive down fuel costs: Cheap Petrol & Diesel
Find cheap filling stations: PetrolPrices.com