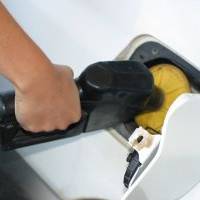 Britain's major supermarkets have cut the cost of fuel this morning ahead of the Bank Holiday weekend getaway.
Asda, Sainsbury's and Tesco have all cut the cost of unleaded and diesel by 1p per litre, though Sainsbury's cuts do not apply nationwide (see the Cheap Petrol & Diesel guide).
However, those reductions won't necessarily make supermarkets the best place to fill your motor, so do a comparison on Petrolprices.com to find the cheapest forecourt in your area.
Asda says drivers will pay no more than 110.9p per litre of unleaded and 113.9 per litre of diesel. The other supermarkets say their prices vary nationwide.
Fuel prices have been gradually falling over the past two months.
The average price of a litre of unleaded stands at 115.8p, according to Petrolprices.com. It says the average litre of diesel costs 118.4p.
This compares to 116.5p for unleaded and 119.2 for diesel a month ago, and 118.2p for unleaded and 120.8p for diesel two months ago.
An Asda spokesman says the latest cuts reflect lower oil prices. At 11.30am today a barrel of oil traded at $72.70, compared to over $82 in early August.
How to slash fuel costs
Joint MoneySavingExpert.com/RAC research has found you could cut fuel bills by up to 60% by following some simple steps.
That equates to a £1,500 a year saving for a household that spends £2,500 a year on petrol or diesel.
Here are our tips for drivers:
Look for cheap petrol promotions, particularly in supermarkets. The Cheap Petrol & Diesel guide is updated when promotions are announced.
Use Petrolprices.com to find the cheapest local filling station.
Accelerate and brake gently.
Turn off the air conditioning.
Keep your car aerodynamic by ensuring it is clean and free of its roof rack, unless in use.
Keep tyres properly inflated.
De-clutter your car to make it lighter.
Further reading/Key links
Drive down fuel costs: Cheap Petrol & Diesel
Find cheap filling stations: PetrolPrices.com