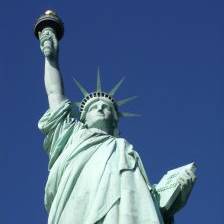 The US government's official site to apply for a compulsory travel permit has been severely struggling this morning in the final few hours before a $14 per person charge is introduced.
Many users have complained the Esta site either crashes or is incredibly slow loading when they have tried.
If you're trying to avoid the $14 (£9) fee, which comes into force at 5am tomorrow morning (midnight on the US east coast), keep trying. When we attempted to log onto the site, it eventually loaded after 30 seconds or so, and at a $56 saved per four-person family, it's worth it.
Update: 3.30pm. The site now says: "ESTA is undergoing routine maintenance. Please check back later."
A US Government spokesman says 100,000 people applied for an Esta yesterday, adding: "It's a little slower getting on to the site today but it is working."
Anyone planning on, or even considering, going to the US in the next two years should apply today for the permit. It lasts for 24 months or when your passport expires, whichever is sooner. If you're rejected, you still face a $4 fee.
The delays follow numerous reminders of the impending charge on MoneySavingExpert.com and from this site's founder Martin Lewis on ITV1's new Daybreak show (formerly GMTV) this morning meaning masses of people were sent to the US government's site.
On the show, he said: "Everyone even dreaming of going to the USA in the next two years should fill in the Esta now, as at $14 per man, woman and child, the savings are important."
One frustrated MoneySaver wrote on our official Facebook page this morning: "It took me almost two hours to complete two applications due to the site crashing."
Compulsory
While not technically a Visa, all UK citizens must complete an Esta before attempting to travel to the US but it does not guarantee entry.
Ensure you only use the Official US government Esta site as other copycat firms, which often look official, charge you to pass on your application to the US authorities (see the Beware copycat sites MSE News story).
If you already have Esta, check its expiry date. The system started on 1 August 2008, on a voluntary basis, until it became mandatory five months later.
So if you were one of the first to get authorisation, the maximum two-year limit may be up.
If your Esta is still valid, extend it before the new charge comes into effect. To do this, you can't renew your existing Esta. You must submit a new application, giving you a new reference number.
Ensure you make note of this as it isn't emailed to you and you may need to amend your details, such as flights and accommodation information, in future.
Further reading/Key links
Beat the new Esta fee: Apply for an Esta
Cut the cost of travel: Cheap Flights, Cheap Travel Insurance, Cheap Hotels