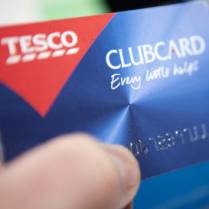 Tesco Clubcard holders have complained in their droves that the supermarket's website crashed over the weekend as the deadline loomed to exchange vouchers before rewards were cut by 25%.
Our inbox was full this morning of emails from angry Tesco customers – while many also complained on our forum – who tried to swap vouchers online over the weekend but failed because of the problems (see the Loyalty Points Boosting guide).
Tesco today cut the rewards available to those who exchange Clubcard vouchers to use at non-Tesco retailers from four times the redemption value to three (see the Tesco cuts rewards MSE News story).
This means where a £10 voucher to use at Tesco could be exchanged for a £40 voucher to use elsewhere – including restaurants, theme parks, travel firms and more – it is now worth £30.
Users of the loyalty scheme earn two points for every £1 spent at Tesco. One hundred points earns you a standard £1 token which can then be converted.
Forum user shellylovesshopping said yesterday: " System is so slow – keeps crashing. Decided to purchase a magazine subscription out of my tokens and every time I add a token it takes an age then says: 'We were unable to fulfill your request'."
One email we received yesterday said: "Tried to exchange Tesco vouchers yesterday [Saturday] for Rewards Tokens. Awful, sooooo slow that I gave up in the early hours.
"Set aside items to try again today but the site has crashed. Sent them a disappointed email and asked if the time limit was being extended to compensate. There will be a lot of other people in the same position."
Some Clubcard customers attempting to take advantage of another offer were also left disappointed by the website problems.
The 'Big Voucher Exchange' deal, where shoppers could double the value of their vouchers to spend on non-food items at Tesco, also ended yesterday.
Only those who wanted to use the new vouchers online were hit by the online crash. But those planning on spending in store also suffered as many were stuck in massive queues as they had to make the exchange at a supermarket.
What can you do about it?
Tesco says anyone hit by the crash should call its Clubcard customer services number on 0800 591688 (open 9am to 8pm Monday to Friday and 9am to 5pm on Saturday).
It says some people will be given an amnesty and awarded the quadruple redemption rate or the Big Voucher Exchange coupon but this depends on your circumstances. Tesco says people may have had problems due to a number of reasons.
A Tesco spokesman adds: "Over the weekend, we experienced a huge last minute rush. This meant that some customers were not able to exchange their vouchers or had problems with the process, and missed the deadline.
"We are doing everything we can at our call centres to help those customers affected. If you are calling us, please be aware that our lines are extremely busy and thanks for your patience."
Further reading/Key links
Slash shopping costs: Loyalty Points Boosting
Official info: Tesco Clubcard