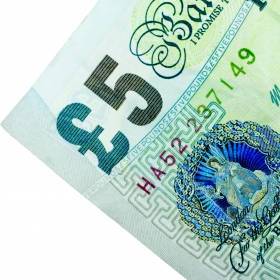 The Bank of England says it is committed to ensuring more ATMs dispense £5 notes.
It expects there to be £4 billion of fivers in circulation next year, compared to £2 billion last year, which will help people budget better (see the Budget Planner guide).
Only 2.3% of cash machines give out fivers, mainly in student and less affluent areas.
Often, £5 notes tend to be scruffy because they are popular yet there are so few in circulation compared to other denominations so they tend to be passed round more often.
Victoria Cleland, head of the Bank's notes division, said in a speech in Spain today: "Evidence shows the public want more £5s to make payments, and to receive better quality £5s in change.
"The Bank of England is keen to meet this demand and has been working with the cash industry to increase the availability of good-quality £5s.
"The largest ATM operators have agreed to ensure that at least 1.2% of their total dispense is in £5s. This means that typically, around 10-15% of such operators' ATMs will be re-configured to dispense £5s.
"As more £5 notes are acquired by the public, and retailers are more able to bank the scruffier ones, the fiver should start to look as familiar, and as smart, as our other denominations".
Last year, ATM operator Bank Machine launched a network of 21 free cash machines that only dispense £5 notes.
Banks such as HSBC have also promised to give out more fivers.
The Link cash machine network commissioned a survey last year which showed 74% of consumers would be satisfied or very satisfied if an ATM could dispense £5 notes. The smallest denomination notes most dispense are tenners.
Further reading/Key links
Money help: Budget Planner, Money Makeover, Debt Help
Top Deals: Best Bank Accounts