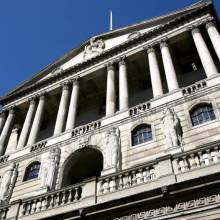 The Bank of England today announced it is holding the base rate at its 0.5% historic low for the 31st consecutive month.
Meanwhile, the Bank's Monetary Policy Committee (MPC) is pumping an extra £75bn into the financial system via quantitative easing (QE), which is effectively the printing of extra money, bringing the total to £275bn, to help boost the economy.
The move comes after figures yesterday revealed the economy grew by just 0.1% between April and June, meaning it virtually flat-lined.
The Bank of England said it boosted QE because "tensions in the world economy threaten the UK recovery" and the slack in the economy is likely to be "greater and more persistent than previously expected".
The decision was welcomed by business leaders who have called for help to stimulate the economy after the weak data.
Ian McCafferty, chief economic adviser at the CBI, says the Bank had "acted promptly" in the face of risks to the economic outlook.
Santander chief economist Barry Naisbitt says: "While pressure for more quantitative easing has been growing in some quarters, the expectation of such a move built up after the publication of the September MPC minutes.
"With weak economic data recently both in the UK and in some of its main export markets and GDP growth in the second quarter now shown to have been just 0.1%, further quantitative easing is seen as one mechanism to boost economic activity and confidence."
Base rate impact
The stable base rate is good news for borrowers, with the price of a fixed rate mortgage now at an all-time low as lenders factor in a longer spell with rates at rock-bottom.
However, the extended period of lower lending costs spells more misery for pensioners and savers who will continue to suffer low returns on their money, at a time when high inflation is eroding the value of their deposits.