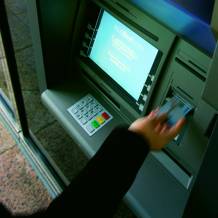 Two of Britain's largest banks have been told by MPs to justify their restrictions on basic account customers using rivals' cash machines.
The influential Treasury Select Committee has written to the chiefs of Royal Bank of Scotland and Lloyds TSB expressing its concern at the policy.
Committee chairman Andrew Tyrie said he is concerned that it would exclude basic bank account customers from the majority of the UK's free cash machine network.
Tyrie wrote: "Your decision has major implications for access to universal banking and appears to target vulnerable customers who are most at risk of financial exclusion."
Basic accounts offer most of the services of a standard current account, but do not have overdraft facilities or cheque books. They are useful for people with poor credit histories.
In August, RBS announced it would end its policy of allowing access to other banks' cash machines for its one million basic account holders, saying the fees it paid to other banks for the service were too high. Lloyds has had a similar policy in place for a number of years.
In a reply to the MPs, Brian Hartzer, head of RBS's retail operation in the UK, said the bank pays a charge every time a customer checks a balance or makes a withdrawal at a rival cash machine.
As a result, it loses money on its basic accounts service, "which we need to reduce", he adds.
Hartzer added that RBS customers can still use machines at Natwest, the Post Office, and supermarkets Tesco and Morrisons, and said it would review cases of customers in remote rural areas or with disabilities.
RBS is 83%-owned by the UK Government, while Lloyds is 43% state-owned.