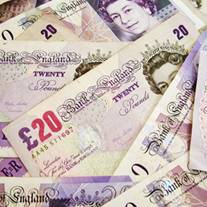 The Bank of England injected a further £50 billion into the economy today as the UK battles to stave off another recession.
The Bank's Monetary Policy Committee voted to increase the quantitative easing (QE) programme — effectively printing more cash — from £275 billion to £325 billion despite the subsequent risk of rising inflation.
Meanwhile, it held interest rates at a record low of 0.5%.
The QE move will draw criticism from pensioners' groups who have warned it could leave more than a million pensioners "permanently poorer for the rest of their lives" due to the adverse effect money-printing has on annuities, which is where you buy a regular retirement income in return for your pension pot.
But business leaders said further stimulus would "support confidence" and welcomed the decision.
Explaining the move, the Bank says that while recent business surveys have "painted a more positive picture", the pace of expansion in the eurozone has slowed and "concerns remain" about the region's debt levels.
The Bank says that tight credit conditions and the Government's austerity measures present headwinds looking ahead, while inflation, which dropped to 4.2% in December, should continue to fall sharply in the near term.