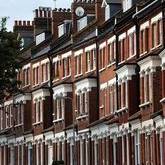 Clydesdale and Yorkshire Banks have become the latest mortgage lenders to announce a rise in their standard variable rate (SVR).
From 1 May, the sister banks' SVR will rise from 4.59% to 4.95%, hitting 30,000 borrowers.
The banks say the average increase in repayments will be about £30 per month, or £360 a year.
Halifax and Bank of Ireland (BoI) have announced they plan to hike their SVRs later this year from 3.5% to 3.99%, and from 2.99% to 4.49%, respectively.
RBS has also raised some offset rates for existing customers from 3.75% to 4%.
The Halifax hike hits 850,000, the RBS rises 200,000 and the BoI increase 100,000.
Clydesdale and Yorkshire blame the cost of funding mortgages for the hike, as did BoI, Halifax and RBS.
Banks say the price they pay to borrow from each other has risen due to the eurozone crisis. They also say they have to pay savers a high rate relative to the 0.5% Bank of England base rate so they can attract funds to lend out.