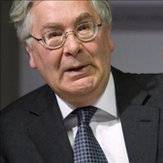 Plans for a multi-billion pound emergency bank funding scheme to kick-start lending to households and businesses have been unveiled.
Bank governor Sir Mervyn King (right) and Chancellor George Osborne announced they were working together on a "funding for lending" proposal to ward off a worrying new phase of the credit crunch, as consumers and traders find it increasingly difficult to raise cash.
Under the proposals, expected to mean £80 billion is available to lend a year, British banks — facing higher funding costs and under pressure to put more capital aside — will be offered vital funding at low interest rates.
But the funding will be linked to bank lending performance in what marks a direct attempt to free up the log-jam in credit hitting the economy.
The scheme is expected to be in place within a few weeks and will last for four years.
In a speech to the Mansion House in the City of London last night, Sir Mervyn said: "Today's exceptional circumstances create a case for a temporary bank funding scheme to bridge to calmer times."
Calls for action
The Governor also said the Bank will offer banks at least £5 billion a month, under plans were first announced last December to pump cash into the system.
The moves follow increasing calls for action from the Bank and Treasury to do more to help banks and steer the UK economy through the eurozone crisis.
The Bank has already pumped £325 billion into the economy through its quantitative easing scheme (which means printing money) and has maintained interest rates at record lows of 0.5%.
Shadow Chancellor Ed Balls was critical, saying the proposals "do not go far enough".
"The Governor is now recognising what the Chancellor still refuses to — that urgent action to stimulate the British economy is needed now that we are in a double-dip recession.
"The Bank of England's new funding for lending scheme is a significant admission that the Government's existing policies have failed."