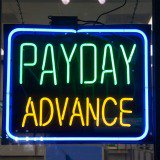 A payday loan provider has been banned from selling loans and smacked with a massive fine for allowing fraudsters to borrow cash in 7,000 people's names and then demanding the money back from victims.
The Office of Fair Trading imposed the £544,505 penalty on MCO Capital Ltd (MCO) and revoked its consumer credit licence for failure to verify the identities of loan applicants and for failing to adhere to OFT warnings to stop harassing victims.
MCO's lax measures allowed fraudsters to use 7,000 people's personal details to steal their identity and successfully apply for loans amounting to millions of pounds in their names.
The Money Laundering Regulations 2007 require lenders to conduct appropriate identity checks.
The OFT found MCO also wrote to people, who they were aware may not have taken out loans, asking unequivocally for repayment. It also ignored the OFT's requests to stop this practice.
MCO was found to "lack the necessary skills, knowledge and experience to run a consumer credit business".
'Distress caused'

David Fisher, OFT director of credit, says: "MCO's failure to put adequate procedures in place made it vulnerable to fraud.
"The way in which MCO then wrote to consumers to collect debts caused unnecessary distress and inconvenience to thousands of people. This financial penalty sends out a strong message that businesses lending to consumers must have adequate anti-money laundering procedures in place."
The company has a right of appeal within 28 days.
Consumers who are pursued by a lender for a debt they do not owe should write to the lender and, where appropriate, the debt collection agency, making it clear why payment is being refused, the OFT says.
Payday loan controversy
This is the latest scandal to blight the controversial payday loan industry. MPs, led by Labour's Stella Creasy, have called for a cap on charges, which the Government is considering.
Fees are often around £25 per £100 borrowed, though they can spiral if you pay late or are encouraged to pay late by lenders, as often happens.