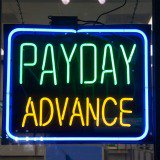 The number of people seeking help with payday loan debts doubled last year, a money charity says – as an ad featuring Kerry Katona has been banned for suggesting the money could help fund a celebrity lifestyle.
StepChange Debt Charity says it helped 36,413 people with payday loan debts, almost 20,000 more than in 2011.
Those seeking help are £1,657 in debt on average, up from £1,267 in the previous year. (See our Debt Problems guide to help get out of the mire and our payday loans guide for cheaper, safer alternatives).
StepChange says people are being left in a position where monthly repayments would leave them with no money for living expenses and push them further into a spiral of indebtedness.
Earlier this year, payday lenders were ordered to play fair or risk being banned after an Office of Fair Trading study found "explosive" evidence of irresponsible lending (see the Payday loan firms told to play fair MSE News story).
'Scourge of payday loans'
StepChange's Delroy Cornaldi says: "These findings are yet more evidence of the scourge of payday loans. With household finances increasingly under extreme pressure and access to credit far less available, many face the unenviable choice of using payday loans simply to make ends meet."
The charity's figures come as the Advertising Standards Authority (ASA) banned a TV ad for PDB UK – trading as Cash Lady – featuring Kerry Katona.
It showed the former pop star declaring: "We've all had money troubles at some point, I know I have.
"You could see your bank and fill in loads of forms, but is there an easier way to get a loan... so if you need extra cash go to Cash Lady. Fast cash for fast lives."
"Some viewers would understand the claim to mean that the payday loan would help to fund a celebrity-style lifestyle," the ASA said after receiving 29 complaints.
By contrast, StepChange figures show the average monthly income of someone with payday loans stands at £1,320 per month.
'Irresponsible' Kerry Katona ad
The ASA also questioned whether the ad was misleading and irresponsible because Cash Lady promoted itself as an alternative to banks while offering an APR in excess of 2,000%.
It said its references to Katona's well-publicised money troubles "had the potential to encourage vulnerable viewers with financial problems and/or restricted credit from seeking to resolve them through the payday loan service". It concluded the ad was, therefore, irresponsible.
The ASA also found the annual percentage rate (APR) wasn't featured more prominently than other information in the ad, breaching advertising rules.
It ruled: "The ad should not appear in its current form. We told Cash Lady to take care with the overall presentation of information of its loans."
Cash Lady says Katona was selected as its "face" because she had experienced money troubles in the past and their customers would be able to relate to her.
It says its loans are limited to £300 and are aimed at those experiencing relatively low-level short-term financial difficulties, with a need to bridge a gap between paydays.
Additional reporting by the Press Association.