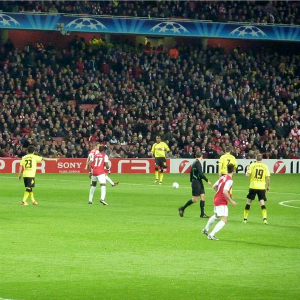 If you want to watch football matches for free live on the internet, be warned there are big question marks about the legality of doing this after internet providers were told to block access to a site offering live Premier League games.
Chancery Division judge Justice Arnold last week ordered broadband providers Sky, BT, EE, TalkTalk, O2 and Virgin Media to take measures "to block or at least impede" access by their customers to the FirstRow Sports website (see our Cheapest Football On TV guide for the best deals).
He ruled the injunction, which will also affect other sports, was justified as the operators of the website were making millions of pounds from copyright infringement (see our Digital TV guide for the best deals).
In April this year, FirstRow made considerable amounts in advertising and affiliation revenues and was not merely used to watch coverage of sporting events in users' homes, but also by some pubs in the UK, said the judge.
The application for the injunction came from Football Association Premier League Ltd (FAPL), which owns the copyright in broadcast recordings of all Premier League matches.
Allowing FAPL's application, the judge said FirstRow was "profiting from infringement on a large scale" by making match broadcasts available "to persons who are not entitled to view them either because they have not subscribed to the broadcaster's service, or because the broadcaster has only been licensed by FAPL for a different territory".
Is it legal to watch football online for free?
The FirstRow ban comes just as fans are looking forward to the new Premier League season, which starts on 17 August.
Ted Shapiro, partner at media law firm Wiggin, says: "When watching sport from an illegal source, there is a good possibility that the courts would find that illegal. But it's something that is still being adjudicated."
He says although the Premier League is unlikely to go after individuals, it will continue to crack down on companies that illegally stream its matches.
The Premier League says the only way to legally watch a live match online is when you watch via an official rights holder, such as Sky or BT.
See our Cheapest Football On TV guide, which launched today, for the best deals.
Additional reporting by the Press Association.