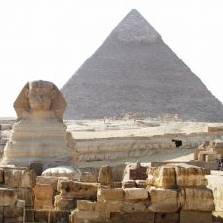 Holidaymakers bound for Egypt could miss out on getting a refund if they cancel their trip as rising tensions consume the country.
The Foreign Office is advising travellers to avoid all but essential travel to Cairo and Luxor (see our Travel Insurance guide for the cheapest deals).
Further precautions include a 7pm to 6am curfew in areas including Cairo, Giza, Alexandria and South Sinai, which covers the Red Sea resort of Sharm el-Sheik.
The Foreign Office is not advising against travel to Sharm el-Sheik, Hurghada and Marsa Alam.
However, authorities in Sharm el Sheikh have stopped tourist excursions and police in Hurghada have advised tourists to remain within their hotel's grounds (see the Foreign Office guide for more information).
I want to cancel my holiday. What are my rights?
If you've got travel insurance and you cancel your holiday, whether or not you'll get a refund will depend on your policy and where you are due to travel to.
So if you do decide to cancel your holiday and your travel insurance won't cover you, then you're at the mercy of the airline and the hotel as to whether or not you'll get your money back.
Some insurance policies do cover cancellation, but these tend to be premium policies, or policies where you've paid extra for add-on cancellation cover.
The Association of British Insurers (ABI) says travellers should talk to their travel agents and tour operators about their options before deciding what to do.
I booked a package holiday but want to cancel. What are my rights?
The Association of British Travel Agents (ABTA) says if the Foreign Office is advising against all but essential travel to the area you're going to, if you wanted to cancel your holiday, you'd be entitled to a full refund.
However, if you're heading to an area where there's no warning in place, such as as Sharm el-Sheik, if you still decide to cancel your holiday, you're unlikely to get a refund.
I still want to go. Will my travel insurance be valid?
The ABI says anyone who goes against Foreign Office advice not to travel somewhere would probably be deemed to have acted without reasonable care. This would be seen as a breach of their agreement, which would invalidate the insurance.
So if you travel to Cairo or Luxor, your travel insurance will be invalidated. However, head to the coastal areas of Egypt where there are no warnings against travel, your insurance will remain intact.
A spokesman for the ABI says: "It would be unwise to travel to anywhere the Foreign Office has advised not to travel to, but resorts on the Red Sea would probably be fine."
Again the ABI advises speaking to your travel agent or tour operator before you decide what to do.