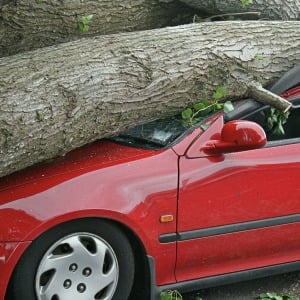 Thousands of homes are without power and commuters are facing severe travel disruption after the worst storm in years lashed the UK.
With hundreds of trees felled and high winds blowing all sorts of items around, thousands of people have suffered smashed windows, building damage and car damage. Meanwhile, many flights and trains have been cancelled.
Here are your rights if you've been affected by the storm.
My home, car or property has been damaged. What should I do?
If the damage is an emergency, such as a gas leak or smashed window which leaves your home exposed, get the problem sorted as soon as possible. But don't do anything unsafe yourself, always get a qualified tradesperson to fix such damage.
The Association of British Insurers says you should contact your insurer first as it should have a 24-hour claims line in operation.
But if you can't get through or it won't be able to fix the problem quickly enough, arrange to have the damage fixed yourself by calling a plumber, electrician or builder and keep any receipts.
The ABI says insurers should reimburse you where it is a genuine emergency.
If your home is not habitable and you have nowhere to go, your insurer may be able to put you up in temporary accommodation, depending on your policy.
Insurer Direct Line has issued the following advice. It's also applicable to customers of other insurers.
Take photographs of the damage to your building and contents, or film it. This may help with the settlement of your claim.
Don't throw away possessions without first discussing it with your insurance claims adviser, as they will need to be assessed.
Do not use electrical equipment or the gas supply until it has been checked by a qualified tradesperson.
With floods, ensure any drains and gutters are clear of debris so rainfall can drain from your property effectively.
Place valuable and electrical items in high cupboards or take them upstairs to reduce the impact of any flood damage.
Ensure outdoor furniture and other items likely to float away are safely restrained to reduce the risk of these items causing secondary damage or being lost.
Store important documents, including insurance policy details and useful contact numbers, in a watertight bag in a dry accessible place, preferably upstairs or high up.
Use a plastic sheet or tarpaulin to temporarily repair storm-damaged roofs.

My power's been cut, am I entitled to any compensation?
Some 220,000 people have had their power cut off by the storm. If you're without electricity for 24 hours continuously due to severe weather (48 hours in some cases), you're entitled to £27 compensation; plus a further £27 for each additional 12-hour continuous outage.
So what matters here is how long power firms take to get you back up and running.
You need to claim from your electricity distributor, which is different from the firm you pay your bills to.
These distributors, such as UK Power Networks and Electricity North West, provide power to the likes of British Gas, EDF and Npower, who you then pay.
To claim, write to your distributor with the reason and dates of the problem. To find yours, see the Energy Network Association website. You need to complain within three months, so get in touch with it as soon as you can.
My flight's been cancelled or delayed. What are my rights?
By 9am this morning, 130 flights at London's Heathrow airport had been cancelled, with many other airports also badly hit.
When a flight is cancelled, however long before it was due to take off, and regardless of the cause of the cancellation, you have a right to:
Either a refund for the flight that was cancelled.
Or an alternative flight to your destination (airlines call this re-routing).
If you choose to be re-routed at the earliest opportunity, airlines also have to provide assistance such as food, phone calls and accommodation where appropriate to passengers, regardless of what caused the cancellation.
If your flight departure is delayed for more than two hours, regardless of what caused this delay, your airline may have to look after you until your flight departs. This means you could be provided with food, drinks, communications, and accommodation if you are delayed overnight.
You don't have a right to claim additional compensation if the cause is bad weather. Where the delay is over three hours and the problem is the airline's fault, you can sometimes claim up to €600 (£480).
This rule may be triggered where your flight is delayed because the plane you were meant to be travelling is delayed getting to your airport because of the weather, but this is a grey area. See our Flight Delays Compensation guide for more information.
Train delays and cancellations. Can I claim compensation?
Trains across the country have been disrupted, with many operators not expecting to run services until later in the day. With dozens of trees falling on to rail lines, nearly all main line services in southern England failed to run during the morning rush hour.
Technically, you are not entitled to money back where the problem is caused by bad weather. But some firms may still pay out, so it's worth following the principles below.
The following bullets apply if your train is cancelled:
Can I get on another train? If your ticket is open, you can just get on the next train to your destination. If your ticket is restricted, you can't get on the next train if yours is delayed; but if it's cancelled, you should be able to. See the delays section above as to whether you can claim money back.
Can I get my money back if I don't travel? Yes, you are entitled to a full refund. This applies whether your ticket is for a set train or if it is an open-ended ticket.
How do I claim? You can pick up a form from the appropriate company's stations, or visit its website. Make sure you keep hold of your tickets, as you will need these when applying for a refund. You need to apply within 28 days.
The next section applies if your train is delayed, or you get on a later service if your original train is cancelled:
What if I don't want to travel? You are entitled to a full refund.
What if I'm late arriving? If you travel and the delay is over half an hour, you may be entitled to a refund, but the amount varies (see below). If you are booked on a set train you have more rights than if your ticket is open-ended.
How much can I get? The minimum amount you'll get is 20% of your fare for more than an hour's delay. However, you will usually receive more, depending on the train operator. You may even get cash for delays between 30 minutes and an hour from some firms.
How do I claim? You can pick up a form from the appropriate company's stations or visit its website. Make sure you keep hold of your tickets, as you will need these when applying for a refund. You have 28 days to apply. Refunds are usually in vouchers, unless you didn't use the ticket, in which case you will be refunded via the payment method you used to book.
My London Tube is delayed. Can I claim money back?
Transport for London (TfL) said there was disruption to six Underground lines due to debris from the storm on the tracks.
The Bakerloo, Central, Jubilee, Metropolitan, Northern and Piccadilly lines were all partially closed while workers removed fallen trees and other obstructions, a TfL spokesman said.
Under normal circumstances, if your London Underground train is delayed by more than 15 minutes, you can get a refund for the full cost of the journey.
Technically, you cannot claim for bad weather but there is no harm in asking. Download or fill in an application form from the Transport for London website within 14 days.
As with mainline trains, if you have a paper ticket, keep hold of it as you will need it when applying for a refund.
What if I missed a flight because of a train delay?
If train problems cause you to miss a flight, you may be able to get compensation from your travel insurance provider, though check first as different firms will have different rules.
You will need to show you allowed a reasonable amount of time for your journey to meet the flight.